ANNOUNCEMENT: PIZZA:DEC Diesel Pool w/ LP Rewards


Hey Everyone!
We're excited to announce our second Diesel Pool offering LP rewards in a PIZZA:DEC swap pair! As many of you know we are extremely gamer-centric and felt it made extreme sense to active this distribution contract.

The rewards are insane right now and are currently offering the highest bonus at 11% curve over the 60 day contract.

Initial deposits include the following:
PIZZA: 30,000
DEC: 15,000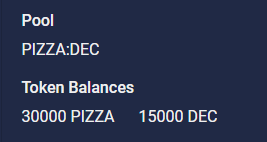 At the time of this posting this means LPs can expect the following daily LP rewards:
PIZZA: 500.000 ($92.136)
DEC: 250.000 ($1.956)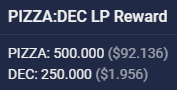 Feel free to join our Discord where we discuss pool activity and have built some awesome tools to help you track your shares in all Hive-Engine Diesel Pools!

DELEGATE TO PIZZA
You can also delegate your HP to our @hive.pizza curation account and farm your share of the daily $PIZZA rewards pool! The reward pool increases 10 tokens every 10k HP that is delegated to the account!



You can also check out the HIVE.PIZZA website here.
Buy $PIZZA
Leodex
Tribadex
Hive-Engine

Join the Discord and $PIZZA NATION

Join our curation trail here
Vote for us as Hive-Engine witness here
Vote for us as HIVE WITNESS HERE
---
---