hive.pizza | Witness Updates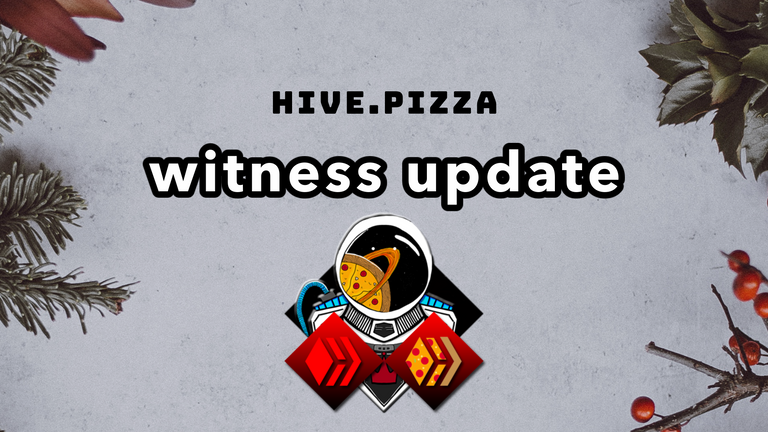 Witness Updates
We're currently ranked 69/63. We saw 61 for a moment there but it looks like some higher ranked servers came back online or some big votes came in which pushed us back down. Even with that said, we saw more support come in over the past week! We appreciate the continued support of this community!

1st Annual hive.pizza Christmas Album
This past week we were thrilled to announce the hive.piza Christmas Album which features several artists from right here in the HIVE community! HIVE offers an incredible opportunity for musicians to build their own fanbase and communities and the PIZZA crew is helping to build and provide some of those opportunities!
You can read the announcement post and see which artists are featured in the announcement post here.
You can listen to the playlist free of charge and even donate to the musicians on our holiday stream page here.
Bot adjustments
We continued to made adjustments to the Pizzabot tokenomics this week. If you're unsure what we're talking about, please see the bot change announcement in the post here.
Adjustments are as follows:
Level 1 - 6 uses per 24 hour period
Level 2 - 12. uses per 24 hour period
Timeline Extension
This past week the Philippines experienced a category 5 super typhoon which caused extreme devastation in some areas. First and foremost, we're sending our dearest wishes to those in the PH community who were impacted or had friends and family impacted. The storm caused fatalities and massive infrastructure and structural damage throughout the islands and in areas such as Cebu.
If you would like to help out, some Hivians are helping to raise funds to help with impact recovery. Please reach out to @tpkidkai or check out the donation drive post here. @hiveph
For those who do not know, I work in the tech sector and lead a pretty large workforce with a large % of that workforce residing in PH. That impact + AWS Cloud Services going down at the same time (which many of our services rely on) put me in a position where I worked around ~100 labor hours last week to support the disaster and maintain the systems we could, while also trying to locate our employees and ensure everyone was safe and sound. I had minimal sleep and not only pulled several double shifts, but also pulled a full 24 hour work session to facilitate some specific needs.
This event has put me behind schedule by at least 1.5 weeks on our current timeline for releasing staking rewards and announcing a few other items such as the NFTs we hinted at. Due to this I need to ask you all for an extension on the timeline.
Instead, next Sunday we will review our progress and announce a new date along with a few sneak peaks of Website 2.0 and maaaaaybe some NFTs. I'm sorry that we have to push this date back and have to ask for your understanding and forgiveness for those who were waiting in anticipation. We just need a bit more time...and maybe a little sleep at some point. We love you guys!
Merry Christmas everyone!

REWARDS
Discord Photo Engagement
1st @chefbgob | 2nd @drunksamurai | 3rd @nelthari


| 1st - 10 Za | 2nd - 7 Za | 3rd - 5 Za |
| --- | --- | --- |
| | | |
Lucky 5 Raffle Weekly $PIZZA Holders
(randomly chosen weekly from all holders with >= 1 $PIZZA in their wallet)
These lucky winners have won 3% of their staked $PIZZA holdings value back!
@beyondhorizonmm @thisisawesome @lozio71 @jensenart @rafaeleff15
500+ Tier Raffle for $PIZZA holders
These 5 bonus winners are drawn from holders with >= 500 $PIZZA
Congratulations and thank you for locking up your tasty za! Enjoy your bonus rewards of 3%!
@gehenna08 @honeysaver @studio3141 @sharklize @cryptoniusrex
Daily Winners
Congratulations! You have won an instant 4% APR of your staked $PIZZA holdings back in additional $PIZZA!
@knowhow92 @industriousliv @sinistry @arkasz @powerpaul @moonthumb @manniman

DELEGATE TO PIZZA
Please consider delegating your HP to our @hive.pizza curation account. Not only does it help our project grow, but it also allows us to further ramp up our onboarding and curation services. The Pizzabot you know and love also consumes more and more HP every day which has to come from our curation account. Not only this, but you will farm your share of the daily $PIZZA rewards pool! Current APR is between 18-21% paid in liquid PIZZA to your wallet every day!



You can also check out the HIVE.PIZZA website here.
Buy $PIZZA
Leodex
Tribadex
Hive-Engine

Join the Discord and $PIZZA NATION

Join our curation trail here
Vote for us as Hive-Engine witness here
Vote for us as HIVE WITNESS HERE
---
---