hive.pizza | Witness Updates, Development, Events & more!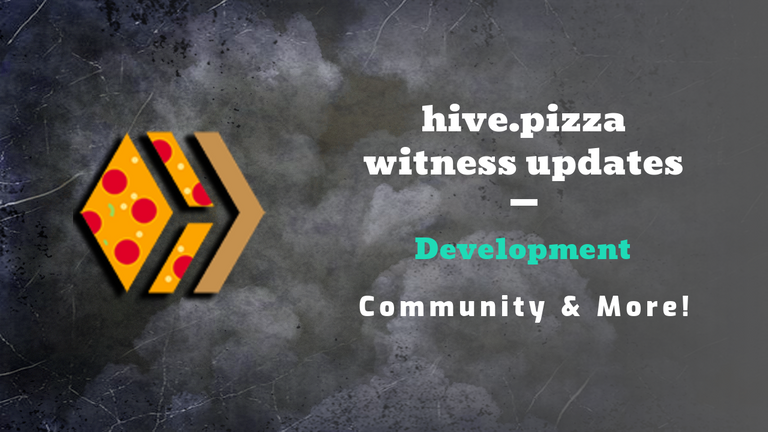 Hey everyone!
We hope you had a safe and wonderful Holiday weekend if you celebrate it. If not, we still hope you had a most spectacular weekend! We sure did over in the PIZZA community! We have quite a few things to go over today so we'll jump right in!
Witness Update
Rank: 62/59
We improved another rank since our last update which really positions us well to hit our target of top 50 this year! Thank you so much to everyone who had cast their vote for the @pizza.witness account! It means the world to us!




April 20th "4/20" Bash

Pizza Guild Scholarship Program
Hash Kings
Our farmers have been hard at work and the Pizza Guild is extremely excited to announce our milestone of reaching (and now far surpassing!) our 1 millionth farmed BUDS token through the Scholarship program! Thank you to everyone who has been working hard to make sure their harvests and reports have been on time!
We're also excited to say that we are getting closer to announcing the opening of Wave 3 applications. If you are interested in participating in the Pizza Guild Scholarship Program please make sure that you are active in our community! We are creating an active HIVE-based community and do prioritize those active in the community over others.
We're also getting really close to our first set of Guild RANK-UPs. Those of you participating know what that means! Make sure you are completing the requirements! Check in with your team leader if you are not sure!


Bang! Defense
PIZZA was involved with the presale and was able to snag some premium crates before they sold out. We're excited to start this new venture and will be offering scholarships once they are available!

Scholar & Scribe
For those interested in Creative Writing, long-form writing, or even just creative discussion (among many other things), we invite you to check out the Scholar & Scribe community that has been created by @dibblers.dabs and is located here.
Scholar & Scribe is not only bring together creative types who have a passion for writing but intends to build a stable option for passive income for both authors and readers. You can learn more in the dedicated Scholar & Scribe section of our Discord server.


Read more about the program and each token in the announcement post here.


Buy Scholar
Buy Scribe

Discord Bot, Pizza Helper, & SpkCC Monitor Updates
Pizza Helper Engine
We discovered a bug in our Pizza Helper engine that runs routine tasks for us that was impacting our badge issuance account. This issue was fixed which is now helping alleviate some of our Resource Credit usage when it comes to assigning and removing badges.
Discord Bot
To support the SpkCC launch along with increased traffic around DLUX we have built two new commands for the Pizzabot (Discord Edition).
Users can now use !dlux to check all DLUX balances for specific users.
Users can also now use the !larynx to check SPKCC balances for specific users.


SpkCC Monitor
As mentioned in the title updates have been made on the SpkCC Monitor we've built to show additional data (most specifically in regards to DAO and individual vote status). You can check out the monitor tool here.
Here is a preview: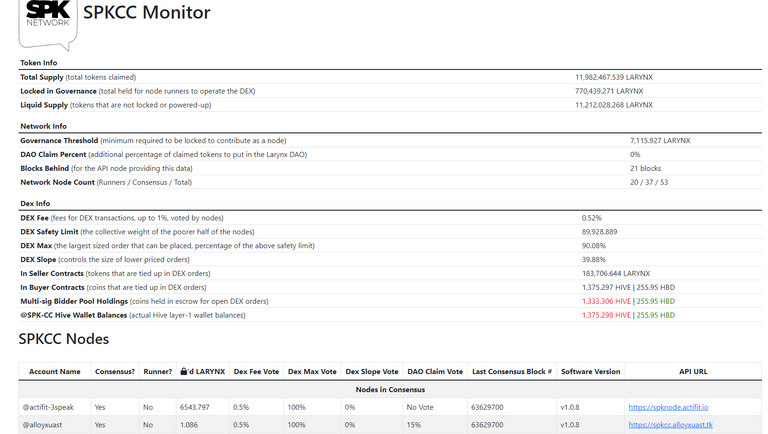 Misc News
The Guild has created the @pizza.burn account. This account will receive a 10% beneficiary on all project posts going forward. All funds on this account will be spent buying and burning PIZZA.


We have renewed Sponsorships with two content creators this month and will likely be extending an invitation to a third content creator! If you know of any high-energy content creators who would like to work with us, please send them our way!


Special shoutout to everyone involved with helping us hit 1,003 recently in the community 'number game'. It took a ton of focus, dedication, and heart to hit that 1,000 milestone! You guys are EPIC! Here is to 2,000! 🍻


For the CARTEL folks, make sure you check out the new swap system @flauwy has put together! There are some sweet discounts for holders which we know many of you are! This system will help alleviate some of the costs associated with moving your funds around, which hey, we can get behind! Great job @flauwy and team!

Level-Up!
We had some more incredible LEVEL-UPs happen this week! Not only are these people earning more through our staking program but they also have access to all the amazing engagement giveaways we run weekly in the Discord server
Let's check them out! Great job guys!

EARN PASSIVELY BY DELEGATING TO PIZZA
Consider helping our onboarding and curation initiatives by delegating your HP to our @hive.pizza curation account. Not only does it help our project grow, but you will farm your share of the daily $PIZZA delegation rewards pool! Delegation rewards are paid out in liquid form to your wallet each day.



We're almost 4,000 members strong
Are you a part of the Pizza Guild yet?
Join the
Pizza Guild Discord Server
Visit the
Pizza Guild Website

Join our curation trail here
Vote for us as Hive-Engine witness here


Vote for us as HIVE WITNESS HERE
---
---