The PIZZA + WOO GIF Tag-Team Challenge! Over $200 in prizes!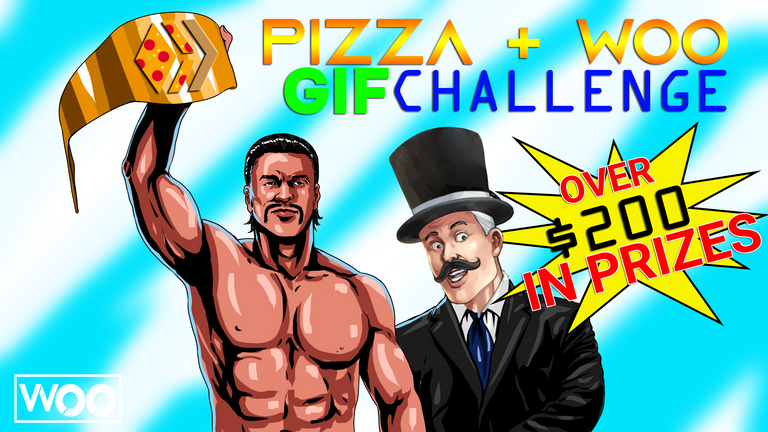 Introduction
To celebrate the kick off of the Wrestling Organization Online Raven Pack launch on 6/19 at 7pm PST / 10pm EST / 6/20 2am UTC we're kicking off another kickass GIF challenge to honor and celebrate the incredible Tag-Team partnership between the WOO and PIZZA communities! The partnership we're fostering is set to benefit HIVE as a whole and will help introduce even more off-chain gamers to gaming on the chain.
For those who don't already know, Wrestling Organization Online is an upcoming play-to-earn NFT business management game on the Hive blockchain. From Wrestlers to Managers to even plots of land, Wrestling Org Online is expected to bring an awesome experience for gamers to the HIVE blockchain. I've already had the privilege of playing an early demo and I can say that my personal opinion is that of excitement for what Booker and his team are bringing to the chain!
The first round of packs sold out and introduced an airdrop of Perry Saturn packs shortly afterward, with much of the revenue going directly to Perry Saturn himself to help him out! The PIZZA community has been super involved with the early pack drops and have been enjoying multiple pack opening events throughout the month! This next round will feature an exclusive RAVEN (the wrestler) airdrop which we're super pumped about!
Wen & How Raven Pack?
Here is some information to get you started on the Raven pack sale starting in a couple of hours:
The URL for purchasing is
https://packs.wrestlingorganization.online then click buy packs!
How Much Will Packs Cost?
Packs will cost $2 USD and packs will contain 5 NFT wrestlers or managers.
PIZZA holders will be excited to learn that the WOO team will be accepting PIZZA as a currency during the sale!
Now, the Contest
We want to see some awesome gifs that showcase the bond and tag-team partnership between the Wrestling Organization Online and PIZZA community!
The top GIF makers will win the biggest rewards. However we will choose UP TO 20 gif submissions to reward if we see enough high quality submissions, so don't miss out on this opportunity to win some PIZZA and WOO packs!
You may enter as many times as you like to increase your chances but make sure you submit at least 5 GIFs minimum in-order to qualify. Each gif chosen will earn the creator 1 point. At the end of our judging session, rewards will be issued based on the amount of points creators earned from us choosing their submissions. See below for more information regarding the rules and points system.
Note: We will skip your submission if the gif is too grainy, low-quality, does not make sense, is out of context, or does not meet ToS/is NSFW.
Contest closes next Sunday 6/26 at 11:59pm PST. We will then enter the judging phase and will announce the winners within 1 week with the announcement and prizes going out no later than July 3rd.
Prizes
1st Place:

$32 in WOO Packs & $33 Value PIZZA Tokens

2nd Place:

$15 in WOO Packs & $15 Value PIZZA Tokens

3rd Place:

$8 in WOO Packs & $7 Value PIZZA Tokens

4th - 10th Place:

$4.00 in WOO Packs & $4.00 Value PIZZA Tokens

11th - 20th Place:

$2 WOO Pack & $2 Value PIZZA tokens
Points
Each gif that you submit that we pick will earn you a point
For example, if you submit all 5 of the required gifs to qualify and we choose all 5, you will earn 5 points
You are allowed to submit more than 5 gifs, points do stack beyond 5
At the end of the giveaway winner ranks will be determined by points awarded. If everyone has the same amount of points, winner ranks will be determined by our favorite gifs.
Here are the rules:
Create and submit a minimum of 5 PIZZA + WOO tag-team related related GIFs
GIFs must have the PIZZA + WOO logo or art that is easy to identify such as the baron and a WOO wrestler.
GIFs must have text if the joke or meme is not obvious or doesn't make immediate sense.
GIFs must be safe for work or Discord ToS / Tenor ToS / Giphy ToS appropriate so that we can use the ones we select
GIFs must be decent quality. We reserve the right to use judgement here and will skip your submission if the quality is low. Refer to the statement above for more details.
You must post your submission in the PIZZA community located here: https://peakd.com/c/hive-185582/created
Tips
You can find information on how to create GIFs, friends to help you create your GIFs, and art assets to enhance your creations over in the WOO and PIZZA Discord servers!
Join them by clicking the links below:
PIZZA
https://www.discord.gg/hivepizza
Wrestling Organization Online
https://discord.gg/XZbrcNYAc2
GOODLUCK and let's see those gifs!


---
---