That Time When I Got Scammed: My 3 Most Memorable Encounters with Scammers

My 3 Most Memorable Encounters with Scammers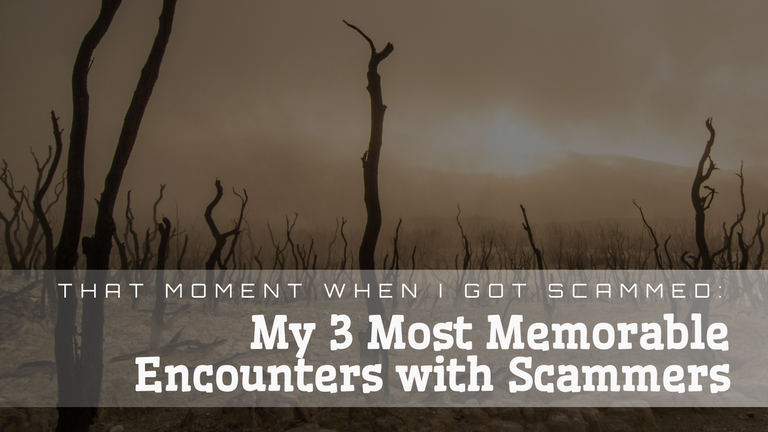 Nowadays, it is no secret that there are a lot of scammers out there. While some scam schemes are obvious, some are not.
I, personally, have a lot of encounters with scammers. For most of the time I noticed red flags, I just ignored them.
Here is a list of my most memorable encounters with some of this scammers. I hope that you would, at least, learn or be entertained from my experiences.
SMS Scams

I got this kinds of scams a lot. It is so obvious that I never fall for it. One of the many schemes that I personally encounter, the most common ones are they pretend to be a relative in desperate need. Second, they would tell me that I just won a large amount of money and I need to contact them for further details.
Knowing it is a scam, I just ignore them.
The exceptions was what I was about to share with you. This happened more than 10 years ago.
There is this one time that I received an SMS from a stranger claiming to be an aunt of mine that I don't recall. With a free time and nothing else to do, I decided to play with the scammer.
I was sure that the person on the other end is definitely not my relative as she has no idea and don't speak my native language/dialect. She is telling me that she is in trouble and in desperate need of cash in order to come home. Funny thing is, she doesn't want me to tell my parents as she want to surprise them. LOL. It is very obvious I am talking to a scammer.
One of her biggest mistake was she is betting that her victims are kids who can be easily manipulated. Most adult would probably ignore her as it is obviously a scam but an innocent kid might fall for it.
Once I noticed this, I pretended to be a 10 year old girl and played with her. Every time she ask for money, I always give her a reason that I could not do so at the moment. I am giving reasons like "it is late at night and my parents would not let me go out" or "I have a school assignment I need to finish first". We had this kind of conversation for a few days this until she give up. Man, it was one of the best conversation I had. 😁
Fuel Scam

A few years ago, I was given the responsibility to look after a vehicle. After trying a variety of nearby gas stations, I found this 'hidden' gas station that sells fuel at a very cheap price. The price difference with those popular gas stations was around 0.1 USD per litter. I usually burn around 20 litters of fuel whenever I go out and that difference translates to 2 USD savings per trip. Where I live where the minimum legal wage is 6.9 USD per day, and 2 USD is a very significant amount.
I initially thought that the price difference has something to do with the brand. Since the gas station I found has no registered "brand" associated with it, and most probably don't pay the necessary taxes. This would enable them to sell fuel at a lower price than those with a brand.
I was further convinced that I just found a cost effective fuel station when I see a number of both private and public vehicles as their customers.
With a grin on my face, I laughed at the back of my head whenever I see people refueling at those popular gas stations that sells fuel at a higher price. I feel like I found a secret fountain that only a few people know.
After a few months, I noticed that I am spending around 12 USD on fuel for a trip that before cost me around 6 USD before settling on my new gas station. That's a very big difference.
Still naïve and unsuspecting at that time, I thought of maybe the car is lacking maintenance or maybe a defective filter, etc.
This was until I had a conversation with two professional drivers who shared their similar experience on different but similar fuel stations. They also stated the underhanded tactics that some fuel stations employ to cheat their customers. One of which is adding other liquids, such us tap water, to the fuel to increase the quantity of what they can sell.
The smirk on my face got wiped out when I figured out that I got duped for months. I was such a fool. I also risked damaging the engine of the car for running it under a contaminated fuel for months.
Once I found a more legitimate fuel station that sells a real cost effective fuel, I ditched my previous fuel station and decided to never go their again.
Play-to-Earn Games

Before I came here in Hive and play Splinterlands, I first tried other play-to-earn games. One of such game is CryptoBlades. I came across it after reading a few list of play-to-earn games. Almost all of the list that I encounter put it on their top 1.
Excited, being a noob and with no idea how the play-to-earn model works at that time, I just jumped into the fray.
I signed up, bought a few assets and then played the game.
Almost all transactions also require gas fees in BNB – forging weapons, creating your character, selling, buying, battling, etc.
After a few days of playing, I noticed that my earnings are far too low to even cover the gas fees for the transactions. That is the time that I decided to do more research aside from what I am getting from Google.
As I joined their Discord server, I found out that there are a lot of angry players who are having a very bad experience with the game. It is here that I read and confirmed from other players that the reward pool for the game is taken from new players. That simply means, that if there are little-to-no players, there is also too little-to-no rewards for their "millions" of players.
I had no idea about the current state of that game at that time. I am just an innocent guy too eager to experience a play-to-earn game.
Wanted to cut my losses, I tried withdrawing all my assets. Unfortunately, it is difficult to do so. Considering the value of the assets that I have in game, it's not worth the gas fees, withdrawal limit and other difficulties to withdraw it back.
To this date, some people are saying that the game is now dead, some also say that it is a scam, while there are those who say that it is a great investment. Personally for me, I was scammed – scammed by my own ignorance and laziness to do the research first.
Good thing, I did not spend in a large amount. Though, it is still a hard earned money.
Final Thoughts
From my own personal experiences and from what I learned from my surroundings, most of scams happened because of people's ignorance and greed.
Of course, there is also the intent of the scammers to scam other people of their hard earned money. However, if you think about it, most of this schemes are designed to lure people in by offering unrealistic returns.
What I find disturbing, though, is that many are falling for even those very obvious ones.
Thank you for taking the time to read my article.
I hope that you never experienced being scammed yourself. If you did, you may be kind enough to let us know in the comments below.
Again, thank you for stopping by.
---

---

---
Attributions:
Background thumbnail image - Photo by Dikaseva on Unsplash
SMS image - Photo by Adem AY on Unsplash
Gas Station - Photo by Andrew Winkler on Unsplash
Play-to-earn image - Photo by regularguy.eth on Unsplash
Images on the Cartel Banner belongs to the 1UP Cartel.
ListNerds logo belongs to ListNerds
---
---