Helping old people, right or wrong?
Namaskar/Hello,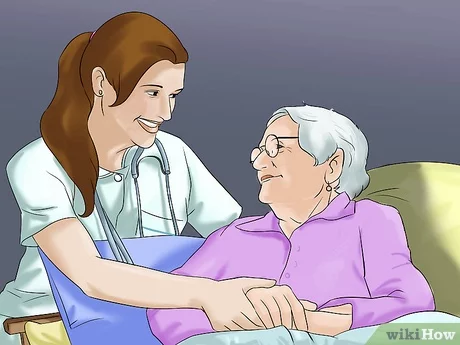 Source - WikiHow WikiHow
I live in India, a country where Dharm and Karm both are equally worshipped. A country where even an ant is treated respectfully. I feel no wonder that how we co-exist with environment and yet we maintain a level of respect and right treatment for any creature from centuries. Elders receive supreme respect in any house in India. For an instance if I tell about how we respect an elder in north India, we never sit to the equal level of height of any elder. If elders are sitting on chairs in front, then the minors often remain standing all the time or sit on floor. These are some way to differentiate between minors and elders. If a family is sitting, any person from a visible distance can differentiate between the members of family despite the members of family belonging to similar age groups.
Once I asked my maternal grandpa a question. The question was what should be the approach while helping elders or senior citizen? Not many old people likes interference in their tasks even if you are interfering just to help them. My grandpa told me a story on this.
Once there was a king who disliked his son because of his son's approach and bad behavior with others in the kingdom. The king announced that anyone who is capable of teaching his son the right values and morality will be rewarded. Not many people approached as the king's son shows no sign of improvement even after so many years of proper studies from various guru. An old person came and said king that he is capable for this task. The old person took his son and went to his village. The old person made the king's son to learn all values practically and not only theoretically. The one last value he told to king's son was "Never help a person who is capable enough to finish his/her tasks."
One day king went to check his son, he saw that the old person was fetching a water bucket from well while his son was standing at a distance and watching it. The king came to the old person and said what values are you teaching to my son. "You are fetching water at this age while my son is standing and watching you." The old person replied that I have taught him that he should never underestimate anyone's capability. He is standing at distance because he knows that I am capable of doing my business and by not interfering he is respecting me as well as I feel capable as well. The king smiled and rewarded that old person.
After listening to this story, I always see if an old person is capable enough to complete his task? If he is, I never help. Helping old person is good but if you keep helping them irrespective of his/her will than it can affect his/her dignity. After knowing that old or young self dignity is something which is more closer to a person's heart than anything else.
This story helped me in making wise decision. Often my friends show concerns when I don't approach to help an elderly or old person, but somewhere in my heart I know that by not helping I am making his/her dignity intact. Even you won't love to receive help for things where you are capable of doing it.
I hope that you will understand that helping is good but when it is on cost of their dignity, it is not wise.
Thanks




---
---