Is Luna worth gambling?
Namaskaram/Hi,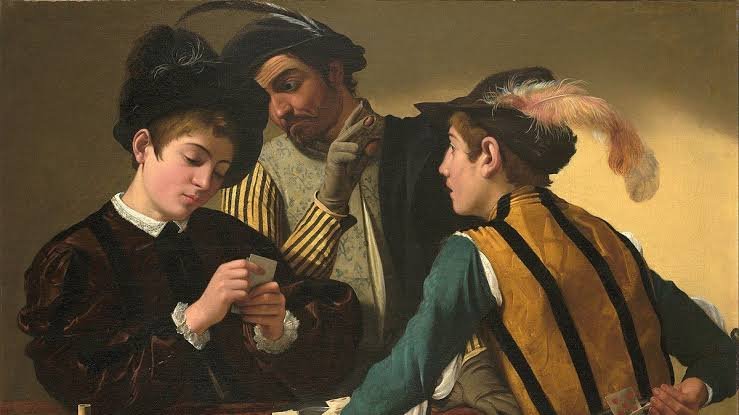 Source - AuralCrave | Caravaggio – The Cardsharps
Luna is the centre of crypto discussion these days. UST/LUNA fiasco is the prime example to understand the community at the moment. Its okay, that we overlooked any hints to safeguard our assets in time. Too much of information, just everywhere, Its not easy to be completely sure about your moves. I mean at the moment, anyone with $100 in their hands, will invest in multiple tokens and coins. We are aware of the potential and we are also aware of the risk. Its nothing to blame here, shit happens...
More than 30 suicides worldwide just because of this downfall. Whom you will blame? Buyer, Charts, TLF, @stablekwon? Crackdown happened and we all are in turmoil. No matter which coins we are holding, everyone of them is affected in some way. Those who were ready to jump-in cryptos, veterans, influencers, each person who associate himself/herself with cryptos is affected.
One of the hive users commented on my last blog on luna (I am elaborating it in detail for complete idea), that people only spend 5 mins on a site at a time. Its hard to give them a lecture on cryptos. The only solution to make them aware is to implement the learning in such a way that they won't feel bored out. Its like learning while carrying out you work.
For example, if today amazon starts accepting cryptos, then people will be aware of not only crypto coins but also their utility. Multiple coins option will also help user to compare between coins and find what transaction fee or time they take.
Luna is recovering very steadily, its like it will take a miracle to turn to its previous ATH before downfall. BUT still if you have a couple of bucks to spare then luna is cheap and worths a low margin shot.
I bought 25$ worth of luna and its already 5x for me right now. So it makes a situation for swing trading. We can earn a good margin here. I don't want to influence you to go in it, but in case if you want, here is the deal.
One of @bala41288 blog post made my mind to take a shot in luna and its paying me decent profits. Thanks to him!
Thanks
Posted Using LeoFinance Beta
---
---