#fastandfurious | The Ink Well Fast and Furious Festival - Day Four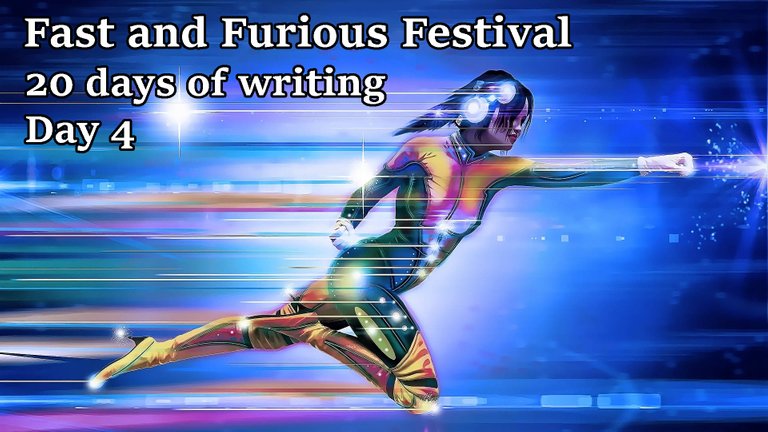 Image by alan9187 from Pixabay
Hello Everyone,
Welcome to Day 4 of The Ink Well's Fast and Furious Festival! Good to have you here - have you signed up on the Launch page yet? Pop over and leave a comment.
Remember to vote for this post and follow @theinkwell.
Twenty days of fast and furious writing, reading, commenting and having fun. Every day for twenty days, there will be a new prompt focusing on a different aspect of writing each day from character development and dialogue to setting and style and everything in between.
You can join the Festival at any time during the twenty days and respond to as many of the prompts as you want (prizes for completing all twenty), and do all your comments in one day each week if you want to - it's up to you!
DEADLINE FOR ALL POSTS AND COMMENTS: 9 FEBRUARY 2021

Day Four Prompt - Story Arc
CHECK THE LAUNCH POST FOR RULES OF ENTRY
When talking about the structure of a short story, we tend to talk more about story arc than about plot. The reason for this is ... your story must include an arc to be effective and to leave the reader satisfied that the time it took to read your story (vs. the thousand other things he or she may have chosen instead) was worth the journey.
That parenthetical statement above is really important. People are busy, distracted, presented with numerous attention-grabbing online amusements and these days we are just not all that patient.
Readers don't want to have to do a lot of hard work to sort through muddy character descriptions and lack of story progression, or the dull thud that happens at the end of a story that did not resolve a conflict or transform a character. We must have conflict and character transformation.
(adapted from Writing Tip #25: Do Short Stories Have To Have A Plot?)
In the above writing tip, @jayna suggests a way you can practise developing story arcs and gives some ideas. We're going to use that for our task today!
Task One
| A. My main character is: | B. My character's problem is: |
| --- | --- |
| An old man | Unable to recover from a loss |
| A young girl | Disturbed by something seen by moonlight |
| A street vendor | Unsure of the meaning of life |
| A police officer | Worried their spouse is having an affair |
| A rich yacht owner | Trying to return to their homeland before dying |
| A grieving man | Suffering from COVID-19 |
| An unhappy woman | Living on the street |
| A bartender | Afraid there is going to be an alien invasion |
| A musician | Trying to find their keys |
| C. My character is living with, encountering or at odds with: | D. The thing preventing my character from solving their problem is: |
| --- | --- |
| Best friend | A painful skin condition |
| Spouse | Alcoholism |
| Neighbour | Fear of ghosts |
| Ex best friend | The weather |
| Ex spouse | Lack of money |
| Mother-in-law | Other people's irritating opinions |
| High school fling | The car is out of fuel |
| Baby | Being in quarantine |
| Local politician | A broken leg |
Choose one item from each section: A, B, C and D (you can select them or write them on slips of paper and randomly select one item from each pile).
Now you are equipped with everything you need to develop your story: a main character (the protagonist from A) with a problem (from B), a secondary character (possibly an antagonist from C) and the seemingly insurmountable obstacle (from D) to overcoming or coming to terms with the problem.
In your story, show us how you get from the beginning to the end, how the main character is thinking about or dealing with the problem, the other character and the obstacle, including the resolution to the story's conflict.
Feel free to try more than one - or write a second post another day!
You can find more resources about plotting and creating a story arc in this writing tip.

Finally ...
aim for twenty-five minutes writing.
select your tags wisely.
link your post in a comment below.
And then, look for other posts to enjoy and comment on.
Remember - have fun! 😁

We would like to invite lovers of short stories to visit The Ink Well, a Hive community started by @raj808 and run by @shanibeer and @stormlight24 with support from moderators @carolkean, @jayna and @agmoore.
Read The Ink Well Manifesto for Writers, Readers and Investors.
It is now possible to follow The Ink Well curation trail on Hive blockchain with Hive.Vote. Simply navigate to the curation trail section and search for theinkwell and our trail will pop up as an option.
If you wish to delegate to @theinkwell and support creative writing on Hive, you can do this from the wallet section in PeakD.
A big thank you to all our delegators

Click banner to visit the community page

Find us on twitter by clicking the banner above.
---
---