#fastandfurious | The Ink Well Fast and Furious Festival - Day One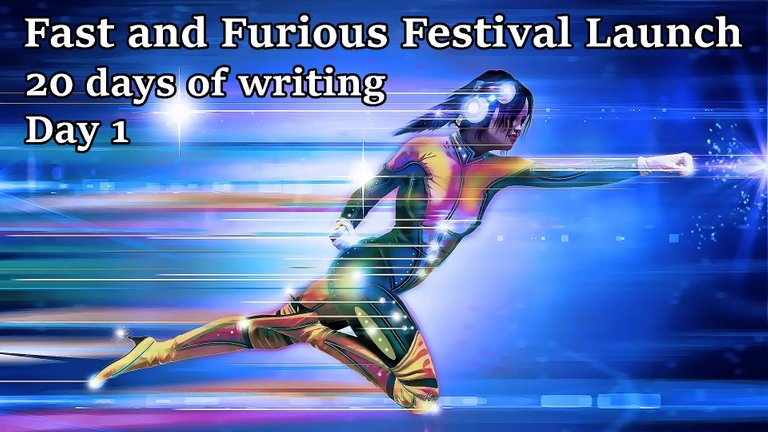 Image by alan9187 from Pixabay
Hello Everyone,
Welcome to Day 1 of The Ink Well's Fast and Furious Festival! Good to have you here - have you signed up on the Launch page yet? Pop over and leave a comment.
Remember to vote for this post and follow @theinkwell.
Twenty days of fast and furious writing, reading, commenting and having fun. Every day for twenty days, there will be a new prompt focusing on a different aspect of writing each day from character development and dialogue to setting and style and everything in between.
You can join the Festival at any time during the twenty days and respond to as many of the prompts as you want (prizes for completing all twenty), and do all your comments in one day each week if you want to - it's up to you!
DEADLINE FOR ALL POSTS AND COMMENTS: 9 FEBRUARY 2021

Day 1 Prompt - Character and Dialogue
CHECK THE LAUNCH POST FOR RULES OF ENTRY
Dialog is one of your best tools for bringing your characters to life. What they say and how they say it will give us a sense of who that character is. Do they shout? Do they laugh or open their eyes wide while talking? Do they lapse into their native Spanish when frustrated?
Get your characters talking when it can help inform readers of something important, when you want us to see a personality trait, or when you have an opportunity to tell part of the story through characters talking to one another. (Writing Tip #26: Action, Dialog and Narrative - The Dynamic Trio)
Task One
In your post, take what you learn about each of the three characters from the dialogue in the extract below and then develop them until you have a paragraph describing the character more fully.
A woman in a restaurant whispers to her friend:
"You know who that is over there, don't you?"
The other woman surreptiously glances at the other table:
"No, who?"
"That's just it, she's had so much work done you don't recognise her. That's Betty Grainger."
"No!"
"Yes, she's had her nose done, cheeks lifted, even a hair transplant."
"Whatever for?"
"She's going into politics."
"Seriously, that's really her?" * (69 words)
What do you learn about each of the three characters? How old do you think they are? What kind of life-style do they lead? Have they got a job? Where do they live? Do they have a family or friends? What do they wear? Have they got a secret in their past? Do you like them? Tell us all about them in your post - a paragraph for each character.
Task Two
Write a short dialogue, like the one above, no more than 70-100 words, where two characters are talking about a third one. What can you reveal about your characters in your dialogue?
Some ideas:
nurses talking about a new doctor
zoo-keepers talking about a gorilla
gang members talking about a rival gang boss
Or make up one of your own!
You're going to have to work fast and furious to get this done in 25 minutes!
* the dialogue in Task One is adapted from this video by Jerry Jenkins

Tags for Your Post
The tags you use on your post are really important for:
letting people know what your post is about
helping people find your post in the future
We want to make sure both these things happen, especially if we are looking to develop a long-term income for our work through tipping. Think about which tags would be useful in two years time when a potential reader is looking for your work.
In peakd.com, you can have up to ten tags. The first five tags are used to categorise your post - these are the tags that people will use as search terms. The very first tag is the most important one. The second five tags are for tribes and affiliations.
Let's have a look at possible tags for the post you have just written:
First Five Tags
Compulsory tags
The Rules of Entry for the Fast and Furious Festival say that you must include #theinkwell and #fastandfurious.
Type of post tags
Usually we would have tags like #story #writing #fiction for complete stories. For this kind of post you might want to choose a tag like #assignment or #workshop or #writerdevelopment or #writingpractice.
Content of post tags
For a completed story, we might use tags that describe the type of genre like #romance #thriller #comedy #horror. For this type of post you could use tags like #character or #characterdevelopment or #dialogue or, on another day, #setting or #style or #editing or #presentation.
Choose five for your post. Which one are you going to put first?
Second Five Tags
These are for tribes and affiliations like #teamuk and are important if you receive additional voting support from a tribe or affiliation. Be careful, though, if you use these tags, about whether your post appears in another feed as well as The Ink Well community and your own blog.
If you are thinking about a long-term future for your writing, how important are the second five tags? Would your post be better without them?
😱Tag Spam😱
This is when you see a list of, usually, curators and curation trails like #blocktrades #ocd #curangel #curie #appreciator #posh to name a few. This is a waste of your tags for these reasons:
curators and curation trails usually have conditions similar to the Rules of Entry for the Fast and Furious Festival. Unless you meet those conditions, curators will not be interested in your post.
it tells potential readers nothing about your post and they have no way of finding it in the future.
it looks as if your post and story-writing is not good enough in its own right and you are reduced to begging for votes.
This also applies to tagging accounts in your post like this: @theinkwell @blocktrades, @appreciator, @curangel, @curie etc ☠️☠️☠️☠️☠️

Finally ...
When you've completed the tasks and chosen your tags and published your post:
Remember to link your post in a comment below.
As you read and leave a comment for other posts that have responded to today's prompt, come back and edit your comment below to add the links to the comments you've made on other posts.
Aim to make five comments for each post.
How did you get on today? Hard or easy? How did you manage your time? Did you allow five minutes to read the post, five minutes for each character description and five minutes to write your dialogue? Or did it take you hours? Tell us in the comments.
Remember - have fun! 😁

We would like to invite lovers of short stories to visit The Ink Well, a Hive community started by @raj808 and run by @shanibeer and @stormlight24 with support from moderators @carolkean, @jayna and @agmoore.
Read The Ink Well Manifesto for Writers, Readers and Investors.
It is now possible to follow The Ink Well curation trail on Hive blockchain with Hive.Vote. Simply navigate to the curation trail section and search for theinkwell and our trail will pop up as an option.
If you wish to delegate to @theinkwell and support creative writing on Hive, you can do this from the wallet section in PeakD.
A big thank you to all our delegators

Click banner to visit the community page

Find us on twitter by clicking the banner above.
---
---