HiveHustlers Update for September!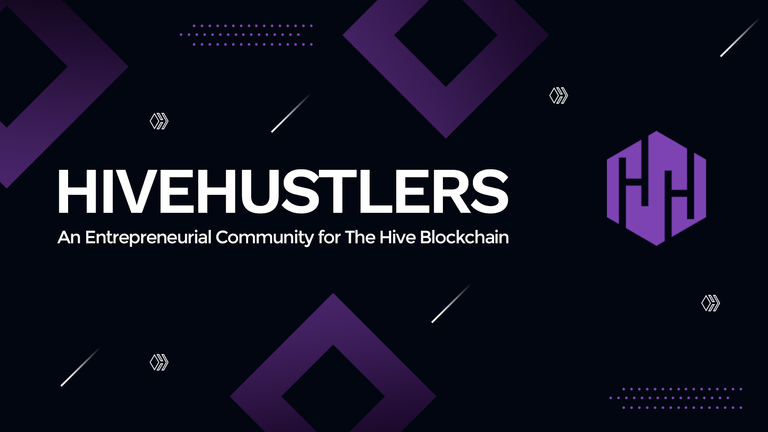 What's up my hustlers! Hope everyone is doing well!
We are starting another month and this one the #hivecommerce tokens will definitely be a bit higher! I have been hustling as you know on a couple of NFT projects that I am trying to get pushed out as soon as possible, just trying to catch my part of the pie, lol.

If you haven't followed, I just recently did an early release of the @hashbots NFT series on multiple blockchains! We have an internal #BSC marketplace on https://hashbots.net where you can purchase NFTs directly from the site on Binance Smart Chain using BNB! We also have a market on Opensea for #polygon and then a very small release on Ethereum, that I honestly can't even afford the gas fees to put up for sale at the moment, lol.
I am also looking to launch this on #solana as well, but the new marketplace has had a bit of a botched opening so just waiting on them to get their ducks in a row so we can launch our team of #hashbots to the Solana system.
Also put in the request for the @hashbots account for @nftshowroom so we can have a small team of unique NFT bots on the #Hive blockchain as well!
I also have another project in the works that I will be announcing soon!
Hivecommerce Token (COM) Payout update

Well the SIM payouts were much better this month with taxes being lowered. We cashed out 50% of the rewards in the wallet to Hive so we can power up and delegate them to the @hive.pizza account! We are working on building up that stack so we can add PIZZA to the COM rewards!
The LEO stack is building up from curation and delegating HP to the @leo.voter account from @leofinance which earns us a nice APR in LEO tokens. We are staking all rewards trying to build a decent enough output to add into the daily COM rewards. Hopefully will have both PIZZA and LEO added to the daily payouts in the next couple of months.
All other tokens have been split 50/50 and staked to build those curation stakes.
The month of September will see daily payouts Pools for staking COM tokens as follows, you get paid for your percentage of the pool. You do not earn these numbers, they are split among all COM stakers.
SIM- up to 705 SIM per day from 301
CTP- up to 5 CTP per day from 2.54
WEED- is staying the same at 1 WEED per day
LIST- up to 2 LIST per day from 1
This has already been updated to show on https://hivehustlers.com/token-economy page and is live now! Your next payouts after this post will be from the new amount in the rewards pools!
Obviously there needs to be a bit more curation going on, and I am working on getting myself into a routine to handle curation across the different communities and accounts that I am curating from for different things... It's a hustle for sure and hope that you appreciate everything that goes into all of this. I am trying to make Hive and #crypto my full time gig, and basically throwing every line I can come up with into the water to see what kind of big fish or whales I can catch, lol.
Update on Services Marketplace
So to save myself a ton of grief and extra work, I have decided to go ahead and build the services market the way I was going to from the beginning and basically set up a multi vendor marketplace on WooCommerce similar to the way the Hivelist store is built now.
I was wanting to incorporate the escrow function, but finding that I would still need to be in the middle anyway, so might as well just be the middle man.
So when it is finished, you will be able to register as a services vendor, then offer your services in dollar denomination. The client will then pay in whatever form they choose, and then once the job is complete, then it will be up to the vendor to mark it as complete and submit a withdrawal request and we will pay out in the converted amount in HBD. This way if there is any issues, I can basically give some sort of consumer protection. But you will have your Hive account reputation on the line, so just make sure you deliver and we won't have problems, lol.
Anyway, that is the #hustler update for the month! See you in the comments sections!
Be Cool, Be Real, and always Abide!
If you like what I am doing, please consider voting for my Hive Engine witness with your staked WORKERBEE!
https://he-voter.vercel.app/thelogicaldude
Or at
https://tribaldex.com/witnesses
https://thelogicaldude.com
https://hivelist.io
https://HiveHustlers.com
https://coin-logic.com
https://contractlogic.app
https://groovelogic.audio
https://weedcash.org
View my channel on 3speak.tv! Video platfrom for a free speech society!
https://3speak.tv/user/thelogicaldude
But if you must... here is the YouTube channel link:
https://www.youtube.com/channel/UCtGApfTp4ZzLHksDdImJ9JA
Pure Logic Podcast can be found on 3speak.tv and YouTube as well as the following podcasting platforms:
Spotify
Anchor.fm
RadioPublic
Breaker
Google Podcasts
Join Hive by going to:
https://hiveonboard.com?ref=thelogicaldude

---
---