HiveLIST DEFI Diesel Pool Now Up and Running- Paying Rewards in LIST and COM tokens!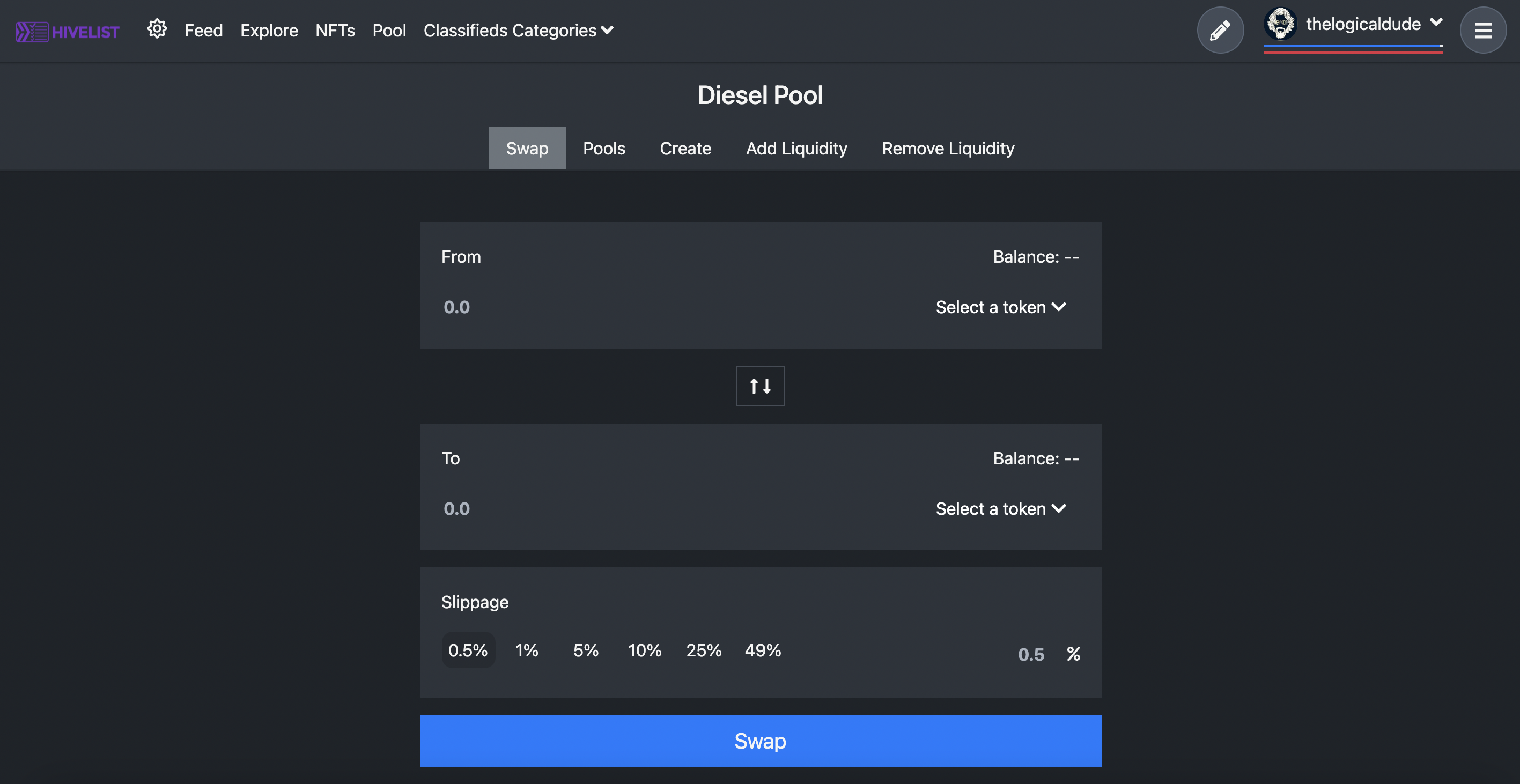 Hello everyone! Just wanting to write a quick post to announce the new HiveLIST DEFI pool! I have set up the first pool with LIST/SWAP.HIVE and dropped what I could in after I have paid for all the upgrades, lol.
I have also set up a distribution pool for liquidity providers we and have filled it with 2,000,000 LIST and 365,000 COM tokens. The distribution is set up for daily payouts for 5 years. The LIST pool pays out over 1096 LIST per day and 200 COM per day for liquidity providers!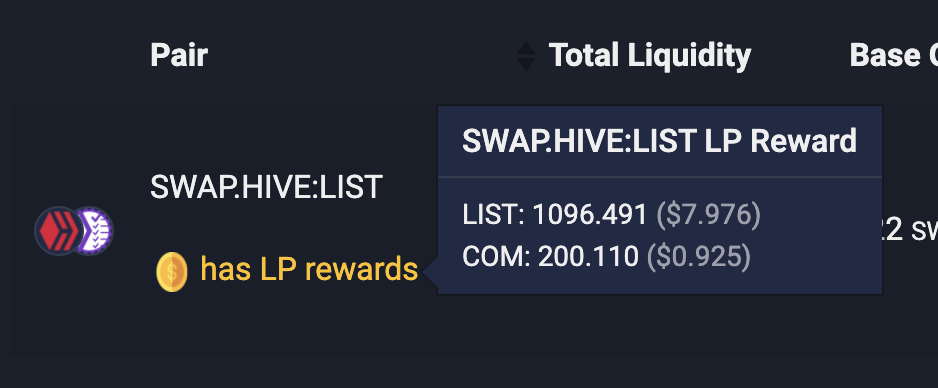 The LIST was provided by the @hivelist.token rewards pool account and the COM tokens were issued directly to the @hivelist account to be provided. The COM payouts were taken from the the existing mining pools for HUSTLERM, HUSTLER, and LIST tokens.
The staking payouts have changed for those as well to
HUSTLERM is paying 500 COM per day
HUSTLER is paying 200 COM per day
LIST is paying 100 COM per day
The remaining 200 COM per day that was subtracted from the existing issuance is going to be used to set up the rewards pool to pay out authors and curators of the 'hivecommerce' tag.
So come join the LIST Defi Pools by staking your LIST and equal amounts of SWAP.HIVE to the LIST/SWAP.HIVE diesel pool on either Tribaldex or now our internal diesel pool at https://www.hivelist.org/pool/ and get rewarded! Oh and you are not in competition with either the @hivelist account or @thelogicaldude account as they have been excluded from the rewards payouts!
I plan on starting a few other pools if the popularity rises for the first one. I want to get that one stacked up as much as we can and try to start bringing some volume to the Hivelist network!
Users are able to also create their own LIST pair diesel pools! It does cost the same 1000 BEE tokens as it does on tribaldex because it uses the same pools, just on our front end, but for it to show on our diesel pool list, it has to be paired with LIST!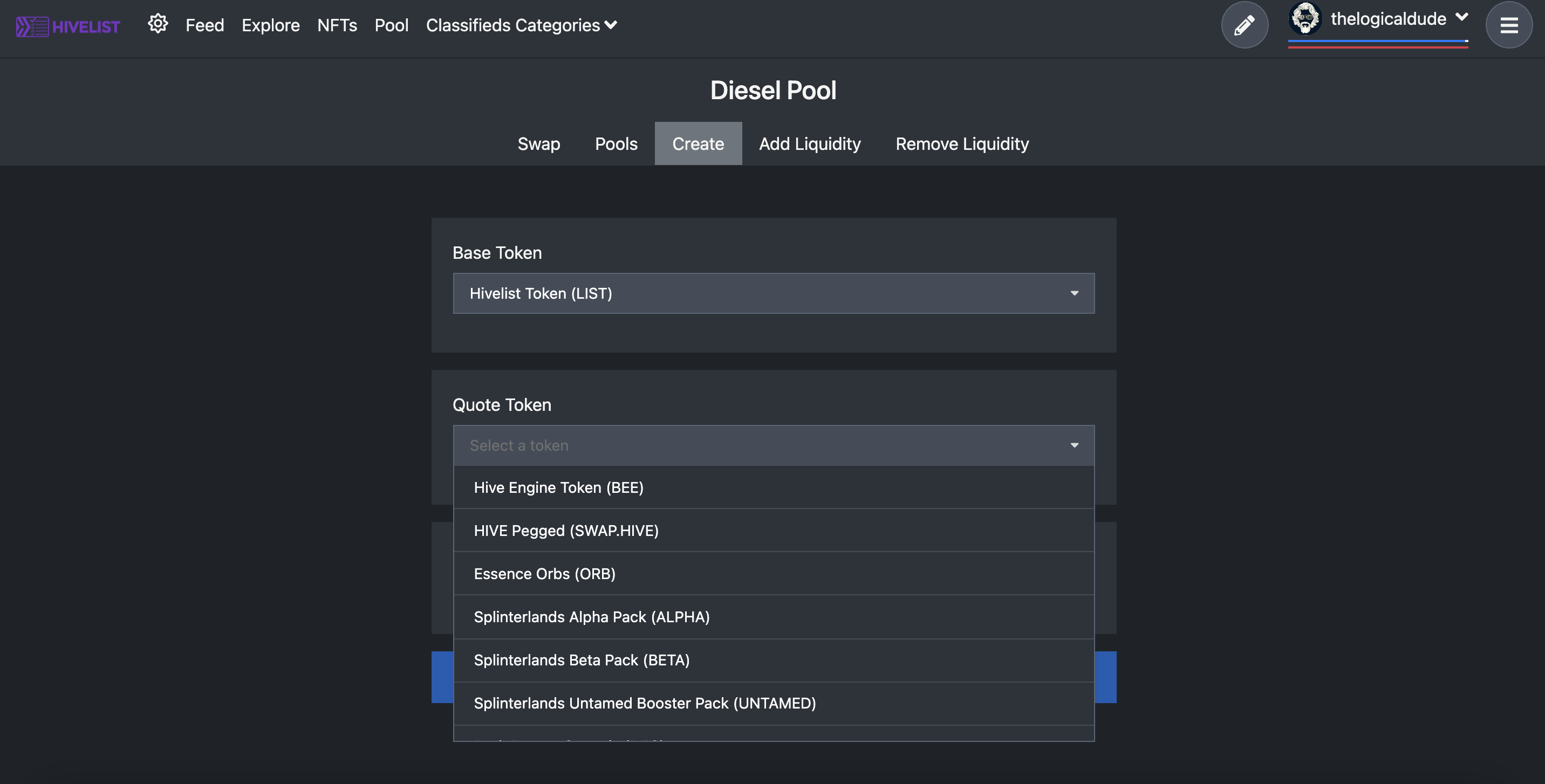 Adding Liquidity is simple and works the same as using Tribaldex. You have to have equal parts of each token as you are providing liquidity for both sides of the trade.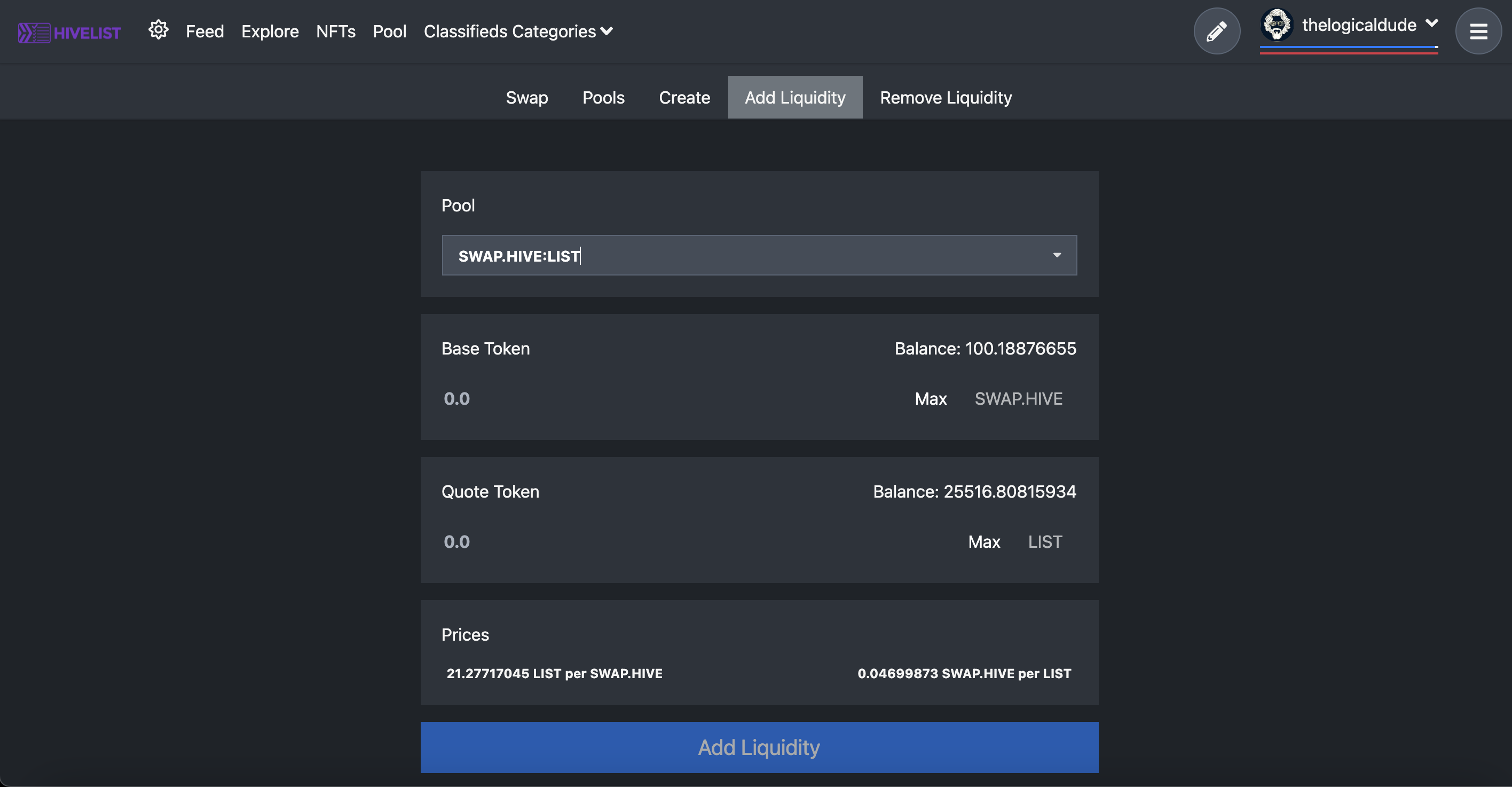 I will be adding a link for the HiveLIST Diesel pool to the main site as well in preparation for the HiveLIST 3.0 release!
It's finally all coming together!
Be Cool, Be Real, and always Abide!
If you like what I am doing, please consider voting for my Hive Engine witness with your staked WORKERBEE!
https://he-voter.vercel.app/thelogicaldude
Or at
https://tribaldex.com/witnesses
https://thelogicaldude.com
https://hivelist.io
https://HiveHustlers.com
https://coin-logic.com
https://contractlogic.app
https://groovelogic.audio
https://weedcash.org
View my channel on 3speak.tv! Video platfrom for a free speech society!
https://3speak.tv/user/thelogicaldude
But if you must... here is the YouTube channel link:
https://www.youtube.com/channel/UCtGApfTp4ZzLHksDdImJ9JA
Pure Logic Podcast can be found on 3speak.tv and YouTube as well as the following podcasting platforms:
Spotify
Anchor.fm
RadioPublic
Breaker
Google Podcasts
Join Hive by going to:
https://hiveonboard.com?ref=thelogicaldude

---
---