How the BlockTunes DAO Supports DEFI as a Service - DaaS - You Buy A Token, We Do The Rest!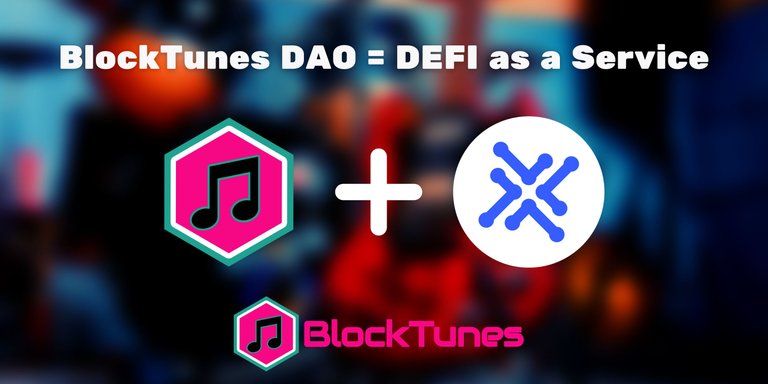 Hello everyone. In this article I am going to be going a bit further into the concept of the BlockTunes DAO being a "DEFI as a Service" offering for people wanting to invest in both the future of the music industry as well as earn some good yields for purchasing and holding a token without doing any other work! That is what we mean by DEFI as a Service or DaaS!
How Does It Work?
Our XDAO based DAO that is built on Binance Smart Chain does just that! We offer a way for fans and artists alike to own a piece of our company and earn revenue!
Our DAO, or Decentralized Autonomous Organization, runs on votes from the Hive community as well as our Governance board. If you want to get involved in governance voting, make sure to follow the @blocktunes account as that is the account that will be posting the main votes for the community, and or purchase one of our Governance Board packages that will be available as a private sale to the Hive community until 3/31/22.
You don't have to be involved in the decision making process if you do not wish to be. You can simply purchase and hold bTUNES tokens and when we start to pay out rewards, you will receive you portion based on the amount of bTUNES tokens you own.
The DAO accrues value in different ways.
First is when investors purchase DAO tokens or Governance Board packages
Second is from our artist release submission service. With this service, the funds received from the submission service will go to the DAO and the tokens received for the amount of money will be split on a 90/10 split where artists will receive 90% of the tokens, and BlockTunes will get the other 10%.
BlockTunes is only making money from their portion of the tokens held, which means we also have to invest right along with everyone else! No freebees for us!
Third is from our 10% portion of any sales from NFT collections or the store.
And lastly through yield farming. We are putting a large amount of the funds into the CAKE/BNB farm and will be adding the BNB/BUSD farm as well. The CAKE earned will be split 50/50. The first 50% will be deposited into CAKE on Venus protocol which will earn interest and serve as collateral for the business and will be a liquid asset that can be cashed out.
The other 50% is distributed to the bTUNES token holders.
You will get to share in the revenue along with the artists and other fans that are invested in the DAO!
You can pay using different types of crypto through our store
How Bands and Record Labels Can Use Their Own DAOs
Bands, record labels, or really any artist can have their own DAO created. We will be offering a service for us to set it up for you, or you can create your own DAO over at https://xdao.app! You can then give us your DAO address and we will send funds to that instead of to your regular wallet.
How does this benefit groups or labels? Well this gives a way for bands or artists that do allot of collaboration to all have basically a multisignature wallet for their group funds. They can choose to disperse the funds or invest them into their own DEFI platform for future earnings and long term growth! Those that run the DAO can choose to keep all governance power or decentralize that by giving governance tokens to artists. This can be a great way for band members to all get an equal share of funds they earn.
For record labels, you can distribute tokens to your artists for releases and basically do the same thing we are doing with the BlockTunes DAO. This way everyone gets a cut of something. You could pay them in label DAO tokens that they can hold, so that you can properly disperse earnings.
We will also be offering services full website services to labels at a discount if you want to have a 'BlockTunes' Style site built for your label! This would give you NFT collections, an ecommerce store, and a DAO set up and running with funds already working!
Contact me if you are interested in this full site service and we can discuss your needs!
Discounts are only good if we discuss the site prior to 3/31/22! Which means early bird specials!
Really the possibilities are endless!
Again, if you are interested in starting a DAO for your band or label, we can help get you started or you can go on over to https://xdao.app and create your own!

Be Cool, Be Real, and always Abide!
Get started playing Splinterlands today!
https://splinterlands.com?ref=thelogicaldude
Join Hive by going to:
https://signup.hive.io/
Want to shop using crypto, or even start your own online store? Check out the Hivelist Store
If you like what I am doing, please consider voting for my Hive Engine witness with your staked WORKERBEE!
https://he-voter.vercel.app/thelogicaldude
Or at
https://tribaldex.com/witnesses
https://thelogicaldude.com - The Dude's main site
https://hivelist.io - Classifieds, NFTs, DEFI Pool, Online Retail
https://HiveHustlers.com - Community for Entrepreneurs and All Around Hustlers
https://coin-logic.com - Live crypto market data, news, and research
https://blocktunes.net - Music NFTs, DAO, Downloads, and more
https://groovelogic.audio - DJ/Producer/Sound Engineer music and services
https://weedcash.org - The Highest Form of Social Media
View my channel on 3speak.tv! Video platfrom for a free speech society!
https://3speak.tv/user/thelogicaldude
But if you must... here is the YouTube channel link:
https://www.youtube.com/channel/UCtGApfTp4ZzLHksDdImJ9JA
Pure Logic Podcast can be found on 3speak.tv and YouTube as well as the following podcasting platforms:
Apple Podcasts
Spotify
Anchor.fm
RadioPublic
Breaker
Google Podcasts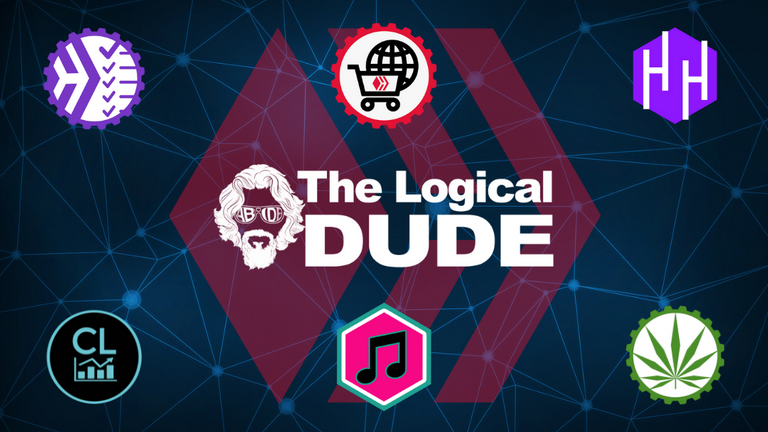 ---
---