Logical NFTs Are Live Ready For Mint On Polygon Using pHBD!


After some on the fly education, high blood pressure, and ALLOT of cussing, the Logical NFTs are alive and minting! Hey, that's what happens sometimes when you let something come down to the wire and you are working on things you have never worked on before. Let's just say that I have gained a major respect for the people coming up with these big NFT collections, it's allot of work, lol!
The following is from the About tab on the NFT page:
"The Logical NFTs is a collection of 5000 pieces of random generated art that was created using a fork of the Hashlips NFT Generative Art Engine. The layers were all created using Photoshop.
There are 4 different layers for each NFT with different rarity levels. They are made up of a background, interior, logo, and text. Each option has several different color variations and styles. The colors of the backgrounds and logos correspond with different projects from the Logical Labs, the interiors were created using the liquify tool in Photoshop, and the text is what I consider some of my 'catch' words!
Hint, the silver and gold pieces are the most rare!
They will be minted for 10 pHBD, which is the Polygon wrapped version of the Hive Backed Dollar, giving it its first e-commerce use case! The funds are used to build The Logical DAO, which funds development, marketing, and overhead for the projects that I produce! Read more about The Logical DAO here!
You will be able to resell your NFT on Opensea, but holding it has more long term benefits such as exclusive pre-release information on projects, inclusion into other exclusive clubs like the upcoming BlockTunes Social Club, exclusive whitelisting for future NFT collections, dividends, and more!
Resell commission is set to 7.5% for creator cut and 2.5 of course for Opensea."
Logical NFT Minting
I have created a page on my website for the Logical NFTs. You can get there by going to https://thelogicaldude.com/nfts.
When you get there, you will see 3 tabs, the About tab, the Minting tab, and the Marketplace tab. For minting you will click on the Minting tab and then hit the button that says connect to wallet

Then once you click that button it will open up a window on the Unlock Protocol which is the platform I am using to mint the NFTs. This also allows me to use this particular smart contract for different memberships, tickets, exclusive early mints, dividends from The Logical DAO, etc. This also is what is communicating with your wallet and is safe and audited.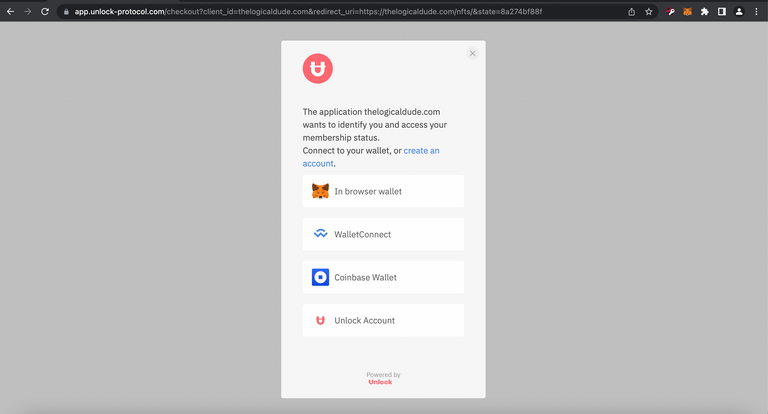 You can choose what wallet you want to connect with and off you go!
Once you get connected, you will be sent back to the minting page... Due to some caching issues I am trying to figure out, you may have to refresh the page...
But once you have connected you should see the Mint Your NFT button...

You are then taken back to the Unlock Protocol where you will then select to purchase your NFT for a price of 10 pHBD. You will also see how many are left to mint.
The idea is one person one membership, but in reality you will just need to move your newly minted NFT to another wallet if you want to mint again, or just mint from another wallet address... This is a limitation of the Unlock Protocol because it's purpose is to give NFTs a use case as tickets, memberships, etc.
Anyway, once you select the price, you will be able to select to pay with your wallet and then it will also let you know if you are on the wrong network and help you not only switch, but to add Polygon if you need to... Hopefully you have already done this to acquire your pHBD tokens...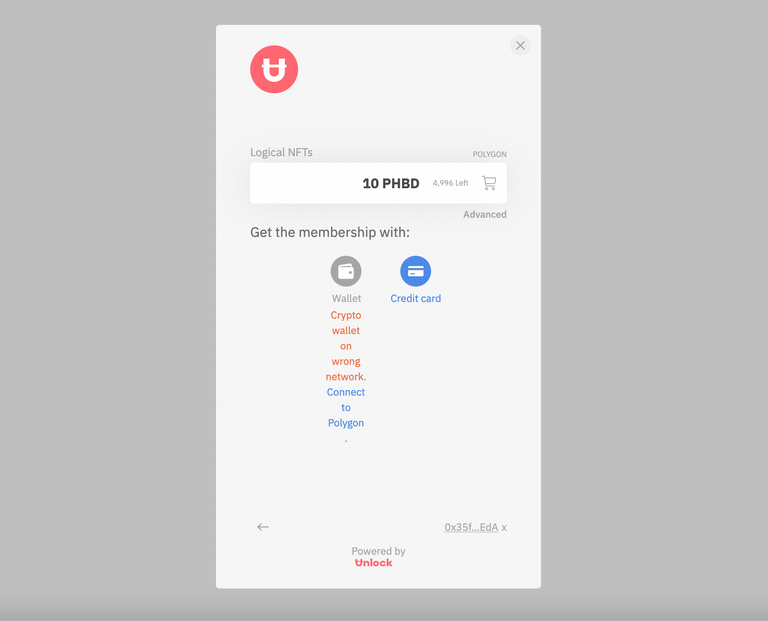 Make sure to sign all your wallet transactions and your NFT will start minting. It will say complete and reroute you to the main site. Once you are there, you will see the completion message and a link to open the user profile page on Opensea. You just sign in there with your wallet and you will then see the NFT that you just minted!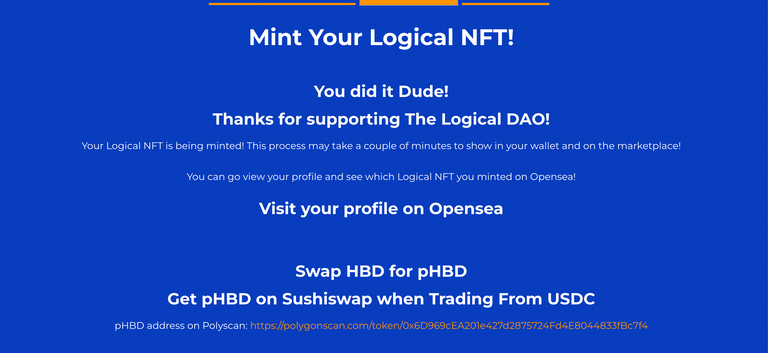 You can also tap the Marketplace tab and check out the collection there on the embedded page from Opensea!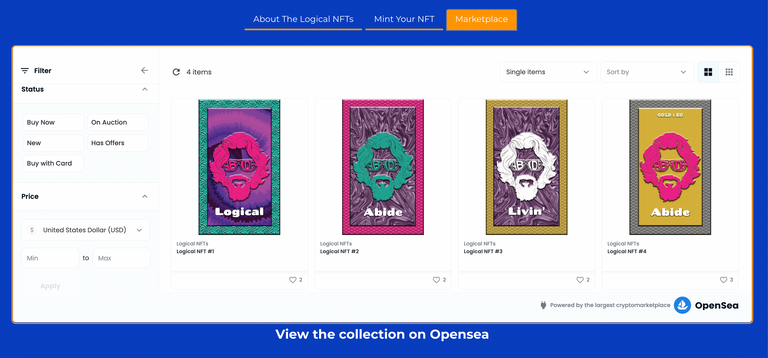 You Are Supporting Development of A Future Economy and Ecosystem!
Remember that when you are buying these NFTs, you are supporting the development and growth of multiple projects across 3 different blockchains! 10% of the funds from this sale will go to to Ecologi to help support tree growth and carbon neutrality, you know, trying to do something good for the planet... Then 30% will be paid directly to me for some immediate development and marketing needs for BlockTunes, Hivelist, and the new PolyList Marketplace. The remaining funds will go into the DAO in the form of pHBD-USDC LP tokens that will be staked in Polycub.com and earning interest to drive further growth.
Thank you all who are wanting to support the cause! There is also another way you can do so through the new LOGIC token! More on this in another post! Now it's time to go celebrate my 40th birthday!
Until next time... You know the drill...
Be Cool, Be Real, and always Abide!
https://thelogicaldude.com - The Dude's main site
https://hivelist.io - Classifieds, NFTs, DEFI Pool, Online Retail
https://HiveHustlers.com - Community for Entrepreneurs and All Around Hustlers
https://coin-logic.com - Live crypto market data, news, and research
https://blocktunes.net - Music NFTs, DAO, Downloads, and more
https://groovelogic.audio - DJ/Producer/Sound Engineer music and services
https://weedcash.org - The Highest Form of Social Media
View my channel on 3speak.tv! Video platfrom for a free speech society!
https://3speak.tv/user/thelogicaldude
But if you must... here is the YouTube channel link:
https://www.youtube.com/channel/UCtGApfTp4ZzLHksDdImJ9JA
Join Hive by going to:
https://signup.hive.io/
Want to shop using crypto, or even start your own online store? Check out the Hivelist Store
If you like what I am doing, please consider voting for my Hive Engine witness with your staked WORKERBEE!
https://he-voter.vercel.app/thelogicaldude
Or at
https://tribaldex.com/witnesses
Get started playing Splinterlands, the top blockchain game in the world, today!
https://splinterlands.com?ref=thelogicaldude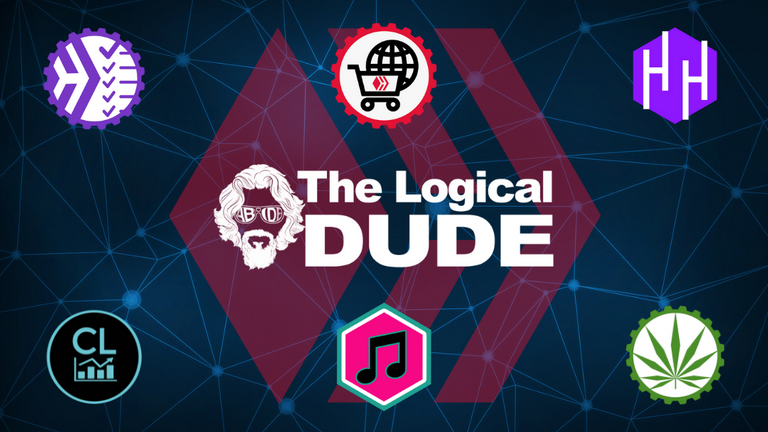 ---
---