Personal and Project Goals for 2022! A Post of Reflection and Vision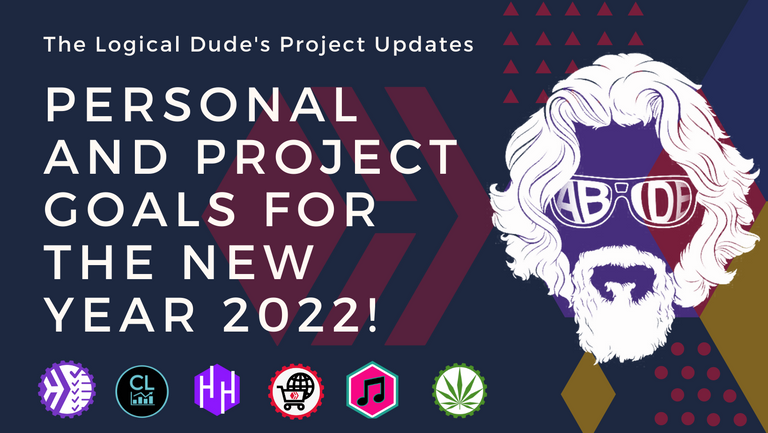 Hello and Happy New Year everyone! I know I am a couple of days early but I wanted to go ahead and get these goals out of my head on in a post so I can start being accountable to them ASAP! That and I have allot to do for the upcoming @blocktunes release on Jan 1! Well it is technically up and running now, but we will be opening it up to artists on the 1st to get set up!
A quick reflection on 2021 sees some awesome lessons learned, opportunities vested, and some good times had! I have built more confidence in myself and my skills as the time has gone and see where I need to build and expand to better myself for the future!
I was also able to roll some profits into the first real vacation I have been able to take my kids on in over 10 years. I was able to take a month off of the grind and drive across the USA and made all kind of awesome stops and memories along the way, my goal is to do more traveling in 2022 and be able to use my travels for some good Hive content!
Before I get into all the project goals and such, I want to take a minute to make some personal goals for myself! I see people like @jongolsen doing this as well as others and it seems to keep them accountable for their goals. So here are some personal goals for myself, and then we will get into the business goals.
Personal Goals for 2022
Goal 1 - Fully Living on Crypto
This is a goal that I had thought I had attained, but in the last couple of weeks with all these big market downturns and some of my yield farms not paying out as well as they had due to APR changes and such, I am having to start out the year back behind the delivery wheel a bit to get some USD debts and bills paid off so I am not having to take as much out of my crypto earnings.
In 2021, the businesses have really just been building their bases and haven't started turning major revenue yet, so I want to be able to pay bills and compound instead of having to sell all of my yield farm earnings. But I have had the taste of it and want it bad so I have the goal to be completely done with deliveries in 2022! 2021 has actually been a great year for my portfolio, but allot has been rolled into my builds and other projects, which some worked out and some have not.
I feel the best way to get there is to keep consistent posting on Hive and keeping up with curation as well as building my staking and DEFI stacks. I want to be able to reach at least $120 a day in SOLID crypto income to feel comfortable with paying the bills and having enough to be able to continue building.
Crypto stacking goals
Hive - Reach 20,000 Hive Power and keep a wallet balance of at least 500 Hive at most times. Currently sitting at 17,7K so that should be a pretty attainable goal. I want to do this through post rewards and curation as much as possible. The Hive can also be used to go back and forth to HBD using the conversion tools as a trading mechanism.

HBD - Reach 2,500 HBD base saving wallet amount to earn the passive returns. This would give a nice saving and security fund for those just in case times.

Hive Engine Tokens:

BXT - Goal is to get to 250 BXT staked by EOY 2022. Currently at 51.

SWAP.HIVE/BXT pool- Build up to over 200 LP. Currently at 84.471 LP.

SWAP.HIVE/SIM pool - Build up to over 2000 LP. Currently at 600.603.

BRO - Build up the BRO stack to 100 BRO tokens by way of delegation and occasional purchase. Currently below 1 BRO, but earning through delegation of HIVE, LEO, CTP, LIST, and WEED

Splinterlands Collection Power - 15,000 - Currently at 7,355 - Goal is to double my Splinterlands deck and keep building up that income! I want to spend more time playing and trying to get better at the game, but I am also wanting to build up a sizable part of my stack that I rent out and earn DEC tokens. Hopefully my Splinterlands posts can help fund this. It's amazing to have business and leisure all on the same chain!

Most other Hive Engine token rewards will continued to be staked or rolled into Hive, the SWAP.HIVE/BXT pool on BeeSwap, or into more Splinterlands card packs. My projects will be doing more of the HE token staking than my personal account.

CUB/BUSD pool - I want to double my CUB/BUSD farm which is currently just under 3100 LP tokens. I used to have nearly 6k LP tokens, but funds have been moved around and rolled into other projects. Although having a bit of volatility like all the other cryptos out there, CUB has stayed solid and has earned a long term place in the portfolio as well as the BlockTunes DAO, but more on that later. I am wanting to get back to where I was at and then some!

Osmosis OSMO - I want to double my stacking amount to 400 OSMO, currently at 200 OSMO.

Cosmos ATOM - I want to increase my ATOM staking from the current 10 ATOM to 50 ATOM or more.
Hopefully I smash all of these goal early in the year, but I like to set smaller goals that seem a bit more attainable in a realistic manner. It can be done if I can focus on some outside earnings and building these other businesses and earning some revenue. I can always reset goals and expectation. Hopefully it will all be to the upside!
You notice there isn't any BTC on the list...I have learned that I like projects that have everyday uses other than a store of value. I may get back to stacking some Bitcoin, but it's really not in the focus. My kids are strangely more into holding Bitcoin than I am, lol. Is what it is, lol.
Goal 2- Get In The Best Shape Of My Life
Health is wealth baby! What do you think all these rich old people are trying to do? They certainly don't plan on dying anytime soon, they want to live forever, lol. So instead of spending a crap ton of money on doctors and such that just want to feed me big phara poisons, I am going to be continuing on my journey to physical and mental health!
I will be turning the big 40 in May and I want to bust up in that decade like the Kool Aid Man!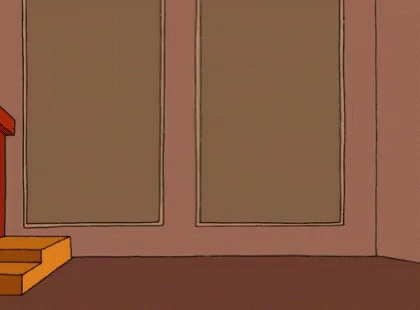 Well not that round, but with that kind of smile and energy, just without all the sugar, lol!!!
I am going to continue hitting Planet Fitness and working on those goals! I don't put a pound limit or anything, because those kind of goals are not what I am trying to reach. I want to build strength and stamina so I will be working hard at both! I will be at the gym 5 days a week, Mon-Fri hitting it hard!
My goal is to do a daily Actifit post to keep myself on track. I have already set the alert to remind me to do my post. So if I have been lazy that day, I will have to admit it to myself and the world on the blockchain, lol.
Another health goal is to get better sleep! I figure if I can wear myself down during the day and meet my goals, I will be able to sleep better. Working out and eating right will help with this as well. Because I have found in 2021, in a big way, that my sleep schedule is garbage and needs to change!
Goal 3- Spend More Time With My Kids
My kids aren't getting any younger and I have missed allot of their lives just due to living the corporate rat race. I have found the last couple of months of living off my crypto rewards and not doing my delivery driving is that I have way more time to hang out with my kids and try and regain some of that lost time.
I got them a bunch of Splinterlands cards so they are finally getting interested in crypto so maybe that can be something we can all bond over, lol. If you can't spend time with those that you love the most, then what is it all worth?
Business/Project Goals for 2022
So now for the business stuff...
Main development goal is to learn javascript and node.js so that I can build better sites and learn more about the Hive backend and be able to not be as handicapped as I am with my limited skills using Wordpress and plugin functionality. That is not to say those skills haven't gotten me this far, but I feel that it is time to expand the skills! So by EOY 2022, I am going to finish the Codeacademy JS and Node JS courses. I am even wanting to dive a bit into Solidity if I get those courses done sooner... I really want to focus on building my skills to be a valuable blockchain developer so that I can actually start getting paid to build things, lol.
But as far as any future development or projects for 2022, I am sticking to what I have already started. There will be no new projects started this year. There is one other domain I have purchased that I am sitting on that might come out at some point, but for now I am focusing on what I have going.
I feel that 2021 was the year that the foundation was built and now it's time for things to flourish! Most of the bugs have been worked out and things are going pretty smooth on most things projects. But there is always room for improvement. So let's get into it.
HiveLIST

@hivelist is the beast of them all. It was the one that has taught me all the lessons, lol. I feel that we have started a great thing with Hivelist, both the on chain community as well as the Hivelist store. There is nothing else like it on Hive currently. We have established ourselves as the go to for e-commerce on Hive which is really cool and continue to build on that and increase the user base and try to build as much value for our stakeholders as possible!
The goal going forward is to just build out the catalog on the Hivelist store and to put a huge focus on marketing the platform as well as increasing activity on the curation side. You will see that curation is going to be a big focus going forward in most of my projects...
Being that we have a classifieds community, NFT marketplace, DEFI pool, and a full e-commerce store, I feel that Hivelist is a great way for us to market Hive as a whole and get around the big tech advertising block, although they started accepting, but they are still picky. We can market as a retail platform that accepts crypto, and lure them in, lol.
HiveHustlers and the HiveCommerce DAO

So yeah, HiveHustlers and the HiveCommerce DAO are a finally getting straightened out and on the right path. This year will be just focusing on building more educational type content for entrepreneurs and building our business and developer resource library so we can also be the go to for people wanting to start a crypto based business. My goal is to make at least 2 big educational type posts on the @hivehustlers account per week.
My plan is to also keep building curation and engagement through commenting and sharing awesome posts from the supported communities. We want to bring value back to this project by spreading our love for entrepreneurialship across as many communities as possible!
We are going to keep stacking curation stakes in CTP, LEO, and WEED using our post and curation rewards. As far as SIM and LIST, we are going to start focusing on providing liquidity to the HIVE/SIM pool and the HIVE/LIST pools to earn farm rewards to help build daily payout amounts to those staking the HiveCommerce or COM token.
We will be selling half of our PIZZA tokens into HIVE to pair up with with SIM and LIST for providing liquidity to the pools.
It's been a crazy year since I have taken over the HiveHustlers community and finally starting to give it some life and structure. Hopefully with we can continue to build value in this community through delegation, content creation and curation!
BlockTunes

This has been the project that has pretty much taken up the bulk of my life the last couple of months, haha. This is the project that it has all built up to. My original reason for getting on STEEM/HIVE back in the day was to try and post my music. Well it went a different way, but hey, it has all come full circle. So this project is made up of my years of experience in the music industry as well as my new love and experience in blockchain.
The base has been completed and we are getting ready for artist sign ups starting on January 1st! Our governance board and token sale are currently going on right now for those that want to participate in our DAO and invest in the future of the music industry!
We currently have a road map on the site we are working out, but the biggest thing we are going to be building out this year is the streaming functionalities and social functions on the site.
So really Blocktunes is the only one getting any major development outside just updating features and maintenance.
So because of @blocktunes, I have dusted off the old gear and started back making music with my @groove-logic account. My goal with this is to make at least 2 smaller posts per week and one big DJ mix podcast hopefully promoting BlockTunes artists! I have a good idea on the format, but I will talk about that in a different post. Just know... big focus on music content because I am finally seeing some income from doing the one main thing that has always been my first love!
This is another project that can be a huge marketing opportunity for Hive as we are using Hive for most of our social features and one day extend our investment DAO to Hive.
Coin Logic and coinlogic.online

Coin Logic was the first of all my crypto projects. I started it before I was even on the old chain. The goal is to turn it into a full fledged crypto research site and financial education and investment club.
I will continue to make videos on Mondays and Fridays bringing you the Coin Logic TV market updates, and then will be producing at least 1 other educational type video on Wednesdays. Tuesdays, Wednesdays, and Thursdays will see a written article on the markets and crypto news updates.
I will also be using this account for most or all of my Leofinance curation which I will be continuing to look for awesome articles from the Hive community to share with our users.
I am also getting ready to launch the Coin Logic DAO on both BSC and Polygon starting in mid January! This will be an investment and finance club for us to all learn and invest with each other.
Weedcash

We finally have Weedcash finished for the most part as far as we have our new outpost as well as the NFT marketplace so we are in a ripe position to really start trying to focus on some marketing. There are many members wanting us to figure out how to get Snoop involved which would be freaking epic and would certainly help the price of WEED, lol.
I plan on keeping up the Weedcash Wednesday videos as well as we are going to try and set up at least a monthly Weedcash meetup on Discord to try and drive some community engagement. I am also going to get back started with the WeedChat posts to try and build up some community engagement as well. This will give us an avenue to try and have some discussions on chain about what we want to see in our community and what kind of things we want to see some focus on. Also a place for us to just chat about our favorite plant!
I am also wanting to design a cool NFT series to put on the Weedcash NFT marketplace. I have the backgrounds already designed, just trying to figure out all the other designs for the series, it's a work in progress, but will be a fun collection.
In Conclusion
As 2021 was the year of building for the Dude and his crew, 2022 is going to be the year of fine tuning, content creation, content curation, and marketing!
All of these things are attainable with the right time management which is another thing I am focusing on. I have an innate ability to multitask and compartmentalize my time and brain space. Having multiple things to do in a day makes things fun instead of what I used to do for Apple and focusing on the same subjects for hours in a day.
A little bit of everything in a day is a great way to spread out the work, not get burned out, and to enjoy life... Because that is the point of all of this, is to be able to enjoy what I do for a living and want to get up and spend my day with my awesome Hive and greater crypto family. In the midst of it all I am going to keep trying to earn outside income with the delivery services, but not near as much as I used to until all these goals are met and I am fully making my living on the blockchain!
I have had the taste of it, but finding that I can't keep it up without making enough to keep stacking, so back to the grind I go a bit.
My goal is to wear myself down enough to where I will want to shut my brain off and get some good sleep!
So it's on you, my Hive family to help keep me accountable, lol! Keep me on track to I can make the best out of the projects I can for the better of all of use! I don't build these projects just so I can make money, because that hasn't happened yet, lol, I build them because I want to see a better future for humanity and our economy! I want better for my children and hopefully at some point future grandchildren.
I want my kids to say that during the Great Reset, my dad help build a better social and economic future for us all! The key is to show up everyday and be better than you were the day before!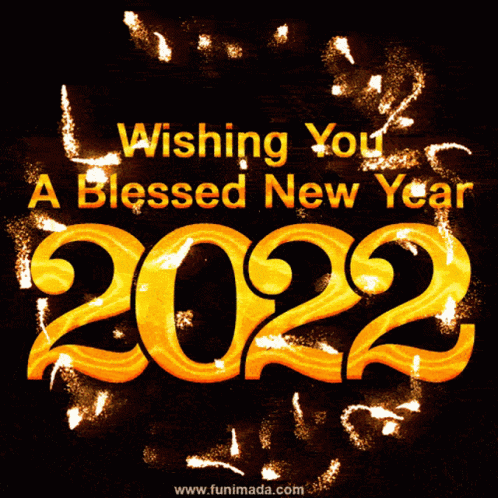 Be Cool, Be Real, and always Abide!
If you like what I am doing, please consider voting for my Hive Engine witness with your staked WORKERBEE!
https://he-voter.vercel.app/thelogicaldude
Or at
https://tribaldex.com/witnesses
https://thelogicaldude.com
https://hivelist.io
https://HiveHustlers.com
https://coin-logic.com
https://blocktunes.net
https://groovelogic.audio
https://weedcash.org
View my channel on 3speak.tv! Video platfrom for a free speech society!
https://3speak.tv/user/thelogicaldude
But if you must... here is the YouTube channel link:
https://www.youtube.com/channel/UCtGApfTp4ZzLHksDdImJ9JA
Pure Logic Podcast can be found on 3speak.tv and YouTube as well as the following podcasting platforms:
Spotify
Anchor.fm
RadioPublic
Breaker
Google Podcasts
Join Hive by going to:
https://hiveonboard.com?ref=thelogicaldude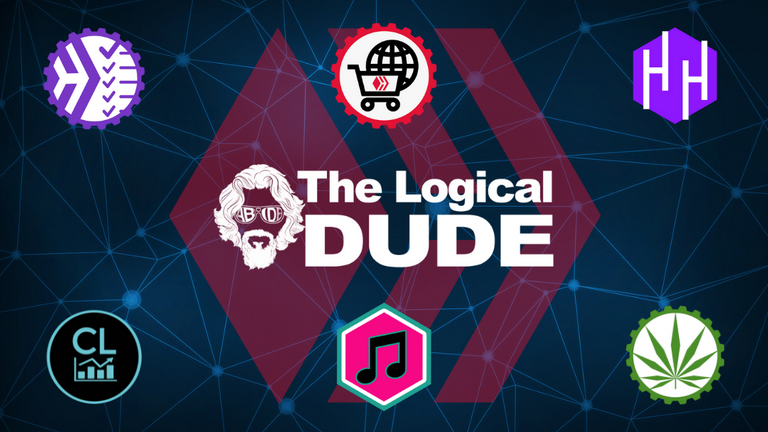 ---
---