When All Else Fails, We Still Have HIVE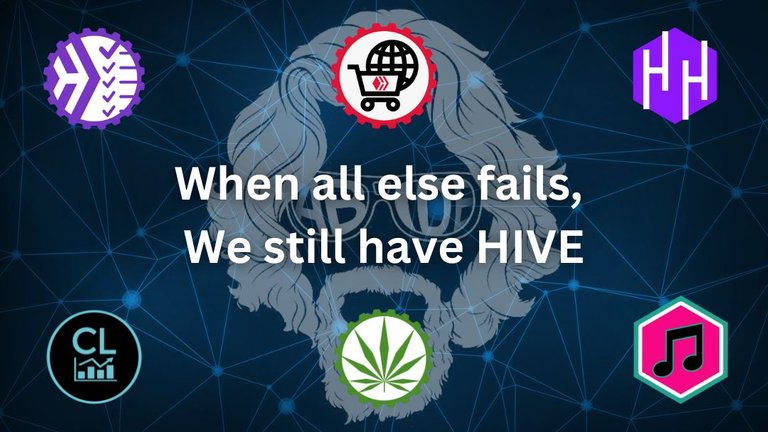 When times are tough, sales are down, and the trading markets are not doing what you want, there is always Hive! In my current situation, I am in a spot where I cannot make much offline money, so I am having to turn online to pay the bills. But, as we all know, that can be a tough nut to crack!
I have multiple businesses online, but all of them really just have trickle-in money, so not enough to really do any damage on the bills at the current moment. But, that is not going to stop me! The key is to just keep creating, trading, and well, building!
Anyone Can Make An Income On HIVE
That is the beauty of this blockchain. You don't have to have any expensive equipment or even a bunch of tokens to generate income. All you need is the ability to get online and write! Everyone has a skillset of some sort, so why not share your knowledge with the community and have the potential to make some money from it.
Now let's talk expectations... It takes a while to build an audience on Hive. It takes even longer to get the attention of the whales that pay well... Trust me, I am still working on this... So I don't want you to think that just because you put up a half-decent post you are going to sit back and go to the moon. It's gonna take time, and more importantly, WORK!
HIVE Is Proof Of Work, Just In A Human Way
Like I said before, you don't have to have expensive equipment to earn on Hive like you do with Bitcoin and Litecoin. With those Proof of Work chains, it takes computing work to earn, but with Hive, it just takes some actual human effort and an internet connection! When you sit down to write a post, or create a video, you are working for your HIVE!
Now can there be fakes, absolutely! But, the thing about Hive is that it's not just a blockchain protocol or network, it is a community of individuals that know how to spot a fake when they see it and will downvote your post into oblivion where you cannot earn any rewards. So let's make sure we are not doing things like practicing plagiarism. That's a big NO NO and will get your account shadow banned by the likes of the Hive Watchers.
As long as you are producing your own original content, there is nothing to worry about! If you are quoting or using other work, you better use citations and give credit to the original source!
Never Stop Creating
The key is to stay consistent, and I will tell you firsthand, that is the hardest part about it. You will have some weeks where you will make some great money on your posts and get a lot of attention, but then there are times that you will not earn much of anything, and that can be a motivation killer!
But what I have found is that it is no different than any other job. Well, that is unless you are paid an hourly wage, but in my world as an entrepreneur, there is no steady money. It can be hit or miss, just like my food delivery service, or things like sales jobs. The key is that when the income is lower, you just need to work a bit harder, and find out what it is that could help drive more attention to your posts.
If You Love What You Do, Is It Even Work?
The key in any business is to find a way to make a living doing what you love. I have said this many times on this blog as well as on the @hivehustlers blog, and guess what, I am saying it again. I have found that I love making educational content, storytelling, music production, and trading. All of those are challenging in their own right which makes me just want to get better and better.
When you are doing what you love, it never really feels like work. For me, it feels like I am putting good vibes out in the world and actually getting some financial returns. The harder you work at becoming better at what you love, the more rewarding it is going to be! Not just in a financial sense, but you will have more knowledge that you can use and share with others!
Hive gives us a way to earn with our passions, so use it as a business, keep trying your best, and never quit working when you love what you are doing!
Until next time everyone...
Be Cool, Be Real, and always Abide!
The Logical Labs Projects
https://hivelist.io - Classifieds, NFTs, DEFI Pool, Online Retail
https://HiveHustlers.com - Community for Entrepreneurs and All Around Hustlers
https://coin-logic.com - Live crypto market data, news, and research
https://blocktunes.net - Music NFTs, DAO, Downloads, and more
https://groovelogic.audio - DJ/Producer/Sound Engineer music and services
https://weedcash.org - The Highest Form of Social Media
Video Channels
View my channel on 3speak.tv! Video platfrom for a free speech society!
https://3speak.tv/user/thelogicaldude
But if you must... here is the YouTube channel link:
https://www.youtube.com/channel/UCtGApfTp4ZzLHksDdImJ9JA
Other Ways To Support
If you like what I am doing, please consider voting for my Hive Engine witness with your staked WORKERBEE!
https://tribaldex.com/witnesses
Get started playing Splinterlands, the top blockchain game in the world, today!
https://splinterlands.com?ref=thelogicaldude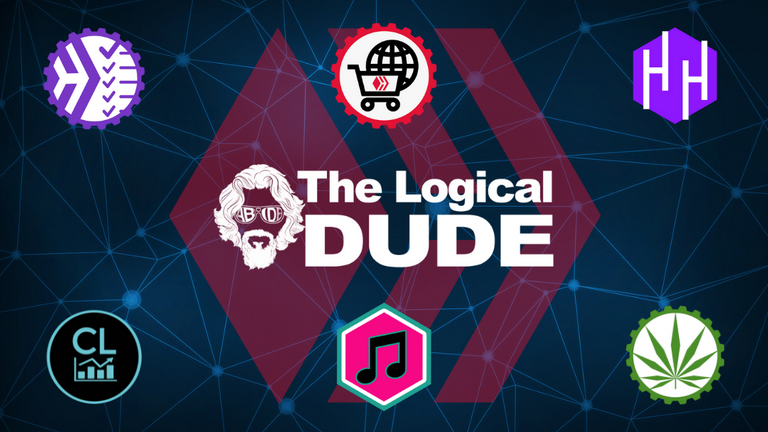 ---
---