Blurt may freeze accounts for engaging in subversive tactics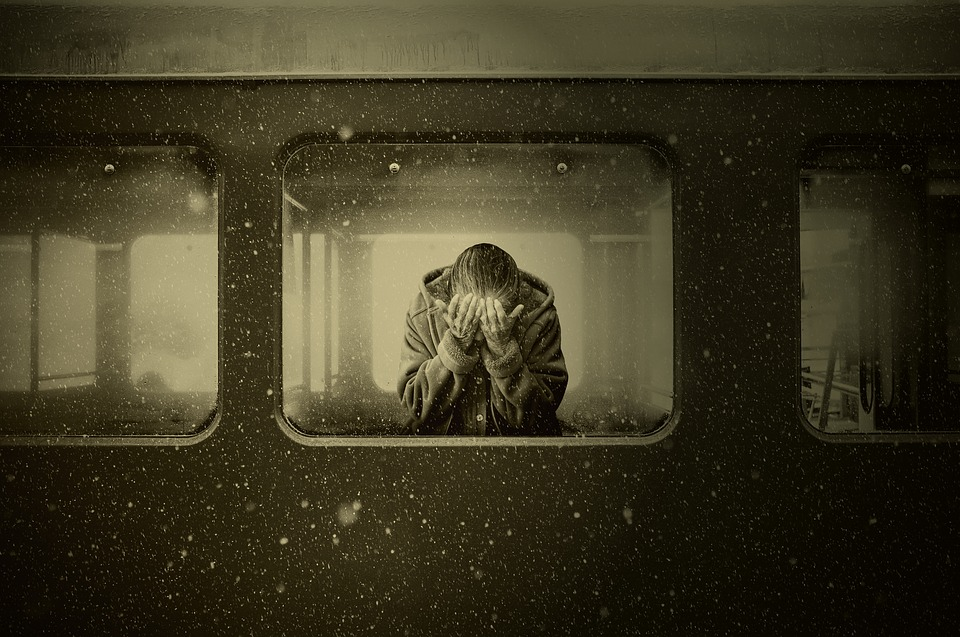 Long time user @ctime moved to Blurt from what I assume is disagreement with Hive in general. In doing so, he(?) aquired a significant stake on Blurt, currently 13.4M Blurt on his main account, who knows on alts. When I first noticed his stake on Blurt it was valued over $300K USD, but is now sitting at just over $100K.
Full disclosure, I really don't know much of the politics on Blurt and what's been going on outside of my recent time looking around at those who have been spamming Hive with their Blurt propaganda. I have since made a few classy memes just to say Hi.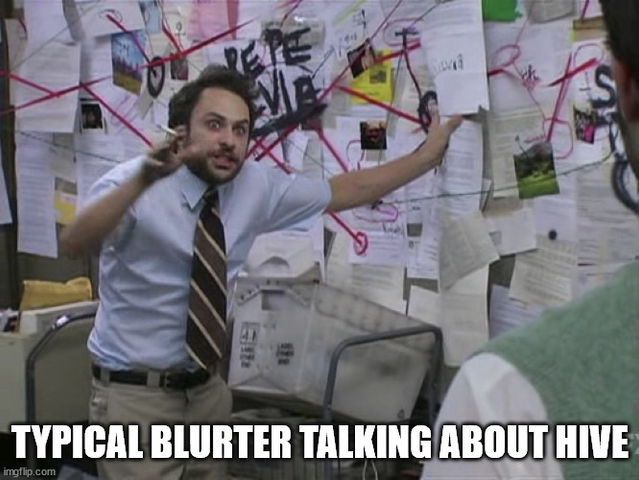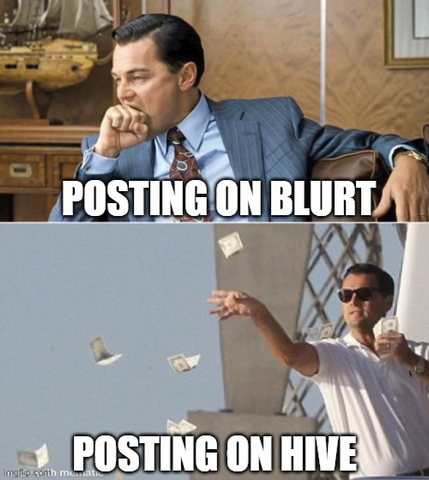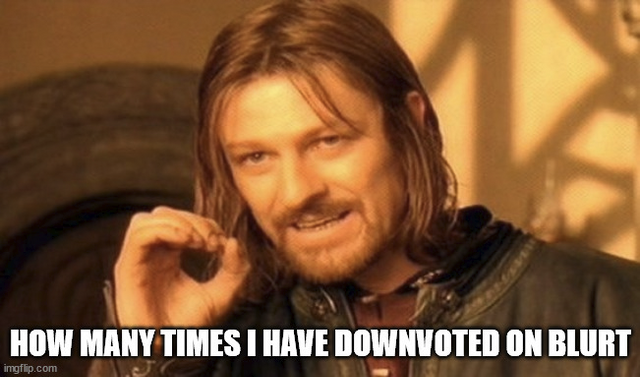 The last one may not make sense unless you are aware Blurt has no downvotes. They do however have a coal list that allows a central authority to disable your ability to receive upvotes. So in my eyes, they do have downvotes they are just not decentralized like they are on Hive.
Anyway, I've noticed a few interestings happening and like I said, I don't know the politics so I don't fully understand what's going on.
That being said, I do know Blurt is approaching the two year mark where they promised to stop being the single voter that controls the top 20 witnesses and allow the community to decide. @ctime wants this to happen so the community can take over. @megadrive (Blurt Founder) as far as I understand isn't ready to do so.
---
I came to be informed that @fervi is a supporter of @ctime who is currently trying to engage in subversive tactics on Blurt and making demands for the foundation to step aside to dupe users into rallying behind the Utopian dream of decentralisation while he and his group lie in wait with 21 mil BP ready to take over consensus and the proposal pool if he succeeds in getting the foundation to neuter itself.
@ctime has on many occassions lorded powering down and crashing the price over the community if he doesn't get his way and latest threats to dox the foundation team which is highly dangerous to the security of Blurt as all hold witness positions, threats of this nature are not to be taken lightly. Other threats include stopping his @ctime rewards bot to punish users (the foundation however has an answer to this with @blurtbooster, an algo bot that will vote all qualifying and non-blacklisted accounts)
- @megadrive - Blurt Founder
---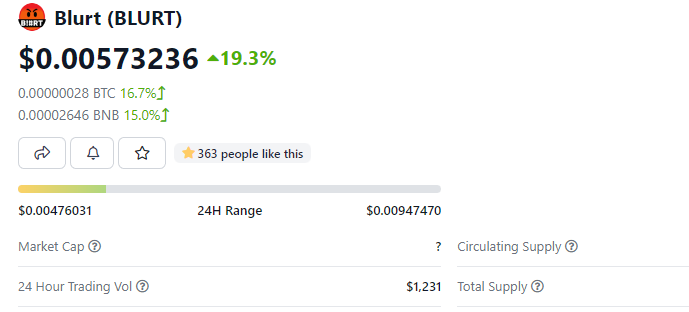 Blurt price has been dropping fairly quickly in the last few days, even after the entire market lost 50%, Blurt keeps dipping lower. Prior to the market drop Blurt was just over $0.03 for a bit and hovered around $0.022 for a while. The daily volume being under $100 many days, and around $4,000 on a busy day. This potenally buffers any major impact on price.
There is a lot more going on than this quote above from @megadrive, and like I said I really don't know shit about Blurt outside of the basics.
After these events, Blurt Core has shutdown the public witness channel, prior to doing this, Blurt Core contacted other witnesses about freezing @ctime's accounts and potentially other users associated with him.
I, at the time, approached the witnesses in the channel to gather their thoughts on the notion of giving @ctime notice to wind up his affairs within 30 to 40 days on Blurt before we freeze his account, having been given fair warning, this would extend to bullies on the chain that persecute our users.
- @megadrive - Blurt Founder
@megadrive also added the following clarification in a recent edit.
For clarification purposes, funds will always be SAFU, and even fair warning given to extract them. "Freezing" refers to blocking governance and social functions.
- @megadrive - Blurt Founder
I have no horse in this race and don't really understand the full scope of what's going on, so I don't really have an educated opinion about this.
The reality is that as Blurt heads to the $0.001 price point that @ctime and @double-u so cavalier laugh about; the cost to take over consenus becomes in the hundreds of thousands of Dollars instead of Millions and makes it ripe for a collusive takeover and destruction, nullifying value for everyone, but these jokers think it is funny and want to engineer that it does get there by spreading FUD.
- @megadrive - Blurt Founder
@megadrive brings up a big point here, and this is true for all blockchain projects, the cheaper it is to get a large portion of the network, the easier it is to take over and manipulate.

There are a lot more details in @megadrive's post and the comment section and if this sort of thing interests you, I suggest you read the post in it's entirety as I only covered some aspect of it to be more focused on the core issue.
I am sure there is a lot more to this entire situation than I am even aware of. I only recently looked back at Blurt as a result of the spam some of their newer users have been doing on the Hive network in the last few months. I do find this a fascinating situation of governance and security regardless.
Posted Using LeoFinance Beta
---
---