How did it all come out...and what's next? #MyHiveGoals
Hello. My name is Garrey and I am a procrastinator (but we've been here before). It's been eight months since my last #MyHiveGoals post.
WHAT??? How did that happen? It seems I would have learned already. I obviously am not using these updates for motivational purposes (for me, anyway). I wonder if it is even for accountability sake. Maybe it's because (as I mentioned in my last post so long ago) that I changed my focus. I have been doing a lot of play2earn. I have been doing some commenting/upvoting related posts. I did some posting for a bit, but that's slipped off over the past few months.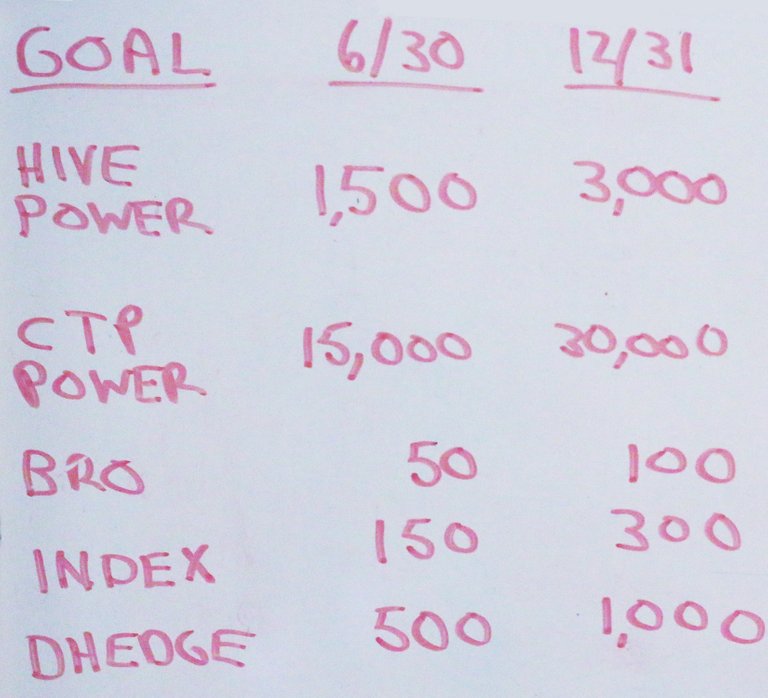 Even though I have been misguided, I have mad some progress towards my goals. Let's check in to see exactly how well I ended up doing for the year. Of late, I have been segregating my various crypto tokens into different accounts based on the purpose of the account (gaming on @moonthumb, family stories/genealogy on @familyhistory, crypto/investing/other on @theroad2freedom). I also have some tokens (generally those used for general posts...and HIVE, of course) that I accomulate on a few different accounts. For the purpose of my goals (and this post), I will add totals from similar tokens together from all of my accounts).
So, with that said, let's take a look at the year end numbers:
HIVE POWER = 3,000 - 2,005.637 [948.180 + 215.859 + 841.598] = 994.363 short of my goal
I thought this goal was a bit ambitious when I set it. While I only reached 2/3 of my desired total, I am much further along than the 777.687 I was at the beginning of the year. So, I only tripled my total instead of quadrupling it. I'll take that. Next year will probably not be so impressive (to me, anyway).
CTP POWER = 30,000 - 13,154.22 [11,385.779 + 1768.441] = 16,845.780 short of my goal
Once again, I felt like this goal was a bit ambitious when I set it. But when you take into account the 7504.568 in liquid CTP that I am currently holding for a couple of week for an upcoming airdrop, I am really only 9,341.212 short. That means my grand total of 20,658.788 effectively trippled my initial 7,200.000 starting amount.
LEO POWER = 150 - 150 = 0 / reached my goal
Granted, I did have to purchase the last 1.202 today to reach my goal, but I had the SWAP.HIVE available to make that happen, so mission accomplished.
BRO & DHEDGE
After the productivity of these two tokens decreased, I decided to sell them and reallocate those funds to other tokens. At the time I sold these tokens, I had already eclipsed my goals for each of them.
INDEX = 300 - 325.041 = -25.041 / reached my goal
This one I actually did build up throughout the year (and did not require a last minute purchase in order to reach it.
All it all, I'd say that even though I didn't reach all of my goals, I did pretty well and I only fell short in the areas where I knew I was making a stretch. I will continue to work on these tokens in the coming year and will set my new goals momemtarily. There are also some other tokens that I want to track this year in relation to my play2earn activities.
First of all, in Rising Star, I want to become a STARBITS Millionaire. This will require I save 1,000,000 STARBITS outside the game. I would hope to get there before the end of the year, but at a minimum of 83,333.333 per month. WHen it comes to ambutious goals for the coming year, this one is it. I am fairly confident that I'll be having to purchase a good it of these STARBITS. However, once I get there, I should be able to grow this account much more quickly.
For Splinterlands, I want to increase my daily income. This will require that I invest in some higher dollar cards that I can rent out/use to progress beyond the Silver II level that I usually reach. Also, as I win more cards, I can combine them into higher level cards.
I also want to set goals for a few more tokens that I use to post/comment on my play2earn efforts.
Finally, I want to increase my Liotes holdings (LEN/LENM).
So my goals for 2022 are:
Token
Goal
Current Amount(s)
Hive Power
5,000
2,005.637
CTP Power
50,000
13,154.22 + 7504.568 liquid
LEO Power
400
150
INDEX
750
325.041
STARBITS
1,000,000
84
DEC/day
500
107.135
Liotes Pts
300
95.5
15 comments/day
4 posts/wk
Maybe I can be a little more diligent in my reporting in 2022.
Happy New Year!
---
---