How has it been so long?
Hello. My name is Garrey and I am a procrastinator. It's been two months since my last #MyHiveGoals post.
Wait a minute...How did that happen? It feels like it has only been a couple of weeks. It seems since I have changed my focus to playtoearn (blockchain gaming) and posting/commenting/upvoting posts related to that subject, I can never get everything I want done each day (especially when I have to accomodate my J-O-B).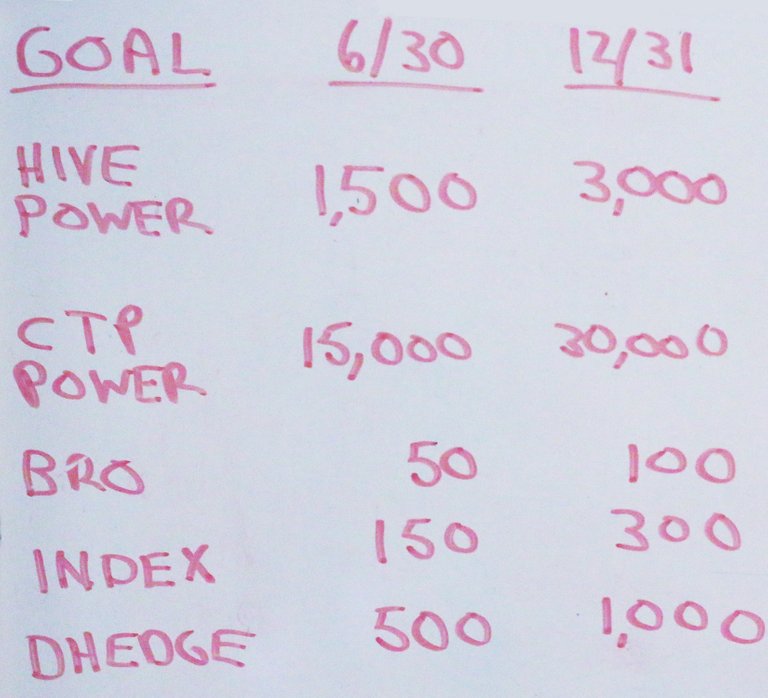 But enough about my online struggles. Let's check in to see how this activity has impacted the pursuit of my goals. But first, I need to make a disclaimer. Up to now, since most of my entrepreneurial activity has been associated with one account, I have only been tracking my main account (this one). However, over the past couple of months, that emphasis has changed slightly. I still focus on my investment activities with this account, but most of my attention has been on my gaming account (@moonthumb). Therefore, I have decided to include the totals of both of these accounts when tracking my goals.
So, with that said, let's take a look at the numbers:
HIVE POWER = 1,500 (June goal) - 1051.576 [910.165 + 141.411] (current HP) = 448.424 to reach my first goal
I have been able to invest a bit here since my last post (240+ HP increase from two months ago), but am still not close to my goal. I will probably not reach this goal by the end of next month. However, I am not ready to readjust this goal at this time. I will probably take a closer look at my rate of progress once the first goal arrives to determine how best to adjust my end of year goal. I thought this goal was a bit ambitious when I set it.
CTP POWER = 15,000 (June goal) - 10,372.450 [10,098.450 + 274.000] (current CTP Power) = 4,627.550 to reach my first goal
With almost 2000 CTP tokens earned in the past two months, I am still well short of my goal. Once again, I felt like this goal was a bit ambitious when I set it, but we'll see how well I do over the next two months. I will probably need to re-evaluate this goal at that time. as well.
LEO POWER = 75 (June goal) - 81.459 [79.203 + 2.256] (current LEO Power) = First goal reached
Now that I have reached this goal, I have not put a lot of emphasis here. I will let this accumulate with my current delegations/activities and see how it progresses on its own. It would be nice to see continued passive income here without further effort. I am sure I will want to increase my holdings in this area at some point, but for now I am satisfied with the growth here. It would be nice if it reaches the second goal on all by itself. However, I suspect I will need to readdress this category as I get into the second half of the year.
BRO = 50 (June goal) - 36.86449548 [34.76715864 + 2.09733684] (current BRO holdings) = 13.23284136 to reach my first goal
INDEX = 150 (June goal) - 230 [150 + 80] (current INDEX holdings) = First goal reached
DHEDGE = 500 (June goal) - 510.19492115 [510.1946874 + 0.00023375] (current DHEDGE holdings) = First goal reached
As you can see, I have been focusing most of my growth in this area. Even though I have just started accumulating these tokens in my gaming account, I have been able to make some good strides in this area. Since all of these tokens provide dividends, I feel like any progress here is multiplied by the tokens I earn from them. Some of these dividends help with the passive growth in other areas (LEO, for example) and other dividends I convert into tokens I want to grow (like these). My main destination for these conversions this month will be my BRO tokens as I try to reach this goal by the end of next month. If I am able to accomplish that, I can reassign these conversions to my HIVE and CTP goals.
As the pandemic is beginning the wane a bit, I am beginning to get more hours at work. This is both good news and bad news. The bad news is that as I work more, I have less time to dedicate to my online earning activities. The good news is I have more discretionary cash to invest in my portfilio. It will be interesting to see how the next couple of months play out and how close I come to reaching my June 30 goals.
Posted Using LeoFinance Beta
---
---