It Went From Bad to Worse - #MyHiveGoals
It all started that fateful Wednesday, February 10, 2021. As the weather prognosticators had foretold, it had begun snowing overnight and there were traces of evidence that they just might be correct in saying this might be a significant snow event. We continued to get flurries throughout the night and into the next morning.
This is Texas. It seldom snows here. It had been almost five years since we'd had measurable snow. It was always a welcome change of pace when it happened. Most businesses shut down. The children get a day, maybe two, off from school so as to reduce the number of cars on the roads. Traffic was generally the major concern. Ask anyone that was not raised here and they will tell you Texans don't know how to drive in the snow. I must admit, things generally come to a grinding halt in the snow (one way or another). I've always been told the snow in Texas is different and that has always been my rebuttal. Up North, they get a dry blowing snow, but the snow here in Texas is a wet snow that packs down, becomes slushy, and turns into ice (and NOBODY drives well on ice).
What made this weather event so different was that we were expecting three distinct waves of snowfall over the coming days. The second wave was expected over the weekend and the third (and strongest) storm the following Tuesday into Wednesday.
And then it happened. The first sign that this was not your ordinary Texas snowfall. That Thursday morning, on a highway leading into Fort Worth, just as the sun was beginning the light up the day, an accident occurred on the frozen road. But this was just the beginning. As you can imagine, the cars behind the fender bender had no way to stop on the icy pavement and plowed into the stopped vehicles. One after another, the massive hunks of moving metal that topped the rise just before the pile up became projectiles plowing into the ever growing conglomeration of twisted carnage. After over 130 vehicles had joined the wreck, six people had lost their lives, and dozens were sent to the surrounding hospitals, it took over 24 hours in sub-freezing weather to clear the mess. And this was just the beginning.
As the second wave started on Saturday, local churches cancelled their Sunday morning activities. For the first time since resuming services after the initial Covid outbreak, there was no Sunday morning worship at Sunnyvale FBC. All Sunday School classes were Zoom only and, in an unprecedented move, the pastor broadcast his sermon from his study at home.
The next attack was upon the local economy. With the pandemic still taking its toll on businesses everywhere, they were looking forward to some reprieve with the upcoming holiday. With Sunday being Valentine's Day, restaurants and other venues had been booked for weeks. But as the snow began to fall on Saturday, the reservations for the following day began to follow suit. By Sunday morning, restaurants that had been booked from open to closing shut their doors due to having no customers. Valentine's Day was a total bust.
As luck would have it, the schools were already scheduled to be closed on Monday due to President's Day, so even though the kids were not getting a reprieve from class, they would be able to enjoy the winter wonderland.
As the temperatures continued to drop and the winds begin to increase, things begin to progress into the realm of once-in-a-lifetime event or even first time ever. For the first time anyone could remember, every county on the state of Texas (all 254 of them from Amarillo to Brownsville and El Paso to Beaumont) was under a winter storm warning. For the first time in history, a wind chill warning (wind chills expected to be at least -18 degrees) was issued for North Central Texas. The forecasted temperature was 8 degrees. In my over 58 years of life, I could probably count the times I have experienced single digit temperatures on one hand. At this point the power companies asked everyone to conserve power by turning their thermostats to 68, refrain from using large appliances like washing machines and dishwashers, and turning of all unnecessary lights. They warned that rolling blackouts were possible if the demand on the grid became too great. We bundled up in extra layers of clothes, broke out the blankets, and settled in for a chilly night.
Around 3:30 that Monday morning, I awoke to find the house extremely cold and without power. Luckily, the electricity came back on around 6:00. Unfortunately, it was short lived. It went off again around 8:00. Finally, it came back on around 10:00 am and, except for a short outage lasting a few minutes that evening, it stayed on for the rest of the day, overnight, and all day Tuesday. However, we were the lucky ones. There were continual stories on the news of people who had been without heat or lights in their house for 30 hours or more. What had originally been posed as rolling blackouts had progressed to power failures and "controlling the grid". Entire sections had been switched off in order to make sure necessary facilities maintained operating power.
The final blow from Old Man Winter came the next night as temperatures plummeted to -2 degrees (the second lowest temperature ever recorded in this area). The last time it hit this temperature was over seventy years ago and the lowest (-8 degrees) occurred over 120 years ago.
However, no electricity was only part of the problem. Not only was the lack of power effecting the local citizens, local water facilities started having issues. At first it was just issuing orders for people in certain areas to boil their water. Then water in several areas started getting shut off.
In addition to this, water pipes throughout the area are breaking due to the cold. My parent's were without heat for three days only to find that when the power came back on, they started seeing water leaks in the house and had to cut the water off. Our church had to limit activity the following Sunday to only occur in the Worship Center due to having to clean up from a water break.
At home, our luck finally ran out early Wednesday morning. When I woke up around 7:00, the power was off again. After twelve hours, the temperature in the house had dropped to 52 degrees. But we were still thankful. My wife's got a text from a friend who has been without power for over 60 hours. Several people sent photos to the local news showing thermostats with temperatures in the 40s and even a few in the 30s. We stayed bundled, ate dinner in bed by LED light, and stayed as warm as we could.
When I woke up at 3:30 the next morning, the heat was on and had it been long enough that that the temperature in the house was back up to a balmy 65 degrees. My daughter said when the power went off, she had left a light on in her room and it came back on a little after midnight. Fortuntely, our power did not go off again. Finally, after 139 hours (the seventh longest streak in history), the temperature finally crept above freezing again and the thaw was able to commence.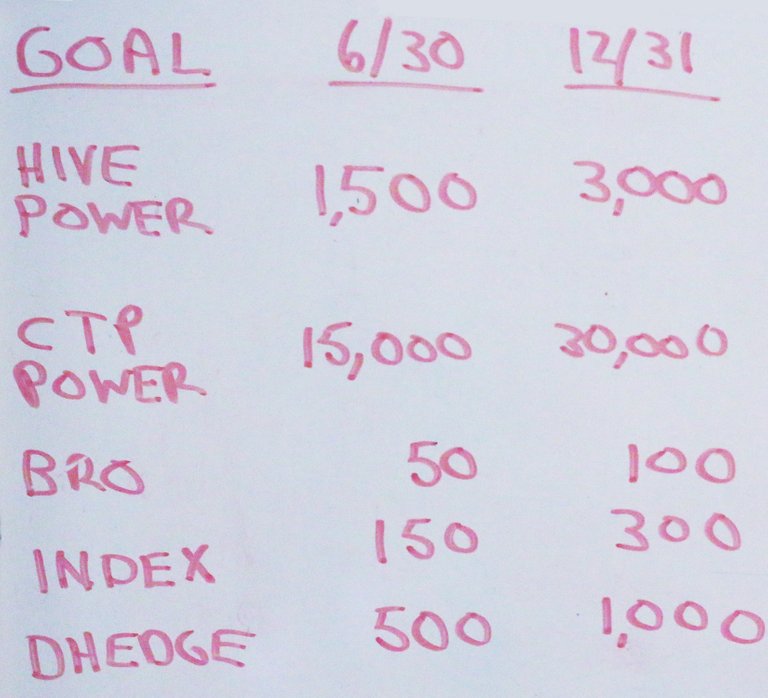 Saying that the past two weeks have been a bit of a aberration for me would be a massive understatement. From dealing with one of the worst winter experiences on record for this area one week to having to change my sleep schedule in order to work overnight shifts the next. Now that I am back to normal waking hours, I am changing my operating procedures. Hopefully, I will begin to see the fruit of my labor in my next post.
Let's take a look at the progress I made over the past two weeks:
HIVE POWER = 1,500 (June goal) - 808.833 (current HP) = 691.167 to reach my first goal
This is a much larger increase than I have been experiencing of late (22+ HP increase from two weeks ago). While I like the additional HP, I will probably have to make a significant financial investment (or several small ones) in order to reach this goal. Unfortulately, I am currently only scheduled to work three days in the month of March and if I don't work, I don't get paid. There is a chance more work will come in before then, but that is not guaranteed. I will have to re-evaluate this situation as time progresses.
CTP POWER = 15,000 (June goal) - 8 424.965 (current CTP Power) = 6,575.035 to reach my first goal
With almost 500 CTP tokens earned in the past two weeks, even with the CTPSB Power Up Challenge, I did not make as much progress here as I would have liked. I need to continue to be aggressive in this area if I want to reach my goal by earning around 400 CTP each week.
LEO POWER = 75 (June goal) - 48.886 41.404 (current LEO Power) = 26.114 to reach my first goal
This shows over a 7 LP increase over the past two weeks. I have begun to delegate more HP to @leo.voter that may have something to do with this increase. With 17 weeks left to my first deadline, if I can continue at the current pace, I should be able to reach this one.
BRO = 50 (June goal) - 25.7175883 24.20469972 (current BRO holdings) = 24.2824117 to reach my first goal
INDEX = 150 (June goal) - 150 (current INDEX holdings) = reached my goal
DHEDGE = 500 (June goal) - 411.09273915 (current DHEDGE holdings) = 88.90726085 to reach my first goal
I was able to allocate some other crypto into my HIVE account and apply a good bit of it in this area.I am hoping that by increasing these totals, the dividends will stack up quicker so they can be used to help boost these numbers.
As with the bad weather a couple of weeks ago, I will be working from home for a good bit of the coming month so I can put my new schedule into play to see how it will effect my numbers.
Posted Using LeoFinance Beta
---
---