One More Thing Keeping Me Online - #MyHiveGoals
We've gone from Covid for the past eleven months to now the Valentine's Day Blizzard of 2021. Well, maybe not a blizzard in most people's eyes, but when you're in Texas, it doesn't take much. We will probably end up with four to six inches of snow here in Dallas with 30 MPH winds. Oh, I remember having more snow before (we had about a foot of snow 11 years ago [almost to the day]), but the National Weather service have just issued the FIRST EVER wind chill warning for our area. With the temperature in the single digits, our wind chill is supposed to be between -10F and -20F. The forecast temperature for tomorrow night is 0F. And for another first...every county in the state of Texas (over 250 of them) is under a winter storm warning. So, in my eyes, this qualifies as a blizzard...just one more reason to stay home and get online to work on my HIVE goals.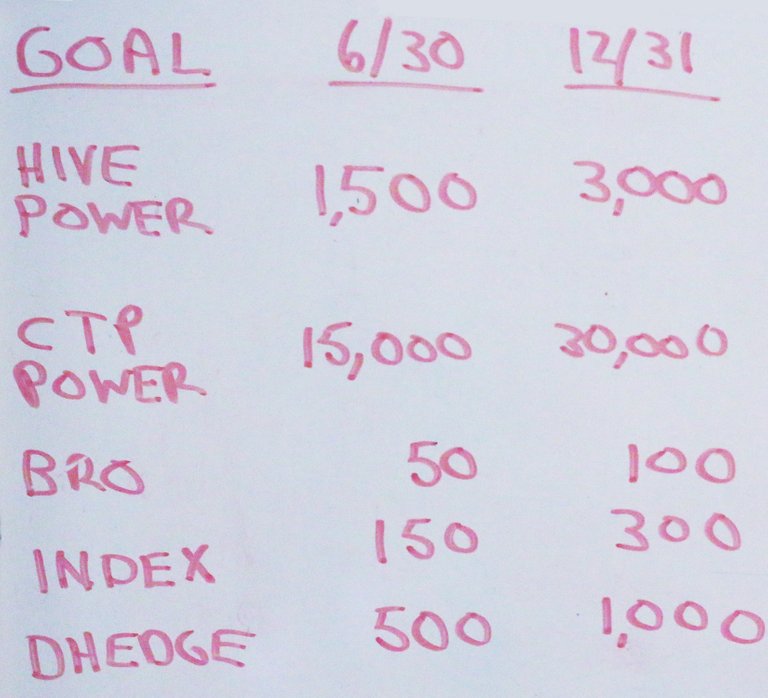 While I have increased my posting for my new gaming account, I haven't made all of the posts I wanted to for my entrepreneurial account or my family history account. With this in mind, I am working on a new system to help organize my time better. I will be loading my activities into Trello in an attempt to streamline and focus my activities. Hopefully, I have have better results next week.
Let's take a look a look at where I stand today:
HIVE POWER = 1,500 (June goal) - 786.224 (current HP) = 713.776 to reach my first goal
This is about a three HIVE increase from last week (at least I'm consistent over the past three weeks). However, once again, this is not going to cut it. I will continue to look for ways to increase this while trying to gather some of my other crypto together in order to convert to HIVE to help provide a boost.
CTP POWER = 15,000 (June goal) - 7,951.449 (current CTP Power) = 7,048.551 to reach my first goal
With almost 400 CTP tokens earned in the past week, I am starting to make some good progress here. If I can maintain that amount each week I should be able to reach my goal.
LEO POWER = 75 (June goal) - 41.404 (current LEO Power) = 33.596 to reach my first goal
This shows only about a 2 LP increase from last week. I'm still formulating a plan on how best to see an increase here on a regular basis.
BRO = 50 (June goal) - 24.20469972 (current BRO holdings) = 25.79530028 to reach my first goal
INDEX = 150 (June goal) - 109 (current INDEX holdings) = 41 to reach my first goal
DHEDGE = 500 (June goal) - 400.13409471 (current DHEDGE holdings) = 99.86590529 to reach my first goal
I made very little to no progress on these over the past week. Since they have not been my main focus, I have only allowed natural accumulation to take place on them. I may have to rethink that soon.
As I stated earlier, I am pooling some of my external crypto in order to pump up some of these tokens. Once I get that influx of external crypto, I'll be in a better position to see some progress in these numbers. And, hopefully, there will also be more income as I get a better handle on my creation, curation, and commenting as I re-evaluate my schedule and the utilize project management tool I am working with.
One good thing...with the bad weather, I will be working from home for most of the week so that will save me about 2 hours of commute time each day. You have to look for blessing wherever you can find them.
---
---