Shaken Up by the #3StepsNoExcuses Challenge
So, my world got shaken up a bit today with the release of the #3StepsNoExcuses Challenge introduced by @jongolson today.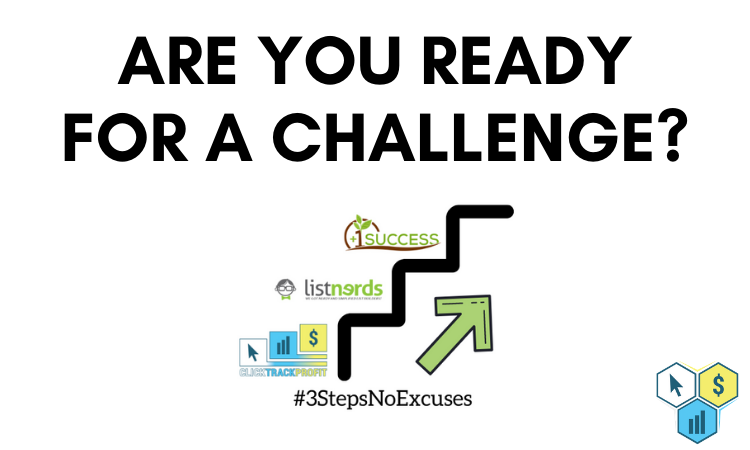 Graphic from @jongolson
While I love the idea of a 30 day boot camp to kick my marking behind in gear, I feel like a new recruit on some of the concepts. I guess my "task oriented" mindset is just throwing me for a loop.
In this challenge, you have to complete one step in each of three different programs, ClickTrackProfit, ListNerds, and Plus1Success as provided each day of the challenge. So here is a rundown of my activity today:
ClickTrackProfit - This one was pretty straight forward with not too much room for misinterpretation. I completed the first two Welcome training lessons.
ListNerds - This is where things got off the tracks. I expected there to be trackable action items (like what I had just complete in the previous section), but I was confused my the instructions. At that point, I had to jump on the Telegram feed in order to get some clarification (it is reassuring to know there is a responsive community behind this project). I was informed the object of this lesson was to "poke around", become familiar with the program, and make some progress toward utilizing the tool in the future. Well, even though this is not a hard and fast, complete a specific task step, after working on an email I had been mulling around in my head, I guess I can say I have completed this one, as well.
Plus1Success - This one is really rather easy as well, but I haven't completed it yet. You may be asking yourself, "If he hasn't finished, why is he writing about it?" Well, because the action step is to raise someone up...to let them know they are appreciated. I try to do this occasionally anyway by showing gratitude in my comments to their posts, but I am taking the opportunity here to express my appreciate for @achim03 for constantly looking for ways to further the CTP community. He shares instructional posts with beneficial information. He encourages others and engages with his comments , replies, and upvotes. And he has build not one, but two investment programs to help others on the HIVE blockchain financially. Achim, I appreciate you, your servant's heart, your business acumen, and your ingenuity.
So, with that said, I have completed Day 1 of the #3StepsNoExcuses Challenge. It is not too late to join if you would like to put your online business endeavors into overdrive. You can read a bit more about the project in this post.
---
---