Is it worth investing in crypto games today?
During the year 2021, crypto games had their moment of fame and became a success, at least for a while. Games like Axie Infinity, Plants Vs. Undead, Cryptomines and others quickly gained thousands of users. Even the Cryptomines token cost $700 per unit at its best.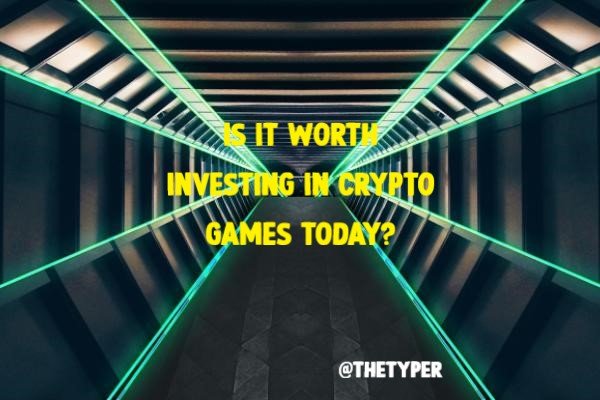 However, just as fame came to them, it also disappeared and most of the most popular disappeared. Many people ended up losing their investment, although many also made large amounts of money. We are almost at the end of 2022 and, despite the fact that these crypto games are no longer so relevant, there are still many that have survived.
All this leads us to wonder if it is still worth investing in these games, especially with the cryptocurrency price that exists today.
Crypto games are no longer attractive to many
The first thing to keep in mind about these crypto games is that their main attraction was being able to earn money easily. In some cases it was so simple that it was absurd. But this was also the downfall of many, as the ROI was too high to maintain.
Many crossed out these games with a pyramid scheme and the truth is that, in part, they were. However, all the failures forced the sector to reinvent itself in order to survive. That is why, today, there are several games that have become popular and have remained over time.
Despite the fall in the sector, some have taken refuge in the price of USDT and thus maintain a stable economy. In this way, they have not only protected their finances, but also the profits of investors and their capital. Games like Alien Words, Farmers World or Splinterlands have shown that crypto games are still a huge market.
Even Axie Infinity, which is currently the longest running crypto game in the world, has stuck around. Even though its economy has been hit quite a bit and the number of players is nowhere near what it was in 2021, it is still making a profit for investors.
Is it worth investing in these games?
Investing in crypto games, just like doing it in cryptocurrencies, has its risk. No current game can guarantee that you will make a good profit, especially since those clicker games are in the past.
One of the most important things to keep in mind is that these games no longer make huge amounts of money like they do in 2021. While you can make money, it's not a lot, but it can be worthwhile extra income. There are even quite good and fun games with which you can entertain yourself for a while.
In general, investing in crypto games is still a good option if you want to have fun and earn some money. However, you should no longer take these games as your main source of income like a year ago.
---
If you wanna share some love I would really apprecite a pizza, luvs, and lolz, thanks and have a great day. Hope this post has given you some insights about crypto gaming in coming 2023.
---
---