Delicious Tuna Meal Salad | Can't find these in restaurants, so good!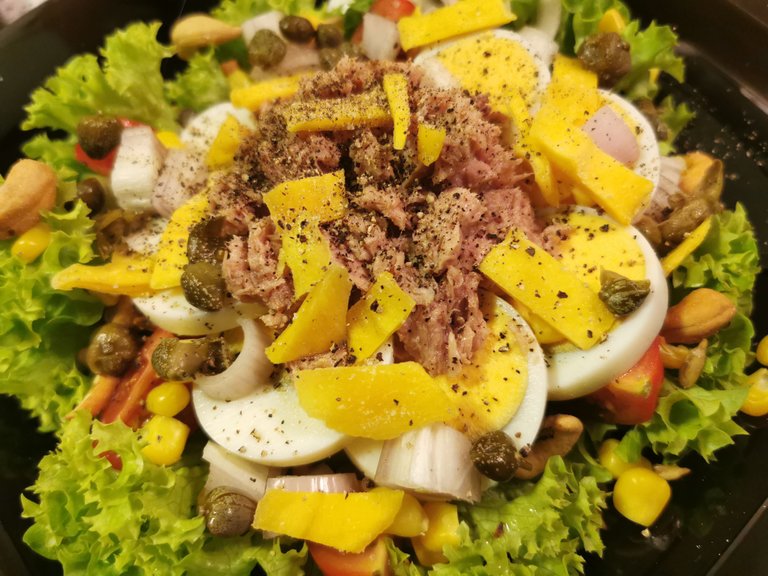 I love a good meal salad!
Usually, I turn it into a tuna meal salad as that just matches well with most other ingredients that I love to add to my salad. I can not build a simple salad with 2 ingredients, no, when I prep one, it's a full meal salad and you won't be hungry afterwards so no snacking for you!
I never weigh the ingredients, I just make sure I have everything at home and add it on the fly when I start plating. There are a few ingredients that I really love adding and I'm also very fond of the bite that cashews have and sometimes walnuts (not today though). Another must-have for me in my salad is Lollo salad. I don't care if it's lollo rosso or lollo blanco, but the bite is what I'm looking for. All the other salad options are just not for me. They disappoint.
Luckily for me, our new grocery supplier has these salads fresh from the land and it's noticeable because it has been freshly stored in the fridge for a few days and not one brown spot to find which actually always happens when I buy a lollo rosso salad at lidl. I start to appreciate the suppliers that offer fresh goods more and more and I'm really glad we found one that actually has it all. I get inspired while adding groceries instead of thinking what the heck I can do for dinner today.
Today's salad was a win! Let's have a look at the ingredients.

The Ingredients
Lollo salad
Cherry tomatoes
Cucumber
Corn
Cashew nuts
Sunflower seeds
Egg
Shallots
Tuna
Capers
Grated cheese
Dried mango

Plating!
When we have a meal salad for dinner, I collect all the ingredients that could be added to the salad, if needed cut them, and we can both plate it as we wish. For example, my boyfriend really wants to eat feta on his salad which I always agreed to until recently when I started to dislike the taste for some reason.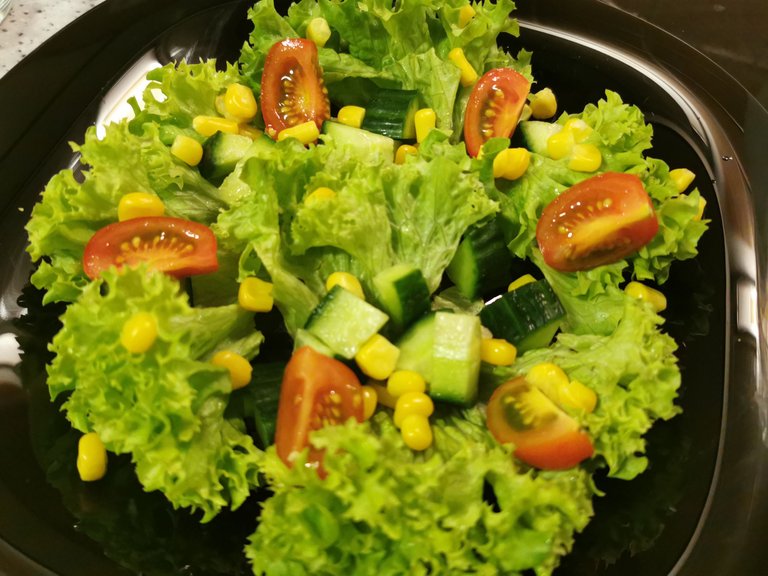 I probably plate mine with a little more nuts and different proportions when you compare. I don't like tomatoes that much, so just a few cherry tomatoes cut in quarters are enough for me.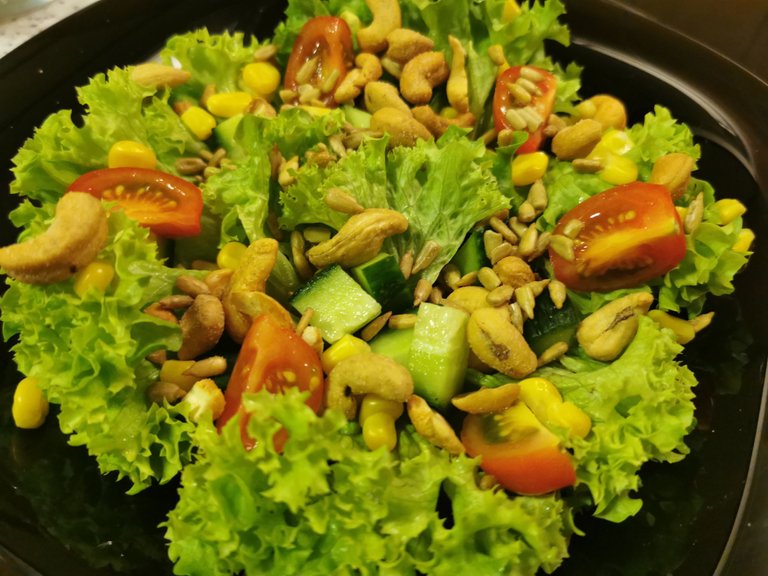 Personally, I need to have a boiled egg in my meal salad and this time I used shallots instead of normal onion.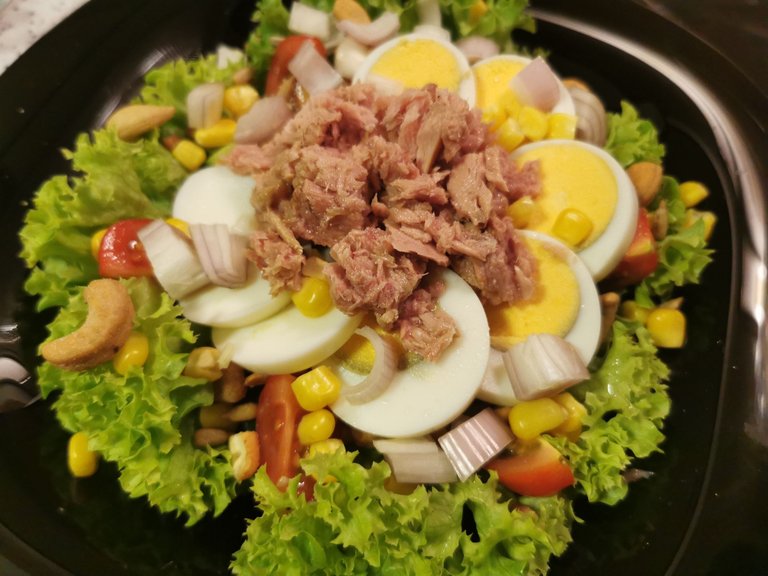 This time we had tuna as the main ingredient. I only add about half of the can though, where my boyfriend usually loves a bit more tuna.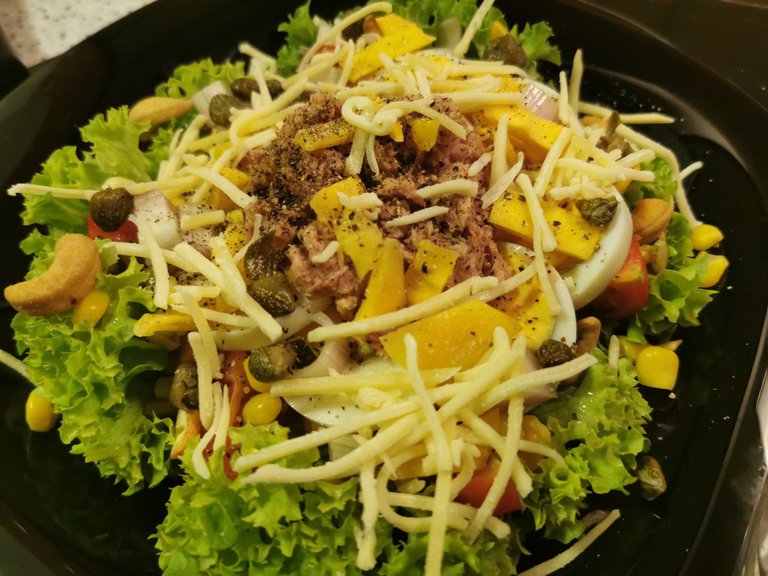 Don't forget to add some pepper and salt, and top it off with some grated cheese and capers.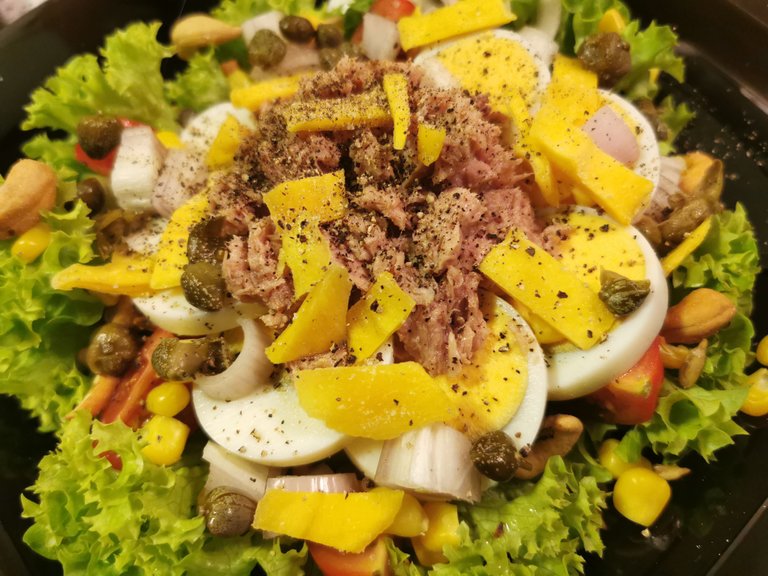 The yellow parts are the dried mango and gosh, I have a new favourite ingredient for my salads from now on. Delicious! And you probably noticed that I didn't add dressing to my salad. That's correct, I rarely add anything as usually I enjoy the bite of the ingredients more this way. Tuna salad au natural. :)
And last but not least, lol, I had to share my daughter's "Salad" that contained 2 small leaves of lettuce as she just HATES it and I will spare the details on how our dinner goes if I force her. So I just try to add some nuts, tuna, egg instead: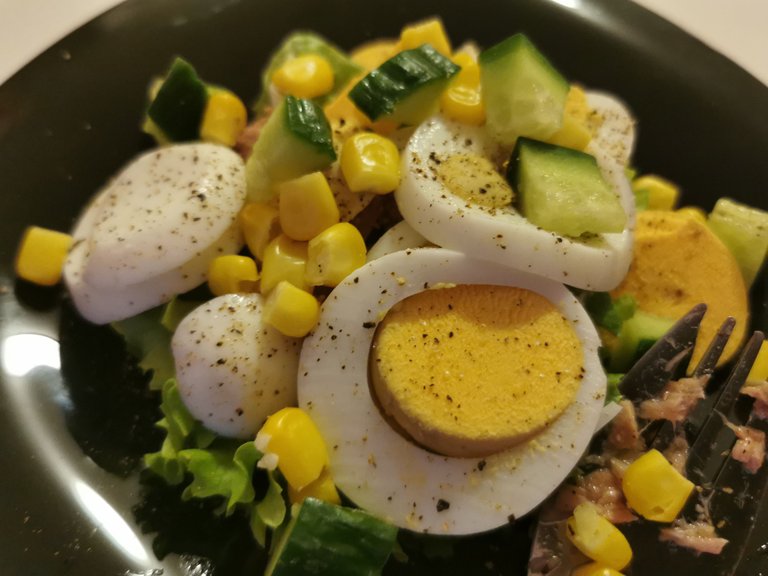 Do you eat meal salads often? It's honestly my go-to if I need a boost eating more veggies and I truly enjoy trying to find the perfect ratio of the ingredients.

More Foodies Content

Credits
The text divider is my own design, where I sometimes use images from Canva Pro or in other cases, my own images.

Let's Connect
If you want to connect, you can give me a follow on my socials. For inquiries, you can send me a direct message on Discord.

My Referral Links:
---
---