Formatting Your Content | Text Dividers Pink Color | Hive Stock Images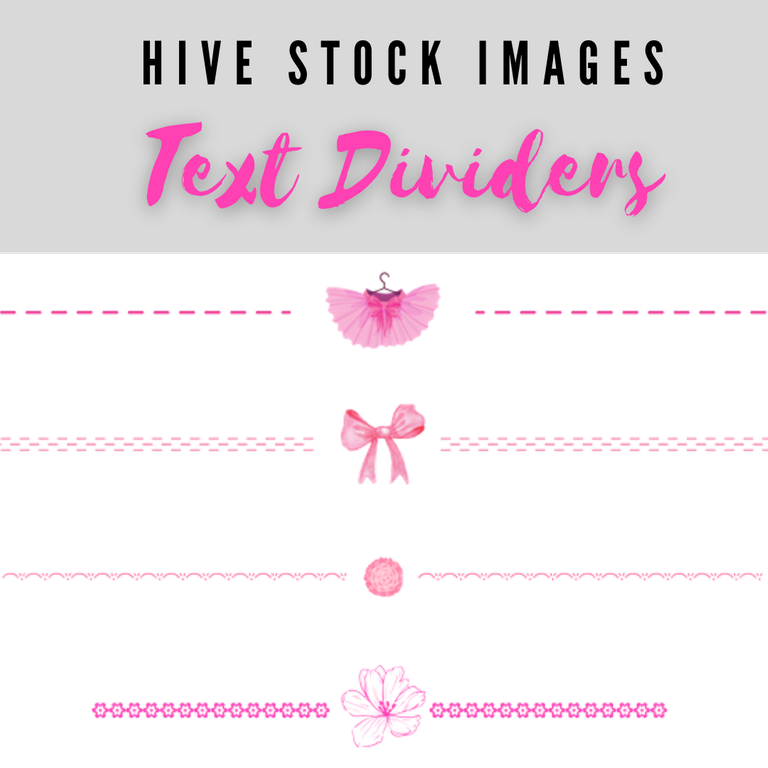 My first contribution to the Stock images community
I was wondering where I would add this content, in which community it would fit best until I remembered that we have our own stock images community on Hive. Although my contribution isn't pictures but text dividers, I felt that as they are serving the same purpose, this community would be the best place to add my contributions. In the end, these images are all used to make your content look more appealing. I hope by sharing it here, they can be found and help others pick a suitable text divider for their content. There are more to come as I have designed quite a few already and would love to share them with other authors on Hive. I'm hoping by contributing them, some authors that know little about formatting will be able to experience that you can add a few simple text dividers that make the content look more appealing without putting too much effort into it.

Plain text vs. formatting your content
My content usually contains several paragraphs with titles. I sometimes use bold or italic text or even bold italic to emphasize words when I feel it's needed. But to be perfectly honest, I don't use much more than these things I mentioned. It's not that I didn't like to add text dividers before, it's more the lack of finding the right one so many times when I intended to use them that I gave up at some point. That was before I started using Canva pro, which has enlightened my life in many ways. I absolutely adore being creative in Canva and my inspiration keeps flowing whenever I'm creating something. I truly believe that it makes a huge difference when there are text dividers that separate the paragraphs in your content. I'm pleased to say that I can't even imagine not using them anymore when I format my content.

I started adding text dividers recently
It was just 16 days ago when I decided to start adding some extra flavor to my content. I wanted to give my content a signature look. The first time I added a text divider that I designed myself was for the first Christmas Crafts tutorial of this year: DIY Gnome.

Don't get me wrong, in the past, I have used text dividers before, but never really stuck to using them as often I could not find the right match. I solved this by creating my own text dividers. Some of them are used more than once, but when I feel inspired, I take the time to create a new one that's specially designed for the content I publish.
The divider above that I designed for this DIY tutorial has been used for the following parts of Christmas Crafts 2021 as well, I'm trying to stick to the same look when formatting each part.

Visually more appealing
I believe that it makes my content visually more appealing when you see some fun coloring added to a post in the form of a divider. Especially when content doesn't contain a lot of pictures like content that I publish on Leofinance for example. These posts were often lacking something in my personal opinion and often it didn't feel right to press publish as I felt I could add more but the content didn't allow me to use pictures to make it more appealing. In these cases, I feel that adding text dividers is a good solution.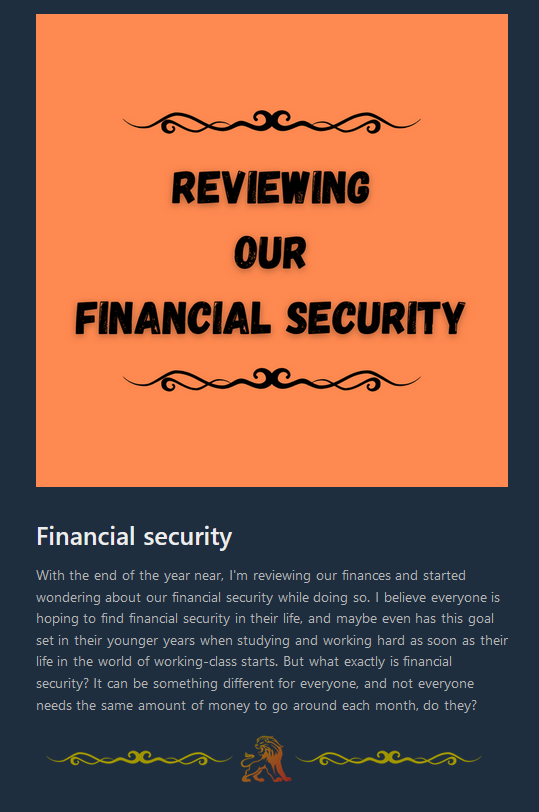 This is my post from yesterday, published on Leofinance: Reviewing our financial security. The header is a simple colored image with text only, so I needed to add more to the actual content to make it look somewhat appealing. I took the time to design a new text divider.

Contribution to the Hive stock images index
I decided to pick a few text dividers I created in the color pink and offer them to the stock index on Hive. These could be categorized as "girls theme" or "pink", I will leave it up to you guys to figure that out, and if I need to change something in this contribution post, let me know as this is a whole new world to me.
When I was creating content about my handmade tutus, the first text divider I created that was really fitting my content was this one:


Pink tutu text divider
I want to share a few more pink text dividers that fall in the same girly category and may be useful to the same content creators if they stay in the same theme:


Pink hairbow text divider

Pink pompom text divider

Pink flower text divider

Pink flower text divider extra small

That's it for today
I'm hoping someone finds them useful for their content and if so, I'd love to see the content you've used it for as well, but obviously, that's completely up to you!
I'm not familiar with the strict rules about using someone's stock images, and if in any case, I need to add something in this post to adhere to the community guidelines, please let me know and I will do that as soon as possible. I will share more text dividers soon in another theme.
Thanks for stopping by!

Let's Connect
If you want to connect, you can give me a follow on my socials. For inquiries, you can send me a direct message on Discord.
My Referral links:
---
---