Formatting Your Content | Text Dividers Christmas Theme | Hive Stock Images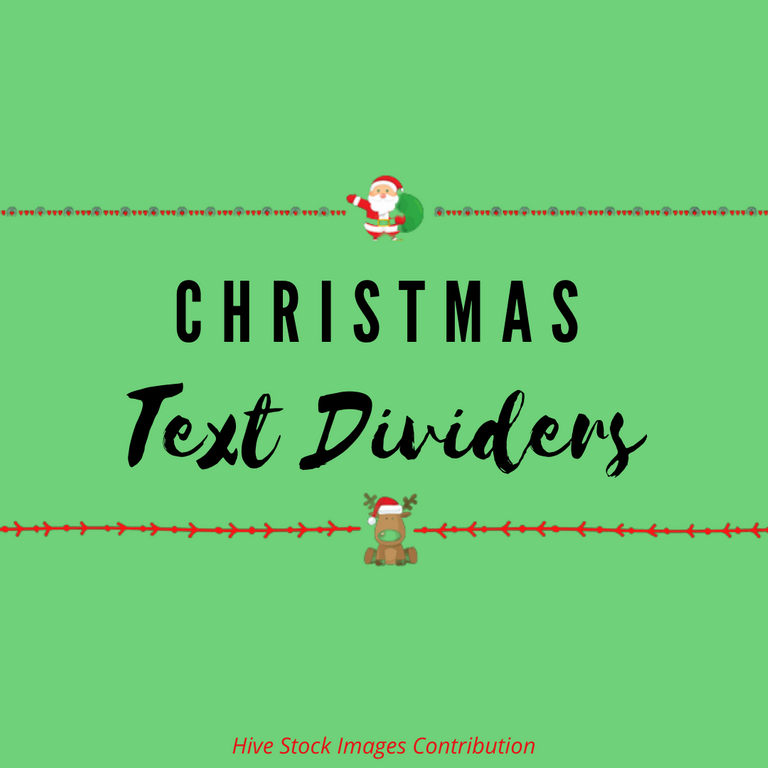 My second contribution to Hive Stock Images
In addition to my first contribution to the stock images community last week, Pink Girly Theme text dividers, I'm now adding some text dividers in the Christmas spirit as some people may want to use them for their Christmas themed content. I personally think they definitely add to the content when you publish something with the Christmas theme. It makes the content look more fun to read. I'm hoping that someone will find my contribution valuable and use them in their upcoming posts on Hive.

Formatting can be difficult for newbies
I remember when I found Hive, and how hard I thought it was to make a post look slightly appealing. I was happy to be able to make paragraphs and use bold/italic text. I had no idea how to format the rest or even use things like text dividers. It was until later that I discovered people using these text dividers and started looking for free to use ones online. It was very difficult to find the right one though, often I'd be hunting for the best fit and would still not be satisfied afterwards. On top of that are many of them not to be found with a transparent background, and not everyone knows how to remove one as you often need pro packages for that. Therefore I made sure to remove the background of my text dividers so you can use them for the day and night mode. It is quite often that people use either day or night mode and won't even notice that their image has a different background.

Christmas Theme Text Dividers
I've created 5 different Christmas theme text dividers especially for my contribution to Hive Stock images. I hope you like them.
Tip: If you don't like saving all the images on your own device, you can right-click, copy the image and paste it into your editor.


Waving Santa Text Divider


Santa's Elf text divider


Reindeer text divider


Gingerbread Man text divider


Christmas Tree text divider
That's all for today, if you have a request for a next contribution, a special theme, please let me know in a comment, I can see what I can do for you!

Usage of the provided text dividers
In addition to the rules of the Hive stock images community, I thought it might be useful to add the important information they've summed up in this post so that you know the rules about using other people's images from the community.
We ask that if you see an image you want to use in the community or with the #hivestockimages tag you acknowledge the creator as the source of the image and consider giving them a partial beneficiary of the post you use it in. The images should only be used on Hive unless there is express permission from the creator that they can be used elsewhere. Source.
There's more to be found in the linked post above, please make sure you read the rules before using anyone else's images.

Let's Connect
If you want to connect, you can give me a follow on my socials. For inquiries, you can send me a direct message on Discord.
My Referral Links:
Hive Stock Image Contributions
---
---