Last Night In Soho | 2021 | Review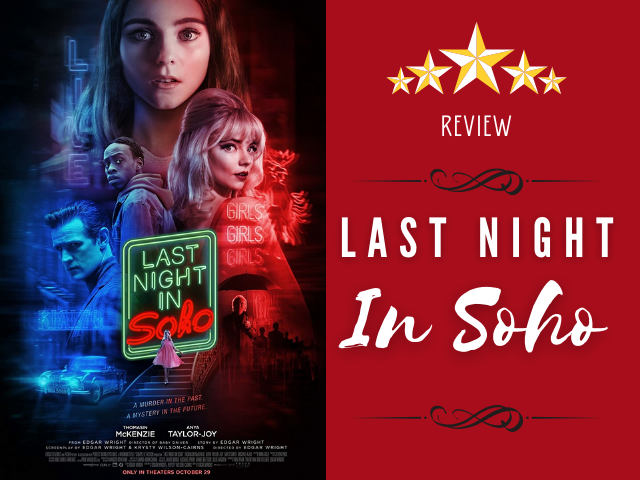 I often watch TV Shows rather than movies
Why? It's just that a good movie seems rare(r) nowadays compared to some years ago when I used to bump from one good movie onto the other. It was quite often that I had these "Wow" moments and was impressed by the movie for a certain reason. So therefore I usually stick to TV Shows or episodes of other shows on tv that I like following. That doesn't mean that there is no time for a good movie every now and then, especially when it's weekend and I can watch it together with my other half. I will try to refrain from spoiling anything for you if you decide to watch it after reading this review.

Last night in Soho is a psychological horror film from 2021
The movie is directed by Edgar Wright and starring Anya Taylor-Joy (The Queen's Gambit) and Thomasin McKenzie. I personally didn't recognize Thomasin McKenzie from any other movie but instantly remembered Anya Taylor-Joy with her remarkable appearance that is hard to forget after you've seen the Queen's Gambit.
I'm personally not too fond of horror movies as usually I find them disappointing compared to some of the horror movies I may have seen in the past, it's usually just not my genre and I tend to avoid watching them. I do know there are plenty of good horror movies out there, I just probably don't bother looking for them as I prefer other genres over horror.
Today I made an exception though. My boyfriend told me a few days ago, I've seen a great movie that you should really watch. As I'm currently not really interested in watching anything more than my recorded tv shows, I just said ok, but not now and continued what I was doing.

Anya Taylor-Joy & Thomasin McKenzie
You could say that one of them is quite the loose and confident girl vs the other that is more a wallflower not really fitting in with the cool kids. She leaves for London to go to fashion school as she wants to become a designer. London is quite a lot to take in and immediately she notices her roommate isn't really keen on becoming her friend. When one night she wakes up while her roommate barges in with a date, shamelessly about to have sex with her in the room, she is fed up and not long after she fins a private room in a house with an old lady in Soho that she decides to rent. She feels at home immediately in the old house with the sixties decor as it reminds her of her grandmother who always plays sixties music at home.
Soon you will see another young lady appear in this movie, Sandie, played by Anya Taylor-Joy. She is very confident about her dancing and singing skills and wants to have a singing career in a high-end theatre more than anything. When her boyfriend hooks her up with a gig in another club, she is excited. But is this all she ever dreamed off of is there more to the story?
While we can follow Ellie's story, at the same time Sandie's story is intertwined with Ellie's for some reason. It's often hard to tell if this is all happening for real or that Ellie is just having a nightmare instead. Or maybe this is just something that she sees happening in her head, possibly being schizophrenic?

Mental health issues or something else?
Even until later in the story, I go back and forward with my predictions in which direction this is going. I have mentioned a few options that could be wrong, maybe the place is haunted or Ellie has mental health issues. I also thought that maybe she was possessed by her mother's spirit and lived her traumas. I won't bore you with all the things that crossed my mind because, in the end, it's just best you go and watch it yourself without me spoiling the actual plot!
I have to warn you though, this movie starts quite sweet, but will get darker soon after. You can see how a girl with dreams gets lost in a world full of violence not understanding what is happening to her and why she's experiencing/seeing certain things. Even she is not sure about what's happening to herself. It gets really dark at some point and I have to admit that the ending was a surprise to me. The movie is one of the better ones I've seen lately and if you can appreciate this genre and handle some violence and psychological games, you should watch it. I'm curious what you thought about it, so when you saw it, please let me know in a comment.
Have a wonderful weekend!

More Movies & TV Show Reviews

Credits

Let's Connect
If you want to connect, you can give me a follow on my socials. For inquiries, you can send me a direct message on Discord.

My Referral Links:
---
---