Receiving Listnerds Referral Commisions (Without An Uphold Account)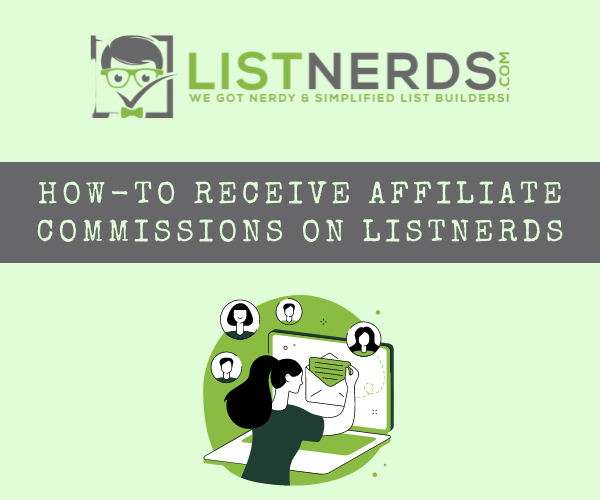 Setting up your Click Track Profit account for commissions
When you recruited new team members that appeared in your downline, they have used your Listnerds referral link. This is great because when they decide to upgrade their membership, you will receive a commission from these membership fees. How much commission you receive depends on your sales level, a redfish receives 10% commission and a whale receives 40% commission. The more upgraded team members you have, the more commission you will receive.
The sales level has nothing to do with your earnings inside Listnerds, every person receives the same piece of the pie when an email is verified. Newbies get the same slice as someone that has built a big team already. This post is only focused on the sales commissions.

Setting up your account for commissions
Inside your Listnerds account, you can go to the Affiliate tab (on the left bottom).
They ask you to fill in your CTP username as well as your key. To get this info, you will need to sign up on the Click Track Profit website first.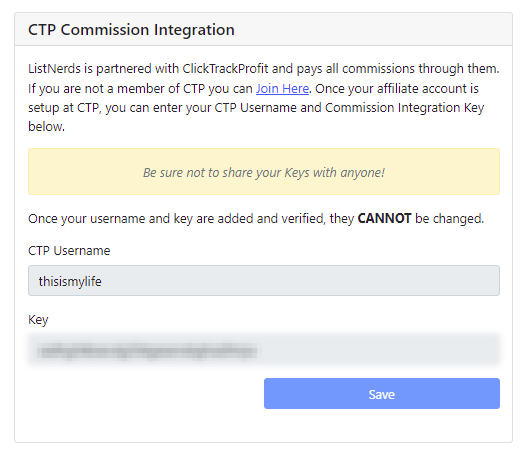 Once you've done that, you can go to Affiliate settings on the right top of the page: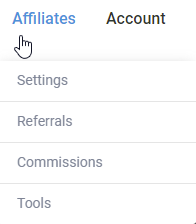 You will need the Commision Integrations key that you can find there:

Paste it into your Listnerds account to the CTP Commission Integration tab: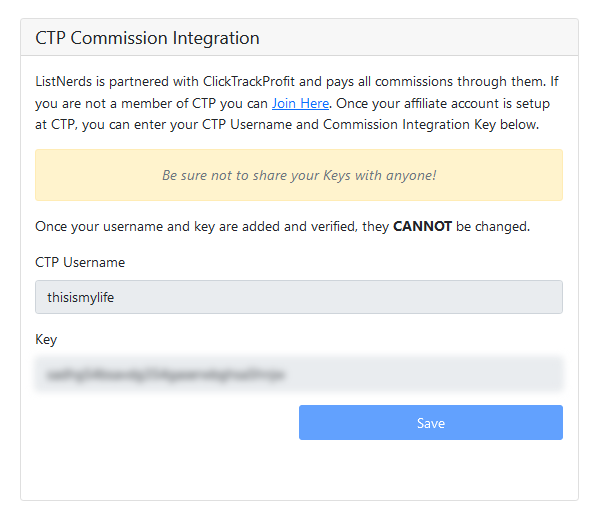 Now take note on the warning to not share your keys with anyone! Click save, and then it should be connected and your key will be blurred.

Commission set up inside Click Track Profit
You can only click Uphold account there and that's honestly the reason I ignored the commission part of Listnerds for a month or so as I didn't feel like creating one.

I think many Europeans don't use that, maybe it's common for marketers, I don't know, I just know I didn't really feel like setting up another account so I left it until @blainjones mentioned to me that I can receive commissions in Hive as well.
Aha! That got me excited! Let's see how you can do this:

Instead of filling in your Uphold Email Address (in case you wish to receive it there), you can fill in hive:youraccountname, so in my case as shown in the image above: hive:thisismylife. It's that simple! Don't forget to click on Update Payment Information after you filled that in otherwise it might not be saved correctly.

Keeping track of your commissions and their status
Inside the affiliate tab in your Listnerds account, you can keep track on your commissions:

As you can see, some are pending, and others are sent to CTP. That doesn't mean that the ones Sent to CTP are paid out, btw. This will be done (mostly) weekly during the weekends and checked manually. I believe it takes 2 weeks before a commission is paid out, so if you receive a commission on Monday, you may or may not get it in the weekend 2 weeks later, it may also be the weekend after due to the date. Just be patient, it will be processed and paid!
If you go back to the Click Track Profit website and click on the commissions tab: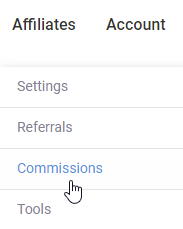 You will see an overview of your pending & paid commissions: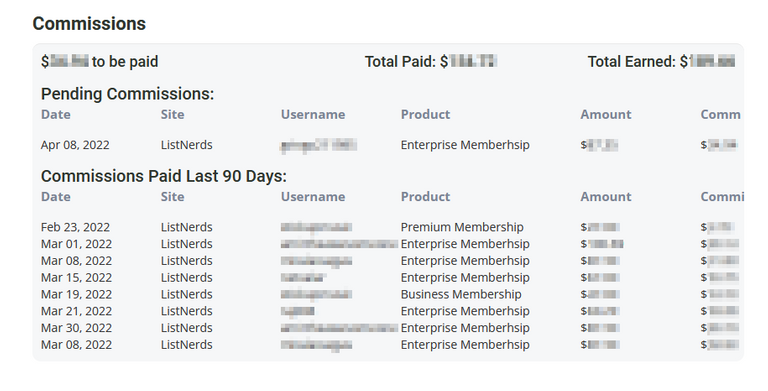 So that's how you can keep track on the status. I hope this was helpful in case you were wondering about the commissions from Listnerds. Of course, you can also just go for the Uphold payment method, like (probably) most people do.

Join our team!
If you are ready to start building your own list and receive a lot of engagement on your Hive content (or your business that you want to promote!), sign up with my Listnerds referral link so that you end up in my team and get guidance from me. I have written a list of guides already, so a lot of content is already available, I'm still adding guides every week. We have a team Discord server as well to ask questions within the team.
We are looking for motivated people that are serious about building their business though, people that only take and don't want to learn and put in the effort should probably not use my referral link. Newbies on Hive that are motivated are more than welcome though!

More Listnerds Content

Credits

Let's Connect
If you want to connect, you can give me a follow on my socials. For inquiries, you can send me a direct message on Discord.

Social Media Management Portfolio:

My Referral Links:
---
---