The CTP Grind - First Update (day 8)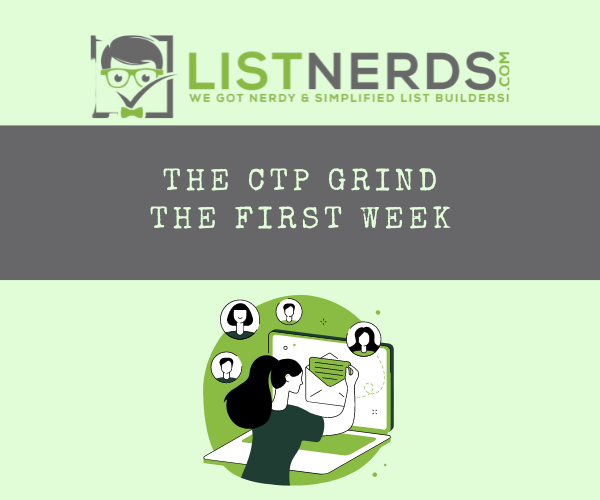 Who doesn't love a challenge?
11 days ago the Listnerds team started a new challenge: The CTP Grind. I remember how fun it was with the referral challenge when I just started Listnerds, so I'm game! Although I first had the idea that I would need to write about CTP/Listnerds/Entrepreneurship every day to join, therefore postponing my day 1, I noticed @jongolson answering a comment below the challenge post saying you can write about whatever you want. That was my start sign to join when I read that. I was not sure if I was going to be able to commit to the 3 steps AND write about them daily, I honestly still don't think I could have been able to combine these things with the Spanish bureaucrazy going on even at the time of writing this post.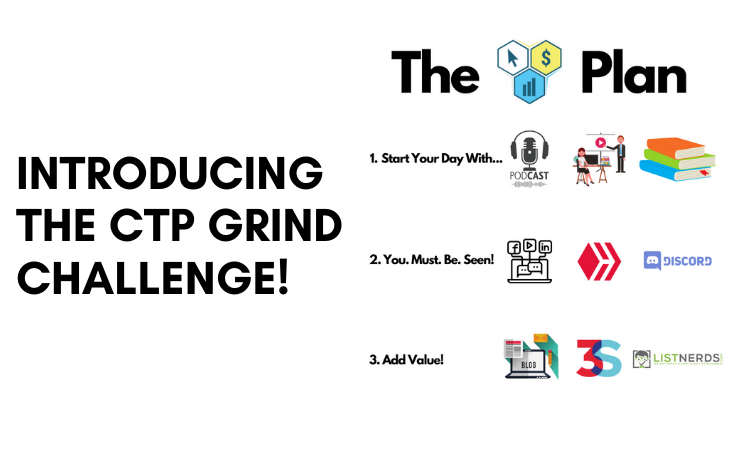 Click to go to challenge post
Let's see what I did in the past 8 days regarding this CTP Grind challenge.

Starting my day with
I haven't done the same thing every day but these are the things that I started my day with: I listened to (and am still listening to) an audio book called the power of compounding and when I'm done with this one I want to continue listening to the audiobook "Rich dad, poor dad" which I started listening to when we were on the plane from Budapest to Spain and I was tired of listening to music. I have not continued listening to the rest and accidentally first bumped on the compounding book because my boyfriend was listening to it in bed when it piqued my interest.
I think these audiobooks/podcasts are actually very convenient to listen to as you can do it while cooking while snoozing in bed to wake up, or just during a walk outside. Super efficient and very interesting to learn some new things and get new insights.
As soon as I'm ready I will open my laptop and Listnerds to open emails and check the rewards/comments etc.

You Must Be Seen!
By writing content every day, I'm seen but more importantly, I show up in our team discord every single day, even while we were moving countries, I made sure to at least check in on the team members in there, even if I didn't have time every day to read all the emails. I have made it a priority to check in at least 2x (but often 3x) a day to make sure I don't miss anything during the day.
While I have a backlog on responding to comments, I'm currently trying to go back to at least a one-week-old post so that I can add replies to these comments that I missed a week ago as well, hopefully, in a few days, I'm all back on track. I read everything mostly instantly, but I chose not to respond when I'm focussed on other things and do comment rounds later unless I'm already actively doing something on Hive at that moment.
I'm also trying to make use of the CTP tipping bot as much as I can. I don't think I hit the 20x a day often, but I'm pretty sure I'm throwing at least 10 a day in a comment to reward others with the CTP tipping bot. It's a lovely way to spread some CTP.

Add Value
I've added value to the Hive chain by writing daily about various topics. I have not managed to publish any Listnerds guides this week, but behind the scenes, I made good progress with the ebook I'm creating for Listnerds newbies. I'm not just bundling the guides but actually re-writing most of the things in there as well. I was hoping for that ebook to be done this week, but bureaucrazy decided to need my time more in real life so this will be aimed to be done in about two weeks. This time I'm not aiming for this current week knowing the number of appointments and the time it will cost us to travel there in the 38 degrees, I'm not going to push myself that hard and take it easy. If I have some more office time during the evenings compared to last week, I may be able to make it but usually, daytime appointments mean the boyfriend needs the office the full evenings. Thankfully, a shared office will not last many months, and I will have to sit it out just a little longer only.
Another great way of adding value is the awesome chats I had in our Listnerds team chat with @deeanndmathews the past week. She is very intelligent and I really love the chats we have (often long ones!) as they always bring some sort of insights and value to me personally. I'm very proud she's part of the team. She's an inspiration!

That's it for this week
As I'm trying to break the 2 AM wake cycle desperately, and it's close to half past twelve already, I need to get this published and head to bed to be ready for our duties tomorrow. Let's see how this next week goes, good night for now!

More Listnerds Content

Credits

Let's Connect
If you want to connect, you can give me a follow on my socials. For inquiries, you can send me a direct message on Discord.

Social Media Management Portfolio:

My Referral Links:
---
---