Daily Progress and Activities on TerraCoreHub
Hello friends.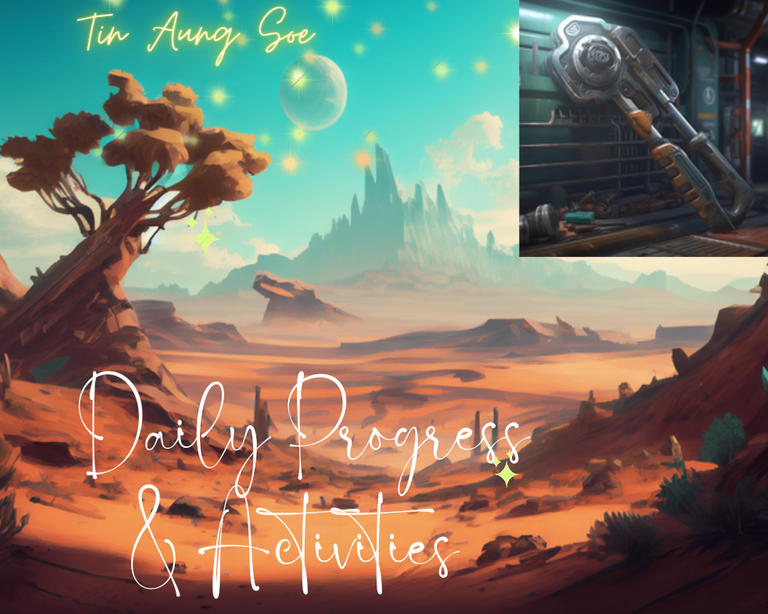 I started playing the TerraCore Game about 22 days.
As a starter I bought $10 worth of Citizenship for 27.229 HIVE.
Yesterday I bought TerraCore Game's in-game Token $SCRAP 20 Tokens for 1.92 HIVE.
So I invested 64.401 HIVE or 23.410$ into TerraCore Game.
If I look at my TerraCoreHub game progression so far;
The SCRAP 20 I bought and the SCRAP I received from Mining and Battle Fight used 81 for Damage Upgrading, 25 for Stash Size and 2.5 for Favor respectively.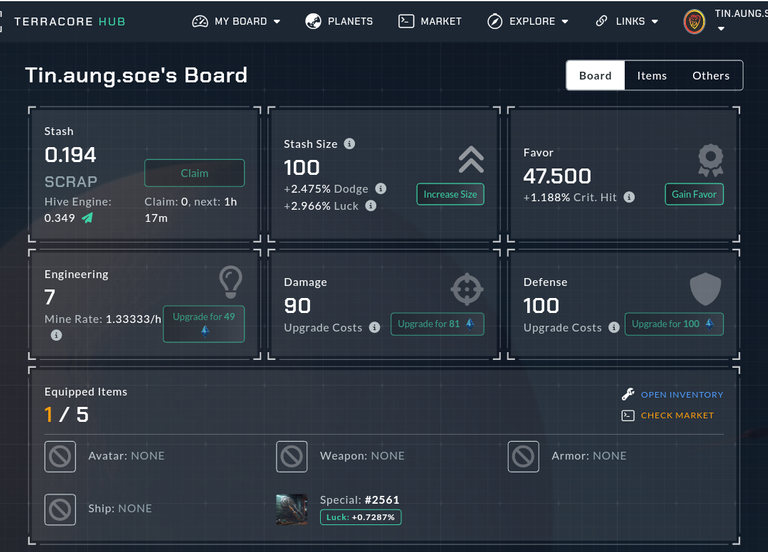 So now my TerraCore Game Stats are Stash Size 100, Favor 47.5, Engineering 7, Damage 90, Defense 100 and Equipment Torque Wrench.
I haven't increased more many Mining Rate yet.
Therefore, the availability of SCRAP is still low.
Battle Fight is allowed to fight 6 times per day.
Since I started playing TerraCore, I have won 136.785 SCRAP with a Win Rate of 70.17% and lost 58.144 SCRAP with a Lost Rate of 29.83%.
Now, My Win Rate has more than Lost rate in Battle Fight.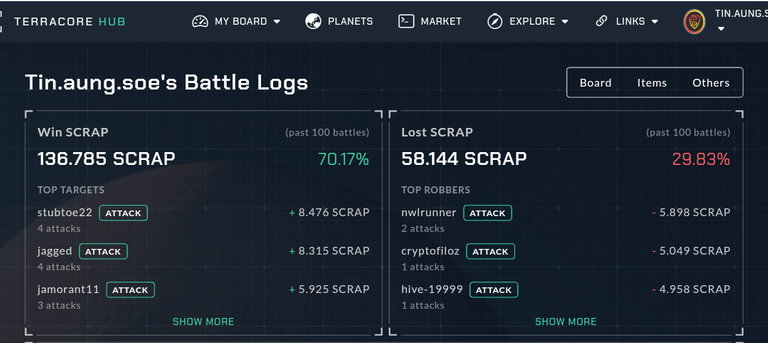 But, I will have to improve Damage and Defense as a priority.
After that, I will have to buy Avatar, Ship, Weapon and Armor etc. to play TerraCore Game fully.
Here is my TerraCoreHub experience and progress.
You can play by using below my referral link 🖇️
https://www.terracoregame.com/?ref=tin.aung.soe
I would like you to give me some advice based on my shared experience.
Tin Aung Soe
[Burmese]
မင်္ဂလာပါ မိတ်ဆွေတို့ရေ။
ကျွန်တော်သည် TerraCore Game ကို 22 ရက်လောက်က စတင် ကစားခဲ့သည်။
စတင်ကစားသည့် အနေဖြင့် ကျွန်တော်သည် 10$ တန်ဖိုးရှိသော Citizenship ကို 27.229 HIVE ဖြင့် ဝယ်ယူခဲ့သည်။
ယနေ့မှာတော့ TerraCore Game ၏ in-game Token ဖြစ်သော $SCRAP 20 Tokens ကို 1.92 HIVE ဖြင့် ဝယ်ယူခဲ့သည်။
သို့ဖြစ်၍ ကျွန်တော်သည် TerraCore Game ထဲသို့ 64.401 HIVE သို့မဟုတ် 23.410$ မျှ အရင်းအနှီးထည့်ဝင်ပြီး ဖြစ်သည်။
ယခုချိန်ထိ ကျွန်တော်၏ TerraCoreHub game progression ကို ကြည့်မြင်ဆိုလျှင်
ကျွန်တော်သည် ဝယ်ယူခဲ့သော SCRAP 20 နှင့် Mining and Battle Fight မှ ရရှိသော SCRAP များကို Damage Upgrading အတွက် 81၊ Stash Size အတွက် 25 နှင့် Favor အတွက် 2.5 အသီးသီး အသုံးပြုခဲ့သည်။
သို့ဖြစ်၍ ယခုအခါ ကျွန်တော်၏ TerraCore Game Stats မှာ Stash Size 100 , Favor 47.5 , Engineering 7 , Damage 90, Defense 100 နှင့် Equipment Torque Wrench ဖြစ်ပါသည်။
ကျွန်တော်သည် Mining Rate ပိုမိုများစွာ တိုးမြင့်အောင် မလုပ်ဆောင်သေးပါ။
ထို့ကြောင့် SCRAP ရရှိမှု နည်းပါးနေသေးသည်။
Battle Fight ခြင်းသည် တစ်နေ့လျှင် 6 ကြိမ် တိုက်ခွင့်ရှိသည်။
ကျွန်တော်သည် TerraCore စတင်ကစားခဲ့သည်မှ ယခုချိန်ထိ Win Rate 70.17% ‌ဖြင့် 136.785 SCRAP ရရှိခဲ့ပြီး Lost Rate 29.83% ဖြင့် 58.144 SCRAP ဆုံးရှုံးခဲ့ရသည်။
ယခုအခါ ကျွန်တော်၏ Battle Fight မှာ Win Rate ပိုမို များလာပါပြီ။
သို့သော်လည်း ကျွန်တော်သည် Damage and Defense ကို ဦးစားပေး မြှင့်တင်ရပါဦးမည်။
ထိုနောက်မှာတော့ TerraCore Game ကို ပြည့်စုံကောင်းမွန်စွာ ကစားနိုင်ရန် Avatar, Ship, Weapon and Armor စသည်တို့ ဝယ်ယူရပါဦးမည်။
ဤသည်ကတော့ ကျွန်တော်၏ TerraCoreHub အတွေ့အကြုံ နှင့် တိုးတတ်လုပ်ဆောင်မှု ဖြစ်သည်။
ကျွန်တော်၏ မျှဝေမှု အတွေ့အကြုံ အပေါ် မူတည်၍ အကြံဉာဏ်များ ပေးကြစေလိုပါသည်။
တင်အောင်စိုး
---
---