ROI Stats of WOOSATURN NFT PACK Airdrop
Hello friends.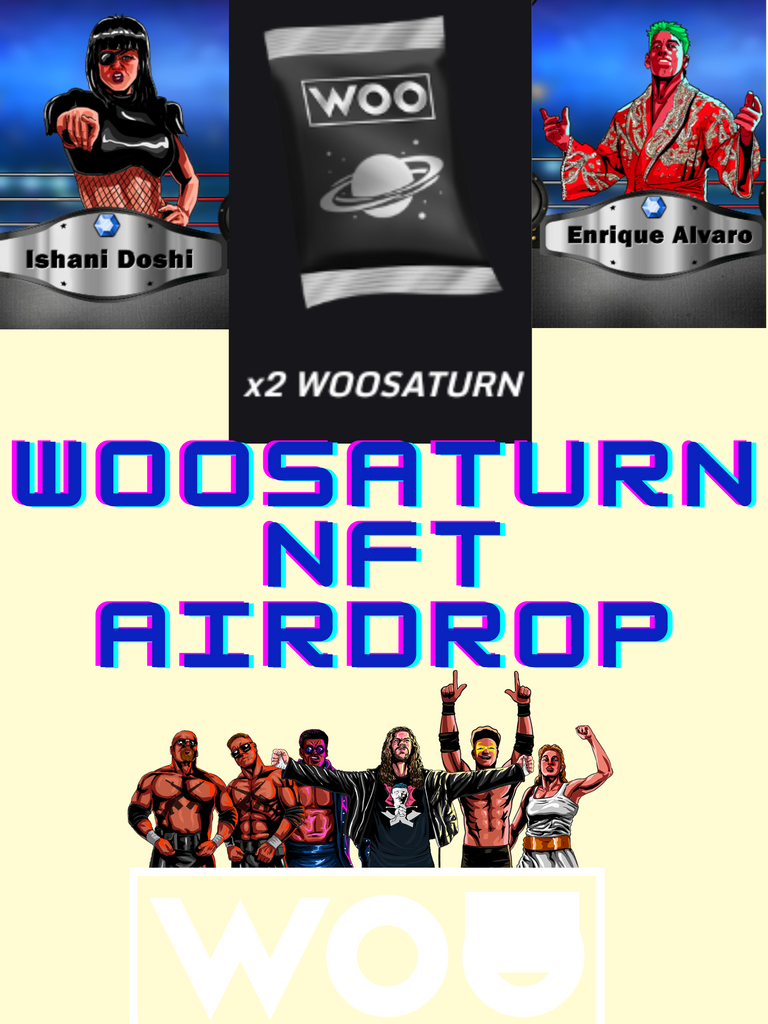 I was able to buy WOOSATURN 2 PACKS of Wrestling Organization Online Game for 16.5 HIVE.
Those unopened WOOSATURN PACKS get $WOO Airdrop.
Airdrop WOO amount of Wrestling Organization Online NFT Packs I'm getting is about 4.358 Tokens per day.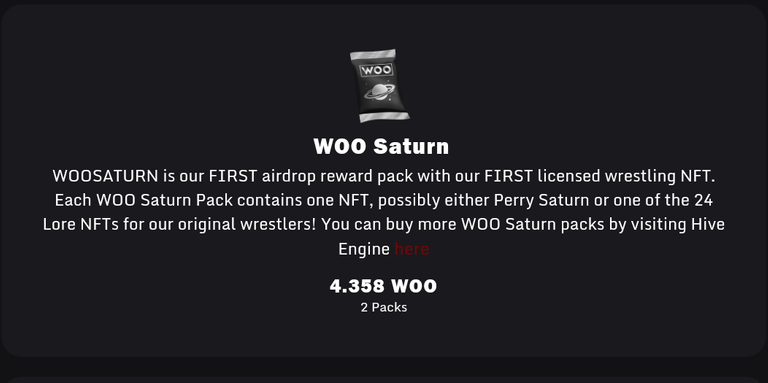 WOO 4.358 Tokens are worth HIVE 0.02305 at the current price.
So I'll need WOO 3120 to get back the HIVE 16.5 that I spent buying WOOSATURN 2 PACKS.
It will take 716 days to get those WOO 3120 Tokens.
Therefore, if I leave the WOOSATURN 2 PACKS unopened for 716 days, I will get my capital back.
Then the WOOSATURN 2 PACKS I purchased will be free.
Here's my return of investment calculation for buying NFT Packs from Wrestling Organization Online Game and getting Airdrop $WOO.
What do you think?
Tin Aung Soe
[Burmese]
မင်္ဂလာပါ မိတ်ဆွေတို့ရေ။
ကျွန်တော်သည် Wrestling Organization Online Game ၏ WOOSATURN 2 PACKs ကို 16.5 HIVE ဖြင့် ဝယ်ယူနိုင်ခဲ့ပါသည်။
ထို မဖွင့်ဖောက်ရသေးသော WOOSATURN PACKs မှ $WOO Airdrop ရရှိပါသည်။
ကျွန်တော် ရရှိနေသော Wrestling Organization Online NFT Packs ၏ Airdrop WOO ပမာဏမှာ တစ်ရက်လျှင် 4.358 Tokens လောက် ဖြစ်ပါသည်။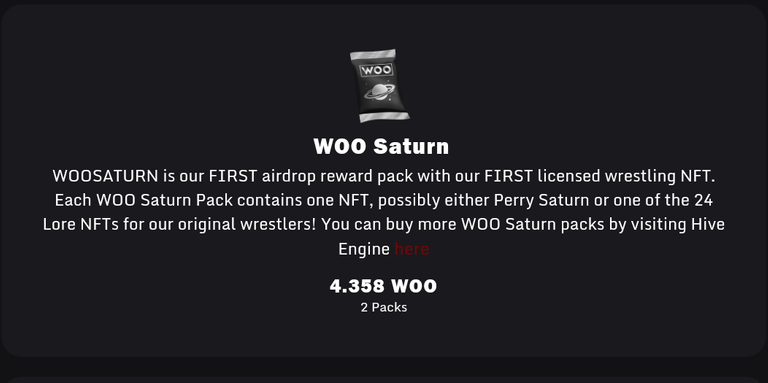 WOO 4.358 Tokens သည် လတ်တလော ဈေးနှုန်းအရ HIVE 0.02305 တန်ဖိုးရှိပါသည်။
သို့ဖြစ်၍ ကျွန်တော်သည် WOOSATURN 2 PACKs ဝယ်ယူ၍ ကုန်ကျခဲ့သော HIVE 16.5 ပြန်လည် ရရှိရန် WOO 3120 လိုအပ်ပါမည်။
ထို WOO 3120 Tokens ရရှိရန်မှာ ရက်ပေါင်း 716 ရက် ကြာမြင့်ပါမည်။
ထို့ကြောင့် ကျွန်တော်သည် WOOSATURN 2 PACKs ကို မဖွင့်ဖောက်ဘဲ 716 ရက် ထားပါက အရင်းအနှီး ပြန်လည် ရရှိမည် ဖြစ်သည်။
ထိုအခါ ကျွန်တော် ဝယ်ယူခဲ့သော WOOSATURN 2 PACKs သည် အလကားရသလို ဖြစ်ပါလိမ့်မည်။
ဤသည်မှာ ကျွန်တော်က Wrestling Organization Online Game မှ NFT Packs ကို ဝယ်ယူပြီး Airdrop $WOO ရယူခြင်းနှင့် ပတ်သက်၍ Return Of Investment ကို တွက်ချက်ပြခြင်း ဖြစ်ပါသည်။
သင်ကရော အဘယ်သို့ ယူဆပါသလဲ။
တင်အောင်စိုး
---
---