Winning Focus Box in New Rewarded Update of Splinterlands
Hello friends.
Splinterlands has made some updates this season.
Instead of Daily Quest, you have to collect Focus Points and open Reward Box to open Season End Reward Boxes instead of Season End Rewards.
As a Battle Playing Reward, if you win a Battle, you will receive DEC Reward starting from Bronze III League.
It is not easy for someone like us with limited collection power to collect 300 Focus Points in 24 hours.
Daily many Focus Points can only be obtained in the higher leagues.
I have been playing Splinterlands Game every day but have not been able to reach Daily Focus Point 300 in the last 13 days.

Fortunately, the Daily Focus Death reached 300 points yesterday.
So I'm allowed to open a Reward Box.
I Get a Level 1 Death Monster REVEALER Epic Card featuring Mana Cap 4, Magic Attack 1, Speed ​​4, Health 4 and Ability Stun from this Focus Points 300 Reward Box.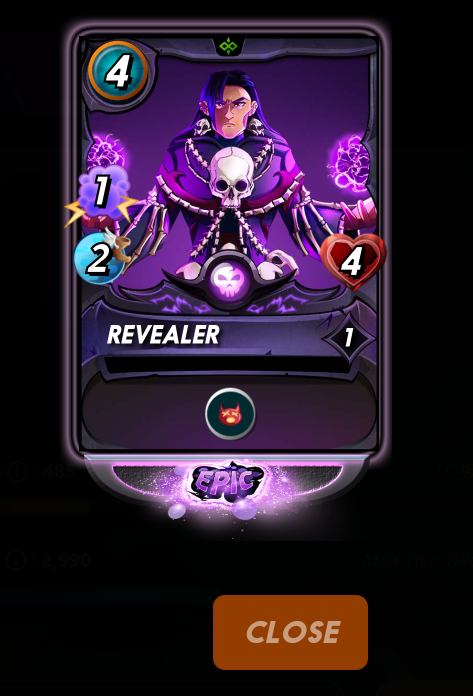 I have received the REVEALER Card twice and its estimated value is $0.32 and the Collection Power is 100.
Did you get good rewards in Splinterlands New Update?
If you're going to be playing Splinterlands from now on, I'm glad to use my Referral Link.
Thank you for everything.
Tin Aung Soe
[Burmese]
မင်္ဂလာပါ မိတ်ဆွေတို့ရေ။
ဒီရာသီမှာ Splinterlands က Update အချို့ ပြုလုပ်ထားပြီး ဖြစ်ပါတယ်။
၎င်းတို့မှာ Daily Quest အစား Focus Point စုပြီး Reward Box ဖွင့်ရခြင်း နှင့် Season End Rewards အစား Season Point စုပြီး Season End Reward Box များ ဖွင့်ရခြင်း ဖြစ်ပါသည်။
Battle Playing Reward အနေဖြင့်လည်း Battle နိုင်လျှင် Bronze III League မှ စ၍ DEC Reward ပေးတတ်ပါသည်။
ဤတွင် 24 hours အတွင်း Focus Point 300 စုဆောင်းနိုင်ဖို့မှာ ကျွန်တော်တို့လို Collection Power အနည်းငယ်သာ ရှိသောသူတွေ အတွက် မလွယ်ကူပါ။
Daily Focus Point သည် မြင့်မားသော League များ၌သာ Point များများရနိုင်ခြင်း ဖြစ်သည်။
ကျွန်တော်သည် Splinterlands Game ကို နေ့စဉ် ကစားခဲ့သော်လည်း ပြီးခဲ့သည့် ၁၃ ရက်တာကာလအတွင်းမှာ Daily Focus Point 300 ပြည့်အောင် မကစားနိုင်ခဲ့ပါ။
ကံကောင်းစွာပဲ မနေ့ကတော့ Daily Focus Death မှာ Point 300 ပြည့်မြောက်ခဲ့ပါသည်။
သို့ဖြစ်၍ ကျွန်တော်သည် Reward Box တစ်ခု ဖွင့်ခွင့်ရခဲ့ပါသည်။
ထို Focus Point 300 ပြည့် Reward Box မှ Mana Cap 4, Magic Attack 1, Speed 2, Health 4 and Ability Stun ပါဝင်သော Level 1 Death Monster REVEALER Epic Card ကို ရရှိခဲ့ပါသည်။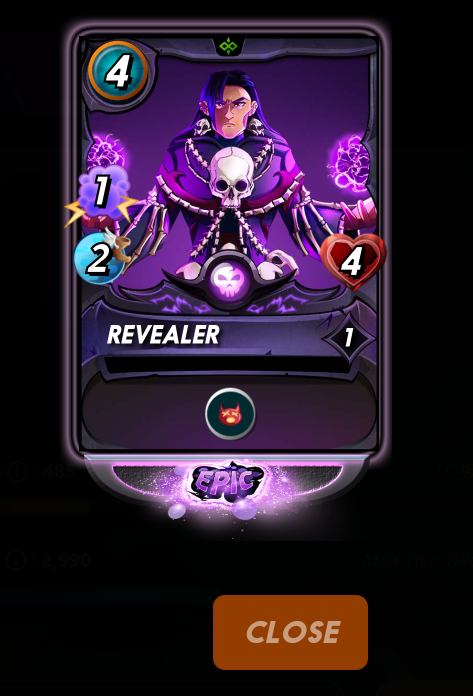 ကျွန်တော်သည် REVEALER Card ကို နှစ်ကြိမ် ရရှိခဲ့ဖူးပြီး ၎င်း၏ ခန့်မှန်းခြေတန်ဖိုးသည် $0.32 ဖြစ်ပြီး Collection Power မှာ 100 ဖြစ်ပါသည်။
သင်တို့ရော Splinterlands ၏ New Update မှာ Reward တွေ ကောင်းကောင်း ရကြပါရဲ့လား။
သင်သည် ယခုမှ စတင်၍ Splinterlands Game ကစားမည် ဆိုပါလျှင် ကျွန်တော်၏ Referral Link ကို အသုံးပြုစေချင်ပါသည်။
အရာအားလုံး အတွက် ကျေးဇူးတင်ပါသည်။
တင်အောင်စိုး
---
---