LEO THREADS - SHORT FORM CONTENT ON HIVE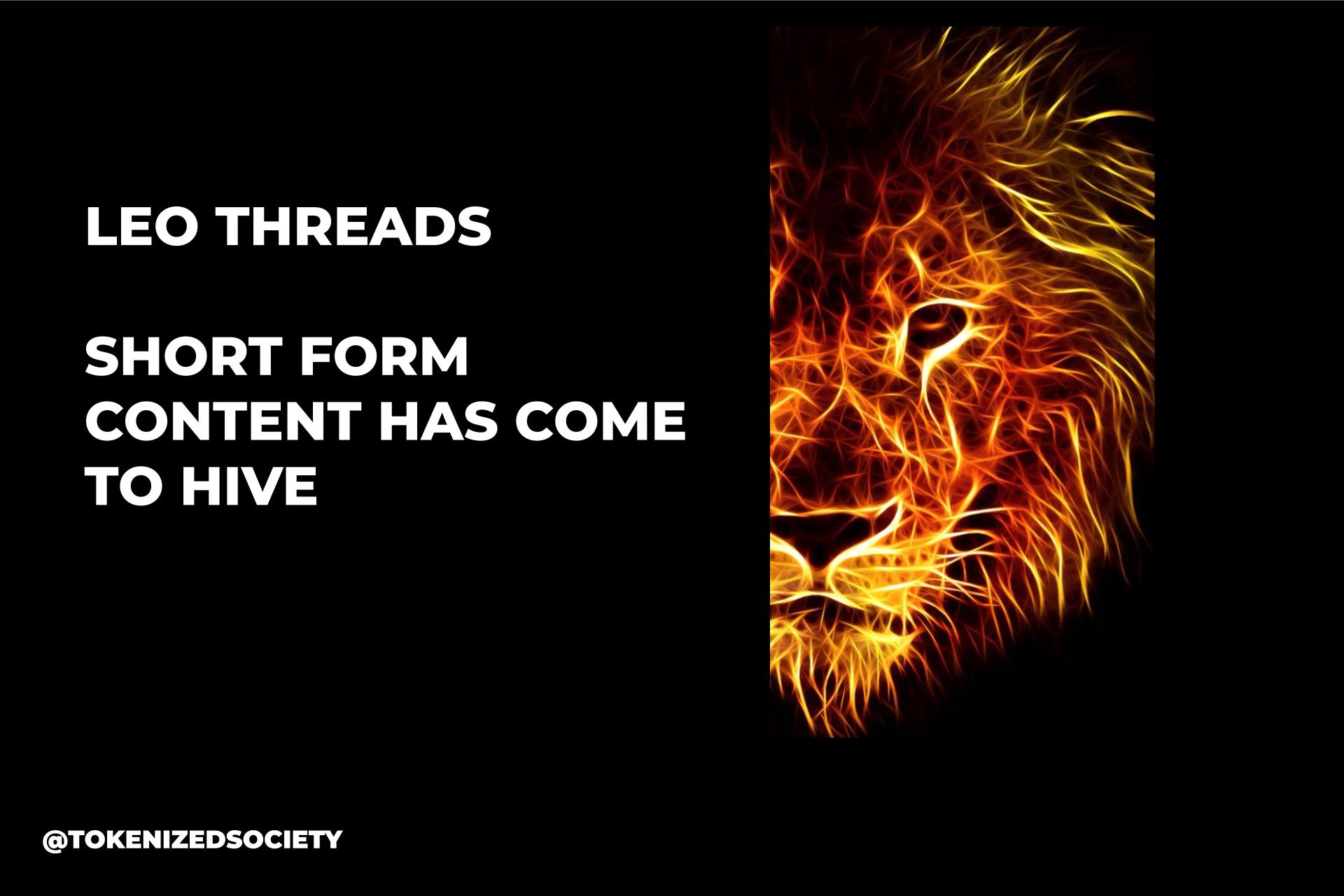 Threads is a long-awaited feature that will change the way people interact with the Hive blockchain
The LeoFinance team has finally launched something that many of us have been waiting for a long time: Threads.
This new form of interacting with the blockchain has a lot of potential, and I believe it can be a game changer for Hive.
What are threads?
It's a known fact that long-form content is somewhat the norm in most Hive tribes, and it's not going away any time soon, but I believe the possibility of interacting with our audience through short-form content adds some needed flexibility to Hive content creators, and that is exactly what #threads is all about.
The easiest way to describe #threads is Twitter on the blockchain, something most of us have been expecting for a while now.
Threads have been out for a couple of days, and it's still an MVP, so don't worry if you come across a few things that aren't working as they should. In fact, stress testing the platform is one of the team's main goals at this point, and, should you find something you think is a bug, please go to the LeoFinance Discord and use the proper bug reporting channel in there.
Thread to win
To celebrate the launch threads, the LeoFinance team is holding a contest where you can win one of five 1k LEO prizes for creating what is being referred to as a "thread storm", which is basically a thread with 19 other follow-up threads.
You can check the official announcement for details, but here is an overview of the rules:
Pick an idea or concept, it can be whatever you want. Unlike Leo Finance's long-form posts, threads are not only for finance and money content, YOU CAN PICK ANY TOPIC YOU WANT.

Start your thread with an introduction and let people know there is a follow-up thread storm incoming - people usually do it like 1/20 to let others know there are 19 more comments coming.

Continue your #thread, reply to the last comment you've made until you hit the 20 comment mark. ALWAYS REPLY TO THE THREAD STARTER COMMENT.

Make a post about #threads to let everyone on the Hive blockchain know what they're missing, and include a link to your thread so people can go check it out. Use the tag "threadstorm" so we can find your thread.
I know it says so in the rules, but I think it's important to repeat it: you don't have to talk strictly about finance or crypto on your #threads! Although it is a feature in the LeoFinance tribe, which is a community about finance and crypto, you can use threads to talk about any topic you want.
My experience so far
I was pretty busy when #threads was launched on Thursday, so I only got to really try it out today, but I must say I'm having a lot of fun! I love my LeoFinance buddies, especially the guys that used to hang out on Leo Market Talk but it's been great to interact with many people in Hive. It made me realize how big our community is!
I even started my own thread storm, where I talk about some of the crypto projects I'm involved with. Check it out to see if there is any you don't know and would like to take a closer look!
Final thoughts
I believe the launch of #threads was an important milestone not only for LeoFinance but for Hive itself. It's a brand new way to interact with the blockchain and the community, something we have wanted for a long time now!
Sure, there are things to fix, add and improve, but I'm sure that the team is well aware of those and working nonstop to make #threads one of the greatest apps on Hive!
Posted Using LeoFinance Beta
---
---