The importance of HBD in a bear market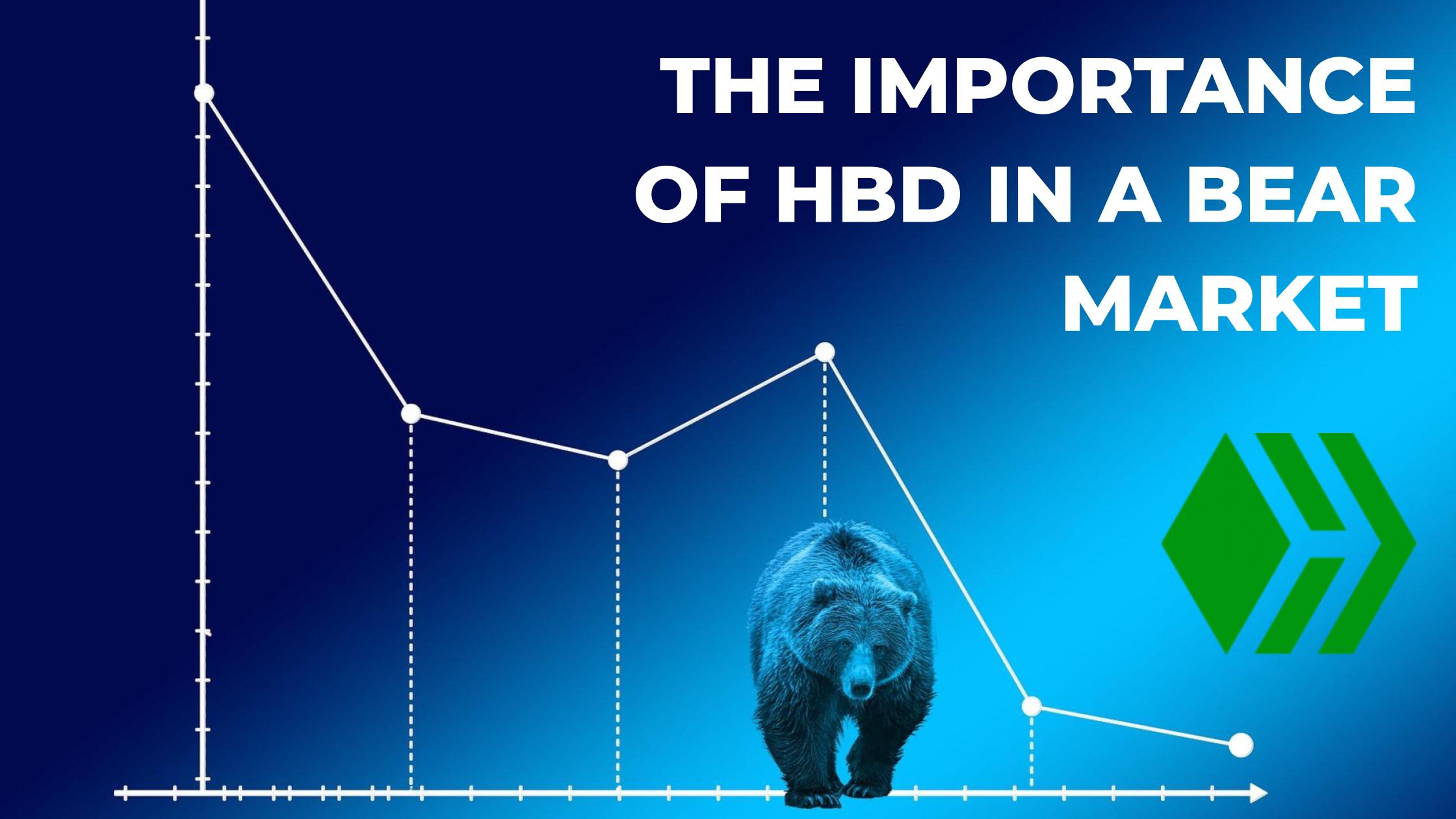 Stable coins such as HBD can help to mitigate the impacts of a bear market
As a project manager, managing risk is something I do for a living on a daily basis so it's natural that I apply that skill to my investment portfolio as well.
Investing is a risky business and investing in crypto is even riskier due to the high volatility of that class of assets. Sure, there is no better place to be when Bitcoin is up 15% in a day and that alt coin you recently bought moons for 1000% but when the markets are down and your portfolio is getting crushed by the hour things don't look as good.
Stablecoins serve an important role during a bear market. Because they are not subject to the same levels of volatility as traditional digital assets, they tend to outperform those when markets are down, which makes them a good risk mitigation strategy and an important component of a balanced crypto portfolio.
Of course, that doesn't mean stablecoins are free from any kind of risk so the same precautions needed for any investment also apply in this case. The recent issues with UST, a stable coin on the Terra network, is a perfect example of what can happen to a stable coin that's poorly designed. That's why the Hive Backed Dollar (HBD) is one of the top stable coins to invest in.
HBD is the stable coin of the Hive blockchain and, among other things, it has some distinct features that make it quite different from other stable coins such as UST and it's my go-to stable coin for portfolio diversification.
Stable coins are a good hedge against the volatility of crypto during bear markets and its also possible to earn yield with them, which is yet another reason why I like to have a share of my portfolio in stable coins.
Earning yield with HBD
HBD has one of the best interest rate on crypto right now and it's very easy to earn yield with it. There are basically two ways you can do it.
Hive savings
By moving your HBD to Hive savings, you are locking it in with an unlock time of 3 days. In return, your locked HBD will increase at a rate voted by Hive witnesses (validators). That rate is currently at 20%, which is one of the most attractive you can find at the moment.
PolyCub Liquidity Pool
One of the issues with HBD is that the liquidity is still not ideal so it can be a bit hard to get your hands on large amounts of it. As Hive gains traction and popularity, the demand for HBD is only going to increase and with that in mind, the LeoFinance team, which is also responsible for PolyCub decided to create a pHBD-USDC pool.
The current APR of that pool is around 26% so if you want to get a little more out of your HBD, this is a great option.
My stable coin allocation
As I mentioned before, risk management is very important to me and stable coins are one of the mitigation strategies I've been using to balance my portfolio.
I already had some HBD locked in savings when the PolyCUB liquidity pool was launched so I decided to keep it here but I did transfer some funds over to Polygon to get some pHBD and USDC and invest in that pool. I'm a firm believer in the long-term potential of Polycub so I'll be monitoring this closely and most likely add more liquidity in the future.
And, finally, I also like to keep some liquid HBD because during bear markets many great opportunities to buy cheap crypto present themselves so I like to have some funds ready to scoop up some of the tokens I believe in the most such as HIVE, LEO and BTC.
Final thoughts
Bear markets can be scary but having a balanced portfolio is a good way to mitigate the impact on your assets. Stable coins are one of the tools you can use for that and HBD is probably one of the best options in the market at the moment.
Posted Using LeoFinance Beta
---
---