Tokenization: the future of health care
It's needless to say that the healthcare industry is in pretty bad shape across the globe. The costs of treatments, equipment and infrastructure increase every day. Governments and individuals are spending more and more of their budgets on health care, and this trend is not likely to be reversed any time soon.
Looking at the importance of the health care industry and the criticality of the problems it faces, the need for immediate disruption is blatantly apparent.
I've discussed before how blockchain, cryptocurrency and tokenization are disrupting many industries such as music, real estate and sports and I believe that the same is going to happen with healthcare.
Healthcare Tokenization
Tokenization has an enormous potential to address many of the problems that the global health care system currently faces, potentially reducing costs and increasing safety and efficiency.
One of the ways tokenization can disrupt health care is by transferring ownership of data back to the patient. It may be weird to think that we do not own data on something as personal as our health, but that is precisely what happens.
In the current system, data is siloed and owned by other entities such as hospitals, insurance companies and pharmaceuticals. That data isn't shared if patients, and they can't even verify the authenticity or the accuracy of said data.
Blockchain and tokenization are excellent tools to change that situation and give patients ownership over their data. The immutable and transparent nature of blockchain can help to ensure that data is authentic and accurate. At the same time, tokenization enables patients to share their data with any institution they desire and be rewarded for it.
Tokenized health data
One use case that illustrates that is the creation of a decentralized marketplace where health research institutions can post their demand for data and patients can decide whether or not they want to share their data while remaining anonymous. If they do decide to share their data, they get rewarded tokens that can be either traded in the open market or used directly to offset hospital bills, for example.
Leverage that with smart contract capabilities, and you can have this entire system running autonomously without the need for a middleman.
This is clearly a great benefit for patients as they can monetize their data and/or reduce their healthcare costs, but it also favours researchers granting them access to better and more accurate data.
Moreover, blockchain-based medical records can contribute to reducing death due to medical error, which, according to a 2016 study by Johns Hopkins University, is the third leading cause of death in the US behind heart disease and cancer.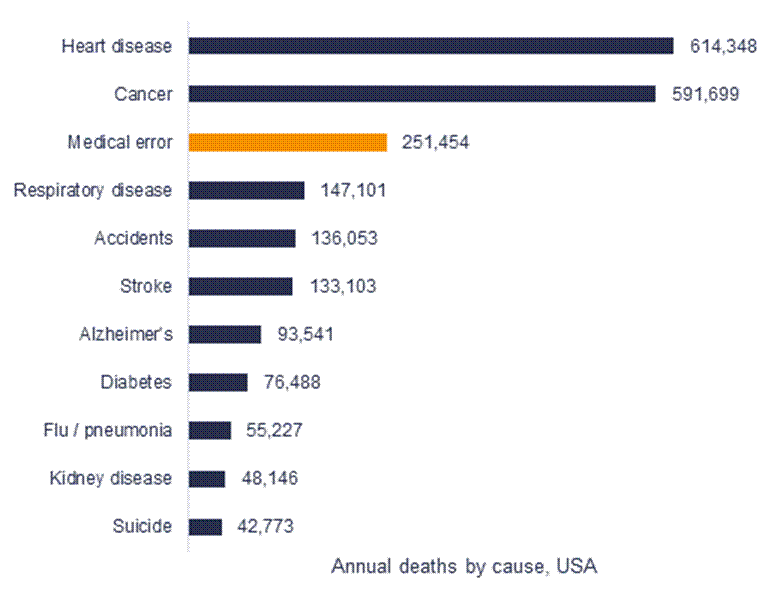 Source
Siloed and potentially inaccurate medical data lead to poor medical histories, which make coordinated care increasingly difficult, exposing the system to the risk of malpractice.
Final thoughts
Blockchain is a very disruptive technology with the potential to improve many aspects of life. Tokenization of health data is vital to transfer ownership back to patients while reducing costs and improving the quality of services for all parties involved; therefore, the health care industry must adapt to incorporate it as soon as possible.
Posted Using LeoFinance Beta
---
---