Independence Of Nigeria?
Today, the first day of October, we celebrate the independence of Nigeria. let me bore you a little with the history of Nigeria and how she has been able to survive independence on her own.
The country Nigeria came into existence in the year 1914 due to the amalgamation of the northern and southern protectorates. Nigeria gained her independence in the year 1960 which is 62 years now. During this period, Nigeria had three regions namely; North, East and West. Nigeria later became a republic in the year 1963.
Nigeria became independent after 50 years of colonial rule. Nigeria was created to fulfill business requirements i.e supplying goods and services to Britain. Important personnels such as Jaja Wachukwu and Funmi Ransom Kuti played an important role in the delegation of a democratic country. The question now is, were we truly independent?.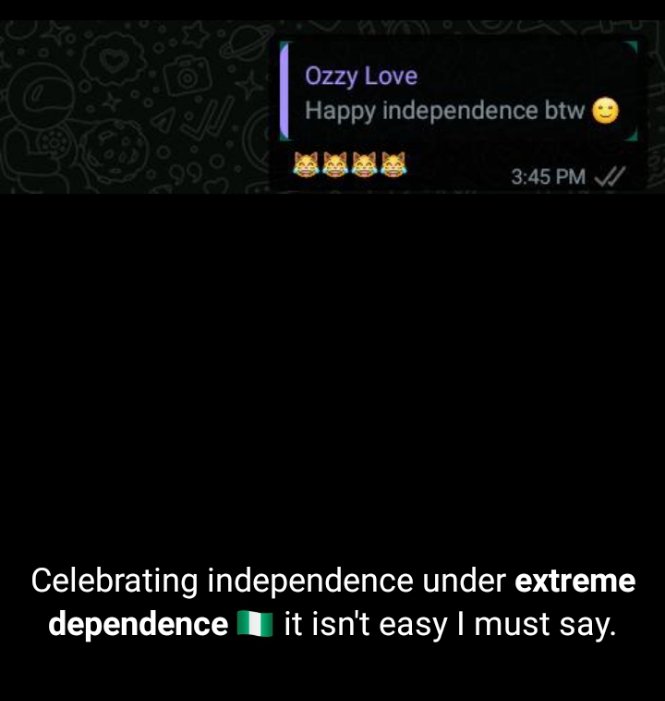 [Screenshot of my conversation with a friend]
The founding fathers of Nigeria was Obafemi Awolowo, Tafawa Balewa, who was elected the prime minister, Ahmadu Bello and Nnamdi Azikiwe. The term independence was to provide freedom to live as you want and be yourself and also, a proud Nigerian. What changed?, you may ask. Well, the people in power became greedy and were embezzling public funds. I and my friend were talking about the independence of Nigeria and I came to realize that Nigeria, is a confused entity and most people aren't even proud to be called Nigerians.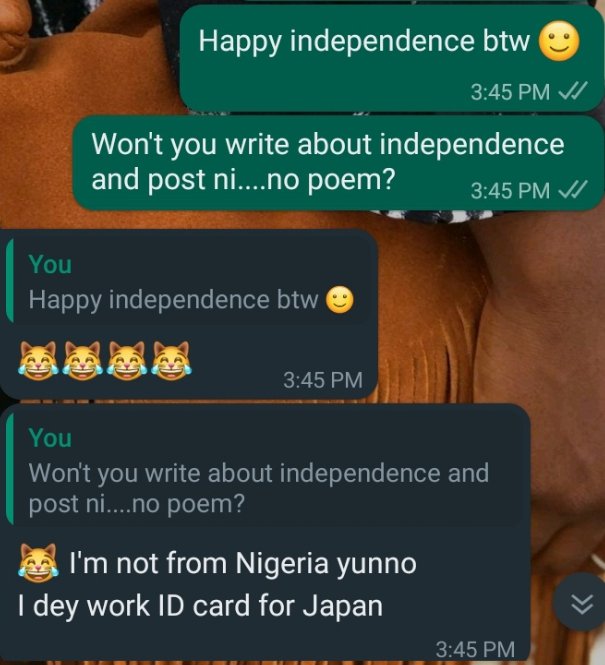 [ Screenshot of my conversation with a friend]
Due to the greed of the government, the military took over on the year 1966. A coupe d'etat was done and some of the coupe planners were Major Nzeogwu, Major Ifeajima, Major Auforo and Major Ademoyege. Their aim was to form a new system of government. Aguiyi Ironsi became the first military head of state. He later died due to another coupe and Yakubu Gowon was appointed the leader instead of Muritala Mohammed who led the coupe.
Moving on, there was the Nigerian civil war which was from 1966-1970. The Nigerian civil war which was also known as the Biafra war was due to man known as Chukwuemeka Ojukwu. He rejected Gowon as the leader. At the time, oil had been discovered in the east and this would lead to the generation of money. Ojukwu wanted Awolowo to be released so he would form an alliance with the east. Surprisingly, it was shocking to see that after Awolowo was released he formed an alliance with the northerners instead leaving the east in the cold.
It was ironic because he was part of the people who brought democracy to Nigeria but this showed how hungry he was for power. After this incident, the Igbos encouraged Ojukwu to take them out of Nigeria. It was sure that a war take place and so, in 1967, Ojukwu and Gowon went to Ghana for peace talk but as we all know, things don't work out as you plan. The war still happened.
The children were the ones who suffered the effects of the war. They were left orphans with no one to care or cater for them. Hunger and starvation was so much that some people are grass to survive. Some people who fought against Ojukwu were Ibrahim Babaginda, Muhammadu Buhari, Olusegun Obasanjo and many others. Ojukwu later fled to Zambia when he noticed Biafra started to collapse and left his vice, Phillip Effiong who later surrendered.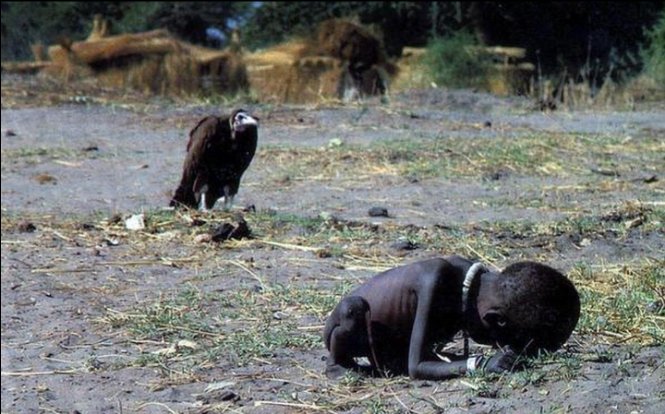 [Picture by Kevin Carter's ionic photograph ]
In 1999, Nigeria became a democratic country once again and has practiced democracy ever since but the real question is our we truly independent? do we practice a democratic system of government which offers equal rights and equality before the law?. We would be having a presidential election next year and campaign has started already.
We want change. We want better leaders. We as citizens want quality roads and other social amenities, we want a better educational system without delay and strike and also better school learning equipment. We want better paying jobs and employment opportunities for our youths we want constant electricity but it seems the government only remembers the people when it is the period of election. We are tired of lies and false manifesto.
We pray for a better Nigeria and new and improved government who would care for the people without having to think of their selfish interest and quest for accumulation of wealth. Long live Nigeria.
---
---