Nearly All The Men In Lagos Are Mad.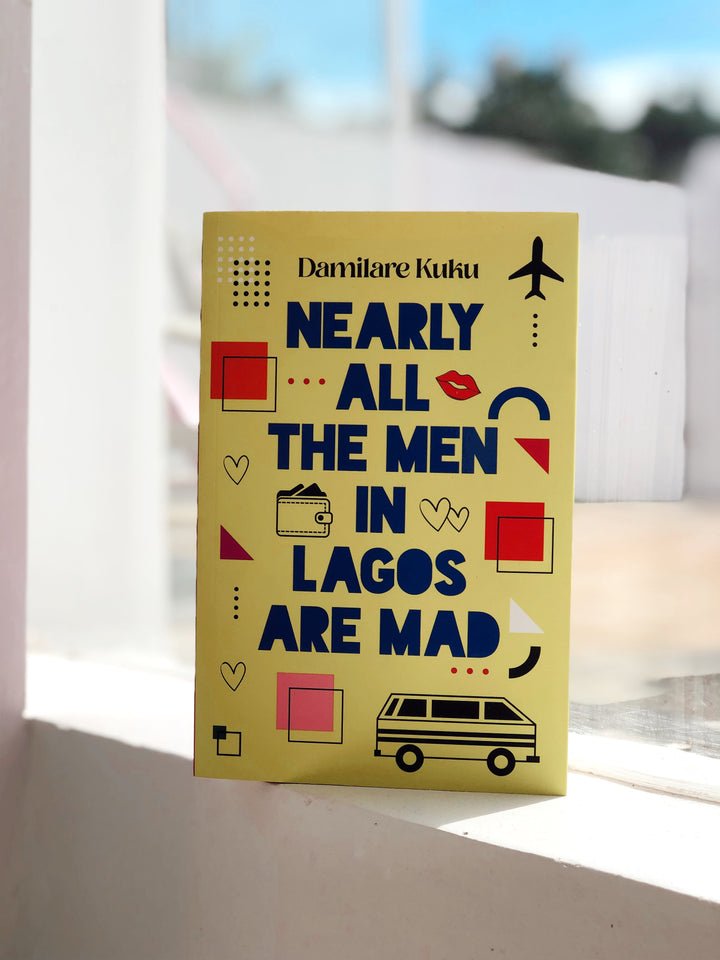 I was just returning from Ikeja where I went for a competition. I was so tired and stressed and I was on the school bus with my friends when I saw a trader across the road who was selling books. The traffic was hectic and I was tired of staying in the bus with nothing to do so I decided to call the man selling books. I had just celebrated my birthday two days ago and I got monetary gifts from friends and family and I decided to make a budget on what I would be spending my money on. I decided to get a hardcover novel and when I called the man over, I had lots of options to pick from but when I saw the title of this particular book, Nearly All The Men In Lagos Are Mad, I fell in love with it because indeed, nearly all the men in Lagos were mad.
The book was written by Damilare Kuku and the cover is just so beautiful. The name and cover really attracted me. I enjoyed the point of view of different people, gender of different classes, and different ethnic groups as well. The story generally talks about the tale of different men living in Lagos and I could totally relate. Different characters of people that you can find in Lagos and this book talks about it. The book is a collection of twelve different stories talking about experiences girls have encountered with men in Lagos. The story has a lot of humor, wit and wisdom attached to it.
In this book, there's a tale of a young lady who tries to find an oyibo (white) soulmate on the streets of Lagos since she was tired of Lagos men, there's an unexpected turn in a night of lust between a rising musician and his Instagram baddie.
There's the story of a young man who had gotten married three different times and was only in the relationship for what he had to gain. He even had to convert to being a Muslim and changing the name which his mother gave him, Ignatius to a Muslim name, Iqbal,In order to get married to his second wife, Jamilah. After his marriage ended with Jamilah due to the fact that the contract which he married her for ended with her uncle, he strategized to get married to a woman who was twenty years older than he was just because she was rich. Despite his friends believing he was marrying the woman for her money, he denied it saying he was genuinely in love with her.
Another crazy tale of a man who convinced his wife to have an extra marital affair so as to bring funds into the home. After engaging in such an act, her husband starts treating her badly and then she takes a knife to her husband's penis at night. He woke up and was so shocked to find his wife pointing a knife to his penis and he called his family members to hold a meeting saying that his wife almost killed him. Men in Lagos are truly mad!
A pastor's wife tries defending her husband against adultery when in reality she knew he was cheating. She had caught him twice but he still seems to deny it. It's really shocking how a Pastor would engage in such act and his wife would have to be the one to clear up his messes. Being in a marriage for twenty years, they've definitely lost the spark of love in their marriage and it was as if everything was a duty really. Engaging in adultery and still having the guts to go to the alter to tell people to desist from such shows madness.
This story really features drama that are enjoyable. It is really a case study to different scenarios going on in Lagos. Lagos is one of the craziest city I have ever encountered and this writer makes sure to bring to the limelight different interesting characters from the people living fake lives to the ones who can't commit and people who can't just live without cheating.
This story brings a lot of shock, amazement, freshness and something you would definitely enjoy reading. I know you would surely enjoy it and love it even.
---
---