NEVER WILL I EVER
Hii hive community and beyond, it's me again with another amazing topic from the hive learners community. A̳n̳t̳i̳ ̳b̳u̳c̳k̳e̳t̳ ̳l̳i̳s̳t̳.
Well each of us might have a written out list of things we wish to accomplish just before a specific age or before we kick the bucket. I have asked some people this question and most said to visit a strip club before they finish school. A friend said before he settles down, he will want to date foreigners and I think he mentioned a particular country that he would like to visit and have sex with the ladies there. Crazy right? Well that's their bucket list.
But this blog isn't about them neither is it on bucket lists. It is just the opposite of bucket list "Anti Bucket List".
Anti bucket list simply put are those things you will never wish to find yourself doing. So today, I will be sharing few things that I have promised myself not to be involved in no matter what may come my way.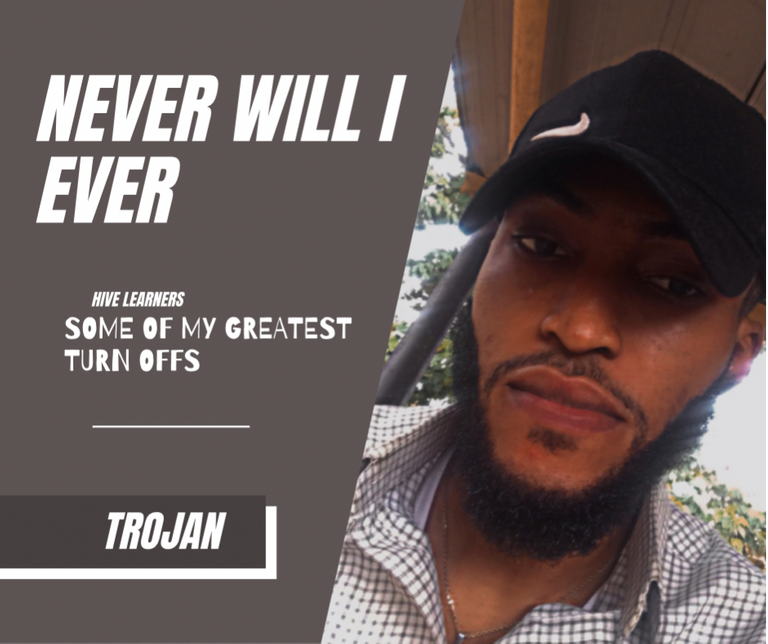 The first on my list of
🄽🄴🅅🄴🅁 🅆🄸🄻🄻 🄸 🄴🅅🄴🅁 🄸🅂
🅱🅴🅰🆃🅸🅽🅶 🅰 🅻🅰🅳🆈
This might be a common thing as a gentleman or sensible man is meant to respect that gender but this pledge was made when I was just in my early teenage days. Some circumstances led to this decision and at that tender age, I saw that being a man is not about beating a lady. Being a man is when you can strongly ignore the nagging words of a woman.
Although it has not being easy maintaining this since ladies like to take advantage of the calmness. I can vividly remember when I wanted to lose it in my SS2 when a lady stained my technical drawing assignment because she was dared to. As I about to slap and push her off the table where she stood, I suddenly had a flash back and held back with tears in my eyes.
Next is
𝔽𝕚𝕘𝕙𝕥𝕚𝕟𝕘 𝔽𝕠𝕣 ℙ𝕠𝕤𝕚𝕥𝕚𝕠𝕟.
A leader is to be selected and not you imposing yourself. I for one, don't really like the spot lights but find myself in it mostly. But fighting for power is a no no from my side. I so much detest it.
🆃🅰🅺🅸🅽🅶 🅷🅰🆁🅳 🅳🆁🆄🅶🆂.
A wise person won't plan doing this but the way it is rampant, I guess wise people aren't plenty out there anymore. The use of hard drugs is so rampant and common that if you will be looked down on if you don't. But no matter how pressured I become, hard drug is a big turn off from my side and if my friends are involved, I unfriend no long cap.
Let's just list out the rest to reduce the length of the post.
Others include
Getting Drunk.
Making someone feel worthless.
Visiting a brothel.
Joining cult.
Asking a lady to do my personal chores (washing my clothes especially).
Dating (Just kidding though 😂😂😂😂).
So here you have it. These and more are some the things that I don't think I will like to find myself involved in. I won't be proud of the person in the miroor if I do.

Thanks for stopping by.
🆄🅽🆃🅸🅻 🅼🆈 🅽🅴🆇🆃 🅿🅾🆂🆃
🅺🅴🅴🅿 🅱🆄🆉🆉🅸🅽🅶 🐝🐝🐝
I still remain Trojan
✌️✌️✌️


---
---