Night-Crawlers. The Hidden Secret

Hello people of hive-learners and beyond. So today, according to the hive learners contest, I will be sharing with the house my preferred time of working and my major way in staying awake all through the night.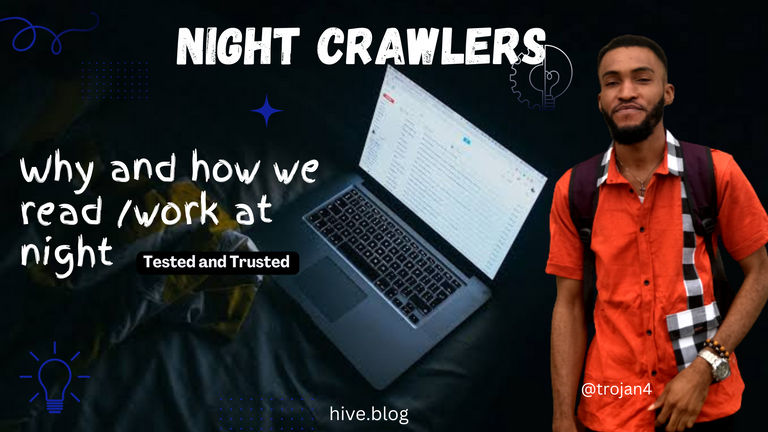 Created using Canva
🅱🅴🆂🆃 🆃🅸🅼🅴 🅸 🆆🅾🆁🅺
Firstly, I must add that everyone has their own favorable time and way of doing things. As a student and freelancer, my favorable way of working is in a cool environment. An environment where I get into the zone automatically. It comes mostly early in the morning or late at night (if it is very important). If I can remember correctly, I hardly work in the afternnnons or when people are around. Why?? They won't understand that I need uttermost concentration. Although, I mostly play music while working but the genre mostly have that working vibes. Thanks to Boomplay, I have a playlist for workig. So whenever I pick up my tools to work, all I have to do is open the app and get inspired. But mostly my ispiration comes when I remember I have bills stacked up that needs urgent payment. The ispiration will just just come and if it doesn't, I go inside to look for it.
🅱🅴🆂🆃 🆃🅸🅼🅴 🅸 🆂🆃🆄🅳🆈
Yes, I am still a student and despite knowing that education is a scam, I can't forget the main reason I applied to be in school in the first place. Studying is not really my best attribute. It is more or less like my sleeping pills and it works effectively 😂😂😂. The time I get serious with studying is when exams are close by or the next day lolz 🚶🏼🚶🏼.
My best time for reading is mostly at night. Night because there would be no much distraction and at that time, no one would be online to distract me with calls or messages. Reading at night isn't easy ooo remember I said reading is my sleeping dose so the question is how do I maintain staying awake. Most people suggests taking caffine, putting their legs in water, taking lipton without sugar. I know a guy that takes atleast 3 energy drinks just to stay up. Well I have tried all these but they didn't seem to work out for me.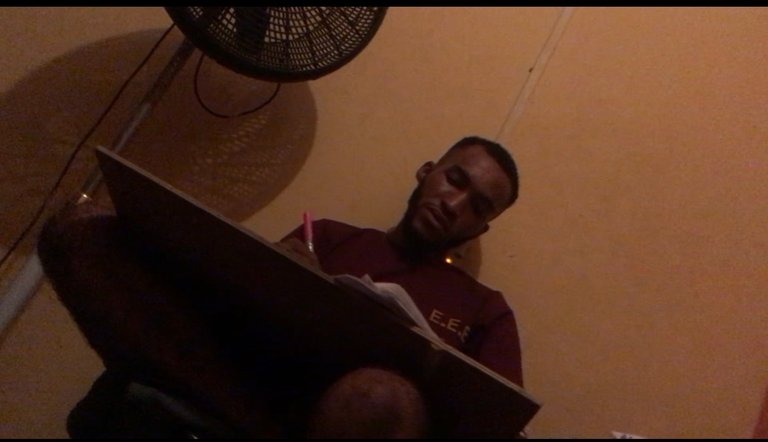 Now, what I am about to share with you is top notch and classified. I might be killed for sharing this but we are family and it is worth dying for so listen well and good.
If you check my bio, it says I am a foodie and as a student who doesn't like food?? Yeah reading at night can hardly be done alone espcially if you are like me that fixes the room to be comfortable. So most times I don't read at my place I read at a friends' where we are like 3 and no room for sleeping. Well don't be disappointed just yet that's not the secret, the secret is in food. The stuff there is that we won't eat or cook at night but middle of the night. So if you like sleep early, they will cook and they won't wake you up leaving you to eat in your dreams 😜😜😜. Harsh right??
Note that this cooking isn't by 12 or 1am, it could be around 3am where everyone is already tired and sleep is strong. The day they did this to me was the most painful because I was extremely hungry.
Another reason I read in group is because we moltivate each other. There is no way I see A, B and C reading and I will think of sleeping. Most times we have shifts mostly because of sleeping space but the major reason is so we won't over sleep and get to the exam hall late.
So guys, there you have it. My secret to reading at night. Also in addition if you can't read with friends, try getting enough snacks just to keep yourself busy. But if the course nah die, trust me, sleep won't be an option.
Thanks for stopping by.
🆄🅽🆃🅸🅻 🅼🆈 🅽🅴🆇🆃 🅿🅾🆂🆃
🅺🅴🅴🅿 🅱🆄🆉🆉🅸🅽🅶 🐝🐝🐝
I still remain Trojan
✌️✌️✌️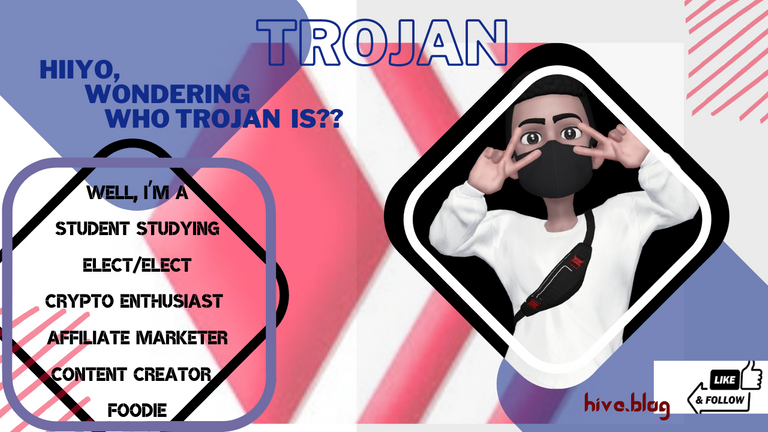 ---
---