Scams On The Crypto Space Part One
🅲🆁🆈🅿🆃🅾 🆂🅲🅰🅼🆂.
One of the major fact of the crypto space is that no transaction can be traced hence the scams on the space is very very very much (did I add enough very?). The transactions are untraceable so hence so many people have been duped one too many times.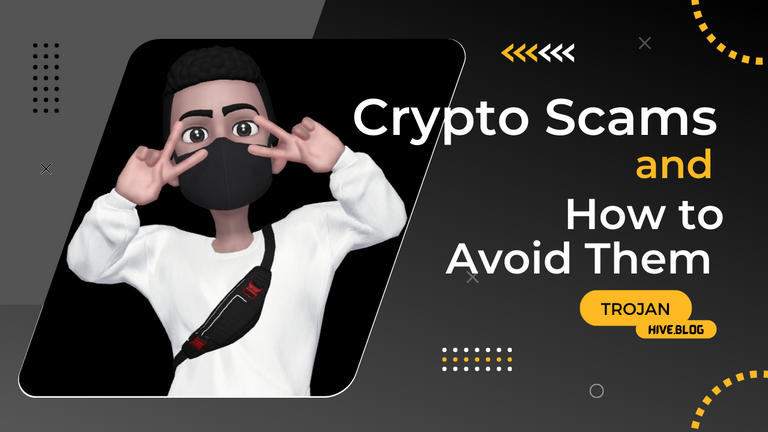 Once there is money is involved, leave it to individuals to reason one or two ways to get into the system with the intention to scams.
In 2015, Ethereum fell into a major scam that made them lose over 11 million eth token and it lead to the creation of Ethereum classic ETC.
Also, recently this year, February 2022, a major cryptocurrency exchange platform Wormhole lost around the sum of $320 million after a deadly cyber attack. All I have to wonder is that if this big company or exchangers could lose this large sum despite the amount that would have been spent on cyber security. The question is "HOW WAS IT POSSIBLE?"
Well don't jump off your seat yet, relax cause in this blog, we will be discussing some of the scams and possible ways of preventing crypto scams. Since you aren't owning a site or attracting a whole lot of traffic, then it means you are saved small. Small in the sense that there are still small little scams that you still have to prevent as an individual.
Most Common scams in the crypto space includes:
ⓇⓊⒼ ⓅⓊⓁⓁ ⓈⒸⒶⓂⓈ
A rug pull in the crypto industry is when a development team suddenly abandons a project and sells or removes all its liquidity. The name comes from the phrase to pull the rug out from under (someone), meaning to withdraw support without prior notice.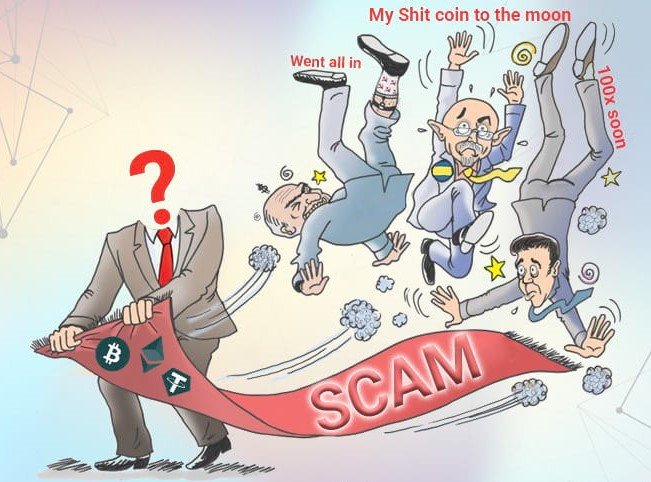 Image Source
Rug pulls are common in DeFi as tokens can be created easily and then listed on DEXs with little or no KYC. Anyone with enough knowledge can set up a liquidity pool.
The first time I experienced this or should I say when it started becoming rampant was around last year during shit coins. Most of the developers back then would sugar coat their projects, push it to the public and after they are in like 5 hours and most people have aped in, they then abandon ship leaving investors in crises and loses.
There are three major ways for a developer to rug pull. The developer can:
Take out the liquidity: When developer or the team removes funds from the coin.

Create a massive dump: In this case, the developers would have bought more than 50% of the total supply thereby having the power to move the coin. When they have made more than enough, they sell off massively causing chaos as it will be survival of the fittest where everyone also panics and sell off causing a big dump. If you are well into the crypto space, you could have heard about pump and dump.

Reduction of sell orders: This happens in the early development during the coding process. The developers would have already written a code preventing anyone from selling off asides them. Once there is a suitable positive buy, they dump and leave a worthless token for those who bought.
Spotting Rug Pull Projects.
The major way of preventing entering a rug pull project is by doing your own research. How do you spot projects like this? Well let's find out.
Unknown Developers: If the developers behind the project are not public or haven't done anything legit in the crypto space before or no one has heard of them then it is a red flag that the project is a scam. Even though this doesn't really guaranty the authenticity of the project it is something you can look out for before buying into that new project.
Scan the project: Scanning the project is not all that difficult because all you need is the network where the coin is built on (mostly bsc) and which you get the Contract Address (CA).
Using a popular shit coin SAFEMOON for instance.
First is to know the network it is built on which is BSC.
Second is to get the CA which can be found when you google the name of the coin.
Then go to the network site where you can place the CA for a complete scan of the coin.
ⓅⒽⒾⓈⒽⒾⓃⒼ ⓈⒸⒶⓂⓈ
Phishing is a type of online attack where an individual gets a cloned link to a site which is likely to steal data and if care is not taken, access to private key and decryption password. This is not only involved in the crypto space but majorly in the cyber space.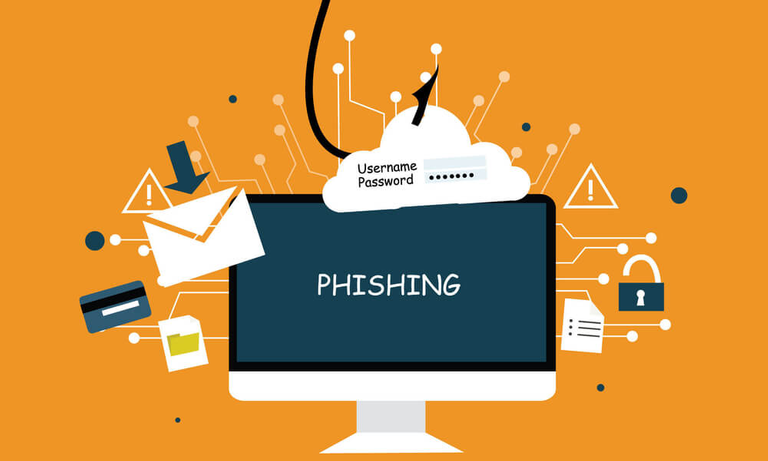 Image Source
Phishing links can come in various forms, one of which is airdrop. In the year 2021, it was widely advised that if you were participating in airdrops, always use a different wallet for just airdrops. This was because several people confirmed that cryptos in their wallets famished right after they did an airdrop. I don't know how possible it is though but I did create another wallet on my trust wallet to avoid stories that touches.
Another form of phishing scam is a fake website. A popular exchanger pancake swap encourages people to crosscheck the site's link before linking their wallet with the site. For instance, the correct link to pancake is https://pancakeswap.finance a phishing site can be https://pancakswap.finance.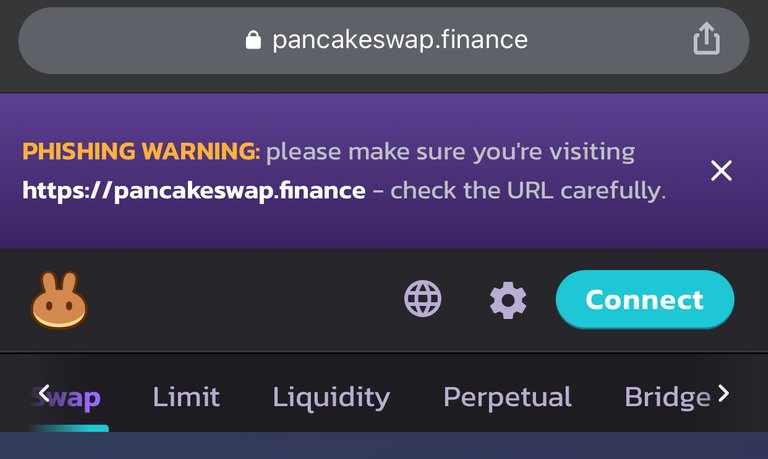 They both might look same but the difference is the "e" when you click the fake link without crosschecking, you will see the same set up and the problem starts when you connect your trust wallet or any wallet to the site then all is gone and we all know that crypto can't be traced. So guys, always cross check your links.
Also on hive, I know majority of the witness talk against clicking on links. I think I came across a post/proposal where the witness spoke about removing clickable links or something like that.
So I guess we will stop here as I continue on the next part of the topic. But before we conclude, let's define some terms that were used in this blog.
🅃🄴🅁🄼🅂 🅄🅂🄴🄳
DeFi:
Meaning DECENTRALIZED FINANNCE is a financial technology that removes third party preventing the interface from being controlled.
DEXs:
This is a decentralized market place or exchange that enables man on man (pair to pair) transactions.
KYC:
This is a system set up tp fully Know Your Costumers preventing fake accounts or multiple accounts by same users. It helps bring scams to the nearest minimum.
Liquidity:
Liquidity is a measure of the ease at which an asset can be converted to another asset without affecting its price. In simple terms, liquidity describes how quickly and easily an asset can be bought or sold.
Contract Address:
This is simply the address location of the token contract that manages the logic for the tokens. It is not by and chance related to the address holding your own personal tokens. With this you can know everything about a particular token. Look at it as the DNA of tokens.
Witnesses:
They are referred to as the governing body on hive. Your votes gives them the strength to make ration decisions affecting the blockchain so vote wisely.

Thanks for stopping by.
🆄🅽🆃🅸🅻 🅼🆈 🅽🅴🆇🆃 🅿🅾🆂🆃
🅺🅴🅴🅿 🅱🆄🆉🆉🅸🅽🅶 🐝🐝🐝
I still remain Trojan
✌️✌️✌️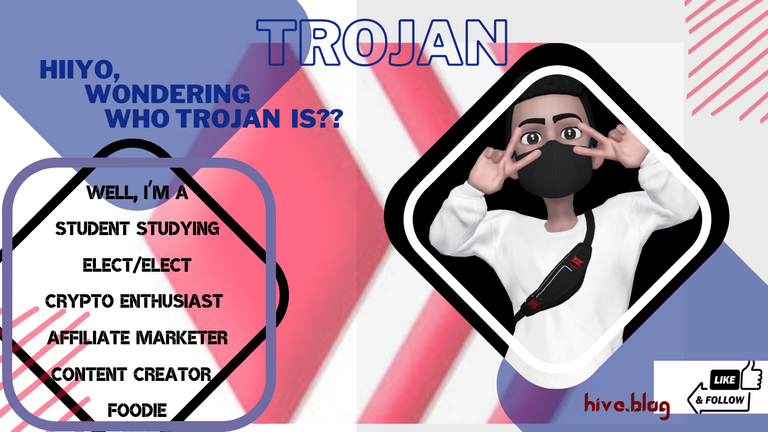 Posted Using LeoFinance Beta
---
---