Teach Baby Ander to Sleep, Eat, Wake, Sleep (rather than Sleep, Wake, Eat, Sleep)

TL;DR
Babies naturally want to be awake for a while, eat at the first sign of hunger pains, then immediately go to sleep.
However, baby will ultimately be more content (and mom and dad will be much happier and better-rested) after baby learns to sleep, eat, wake, sleep rather than sleep, wake, eat, sleep.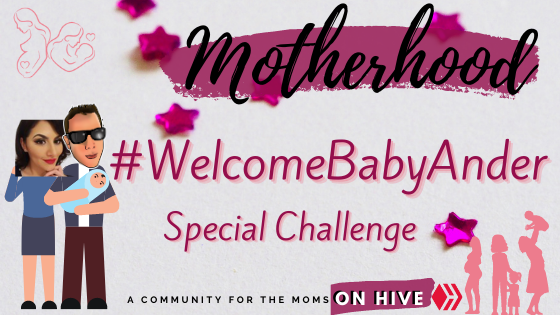 Why Am I Posting This?
On April 5, 2021, @theycallmedan and @gabbygoldenxo welcomed Baby Ander into the world.
On April 14, 2021, @motherhood posted a challenge for folks to share unsolicited advice to the new parents.
The advice I am sharing herein was a life-saver and life-changer for my wife and me as we were struggling with caring for our second infant (nearly 22 years ago).
Our Story
My wife and I are the proud parents of 6 children, 4 of whom we raised from birth, 2 of whom we've raised since age 2 ½ (the six of them are now ages 24, 21, 18, 10, 8, & 8).
When our second child was approaching 2 months old, my wife and I were at our wits end. No matter what we did, we could not get that boy to even come close to sleeping through the night, and nights were frequently interrupted with incessant fussiness.
A Book that Changed Everything
As providence would have it, my wife stumbled across a book (On Becoming Baby Wise) that promoted an approach to caring for infants called "parent-directed feeding" (btw, a new edition of the book was just published a few months ago). She read the book in one evening, then handed it to me the next day and said "You need to read this."
I was initially skeptical (as I generally am about everything upon first hearing), but I went ahead and began reading the book; and I was surprised to find myself agreeing with much of what the authors were saying.
First, let me say that some people have given "parent-directed feeding" a bad name by taking it to extremes that I don't believe were ever envisioned or taught by the book's authors. Don't resort to extremes and don't be overly rigid or legalistic in applying the principle of parent-directed feeding.
The book teaches that you, the parents, decide when baby eats, not the other way around. However, common sense is needed when setting and adjusting the feeding schedule. And, the younger the baby, the more frequent the feedings should be.
Without going into to too many details, the basic premise of the approach is to 'teach' baby that a full tummy means it's time to be active rather than time to sleep.
Weary Parenting Leads to Weary Parenting
As a weary parent, it is so easy to resort to the 'solution' of feeding baby while rocking him to sleep. There is something about this that seems so natural and 'comforting' (in that moment) both for parent and baby.
The problem with that approach is that it can 'teach' baby that he needs a full tummy to go to sleep (and, consequently, to stay asleep). By contrast, if you are able to 'teach' him that he does not need a full tummy to sleep, then he will be able to transition to sleeping through the night as soon as his body is at that point when it no longer needs to be fed every few hours.
If baby learns to go to sleep on a full tummy, then when he stirs himself awake in the middle of the night, he believes that he cannot return to sleep without eating, and so he wails and cries and fusses until mom or dad come to the rescue.
Weary mom or weary dad then have no choice but to feed and rock inconsolable baby until he returns to that state of maximum comfort and drifts back off to sleep.
Keep Baby Awake after He Eats
So how does one 'teach' baby that he does not need a full tummy in order to sleep? It basically involves being diligent to keep him awake after every feeding then putting him down to sleep at an appropriate time thereafter. Sometimes (oftentimes) keeping baby awake after he eats is hard, because baby (just like all of us) naturally becomes very sleepy after eating.
Make it a habit to do all those crazy voices and gestures and faces and knee-bouncing and other engagement activities immediately after he eats.
(NOTE: I can't remember completely, but I'm pretty sure that we made an exception to this rule for middle-of-the-night feedings. Before he was old enough to go all night without eating, but after he was used to a sleep, eat, wake, sleep schedule, my wife would wake him up in the middle of the night, just to feed him, then let him go back to sleep. And, I'm pretty sure we did the same with our next two babies.)
Wake Baby When It's Time to Eat
It also involves intentionally waking baby when it's time to eat. This takes some diligence and determination on the part of the parents. When it's been four hours since his last feeding (and you are on a four-hour feeding schedule), it will be difficult to wake him up and disturb the peace and tranquility. However, sticking to the schedule will ultimately be best for parents and baby.
Heaven Sent
Within a matter of days after my wife and I began implementing this approach with our second son, he was contentedly sleeping through the night (and so were we! ).
It was a God-send (to be honest, my wife and I both believe that her 'happening' to find that book was not by chance; it was divinely inspired).
God Bless!
God bless you Gabby, Dan, and Baby Ander!
The Lord bless you and keep you;
the Lord make his face shine upon you and be gracious to you;
the Lord turn his face toward you and give you peace.
Numbers 6:24-26 (NIV)
---
---