Brrrrrrrrrr Money !
So there's an item I omitted from yesterday's unboxing, and as I mentioned in that post, in a way it's the exact opposite of silver.
Remember, one of the reasons most people stack precious metals is to protect themselves against inflation.
And today's piece is exactly that. Inflation money 🤭😂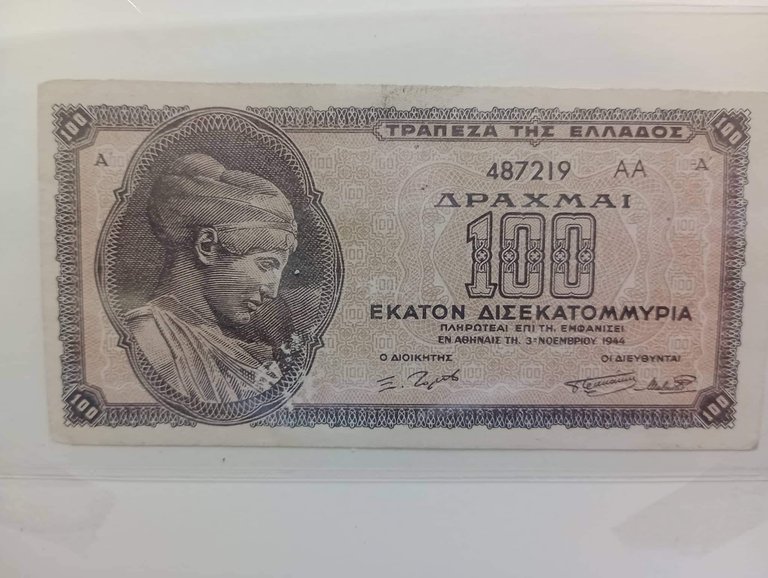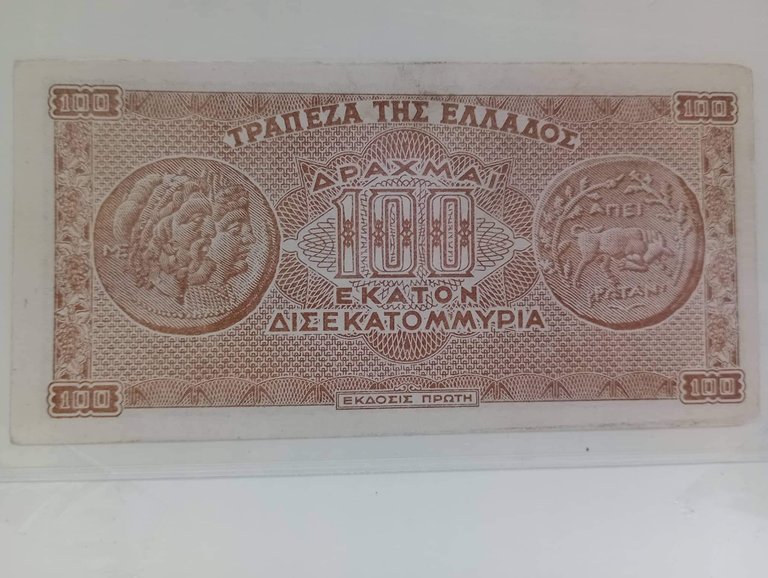 A one hundred billion dracmai Greek bank note, printed in November 1944.
To my knowledge, this is the largest (in regards to denomination) bank note ever printed by the bank of Greece, as a result of the hyper inflation that was running rampant back then. Which in turn was the result of our Nazi occupants making printers go brrrrrrrrrrrr in an effort to get free money for their war machines.
From 1941 to 1944, Greece endured the devastating effects of World War II, including military invasion, occupation, and fierce fighting with Greek Resistance groups, which all caused unprecedented damage to the country's already-underdeveloped infrastructure and economy. Forced loans demanded by the occupying regime severely devalued the Greek drachma, while the end of the war gave way to a bitter civil war that lasted until 1949. By 1950, the relative position of the Greek economy had dramatically deteriorated: the income per capita in purchasing power terms fell from 62% of France's in 1938 to about 40% in 1949, less than a decade later. source
According to some sources I read, this bank note fresh out of the printer had about the same buying power 10 euro cents would have today, lmao. 🤭😂
Funnily, it was quickly withdrawn from circulation when an economic reform began in an effort to restart the economy.
Oh well, a sweet memento of Greek history to hold. And to be fair, it's a beautiful small bank note featuring lots of Greek history.
Feels like history is about to repeat itself, ain't it?
Posted Using LeoFinance Beta
---
---