Some big things coming on the ProofofBrain tribe?!?!

I think that by this point the proof of brain tribe doesn't need an introduction. However, if you are unfamiliar with it leave me a comment and I will tell you more about it and its very interesting tokenomics.
Back on topic now, here are some very interesting messages dropped by the founder of the tribe over the discord the last few days, showcasing his future plans and vision about the future: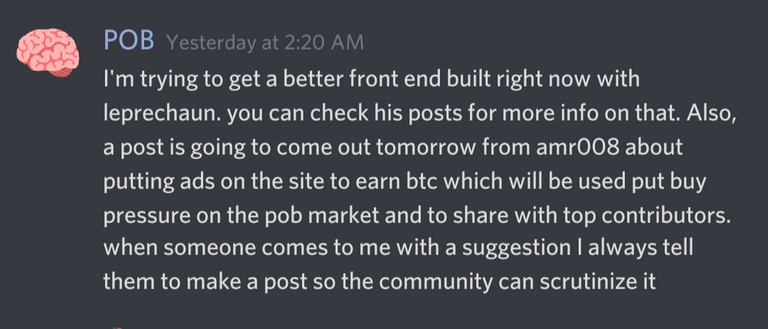 New front end and ad burns? Sounds cool 😎

Using pob to buy real shit doesn't sound bad either :D
But imo the biggest bomb is this:

Although I have heard of it before, I must say that I'm not very familiar with Solana and what it can do.
However, I do know that hive engine is pretty limited in what it can deliver.
And moving/building/collaborating with Solana (or an other chain) may open doors that are pretty much shut with hive engine, like faster loading times or listings to other exchanges.
Take leofinance for example, that had to come up (and pay a shit ton for developers!) to somewhat circumvent these problems.
Also another problem with tribes is that since our hive community is so small they tend to cannibalize one another when it comes to traffic and users, so it would be very nice to see PoB building on another chain!
Its good to know that the founder is looking at cross chain stuff or maybe even moving to its own chain.
Anyways, that's pretty much all that's hot about PoB at this moment. Please note that purpose of this post is not to get you to FOMO.
Personally, I think that at this point the price of pob is quite expensive considering the current size of the community and the CURRENT developments.
For this reason I will keep the same strategy I have been following for the last month or so. Stake half of my earnings and curation rewards, sell the rest. If prices goes down eventually as I think they will, I will buy a strong position.
If they don't and I turn out to be wrong I will still be very happy as I have managed to acquire a respectable stake in the top-25 thanks to being an early adopter :)
Please note that all of them both are just mine interpretation and speculation.
Whether you invest in pob or not it's totally up to you. But it certainly won't harm to use the pob tag on all your posts or even use the native interface at https://www.proofofbrain.io/ to try and earn yourself some free tokens! And mayne stake some or all.
Posted Using LeoFinance Beta
---
---