It is possible! (a study of Caspar David Friedrich)
Hello, art lovers!

First I saw this painting in my friend's house while talking on the phone (thank you Petra for having it on your wall).
I was amazed by the beauty of the work. Instantly I decided to study it and to try to see what does that unknown person on the edge of the mountain have to say to me.
I worked on it for months and in comparison to the painting of Caspar David Friedrich, it is not only unfinished but a blurry and lazy attempt at photocopying.
Fortunately for me, I never had the idea of photocopying it. My wish was to create a similar situation and environment where I will place myself. Therefore, this painting is a self-portrait in a way.
At the beginning of the process of painting, a title came to my mind: "The Wanderer" and I thought, that is an excellent title for the painting. I painted and wondered, painted and wondered... Well, as you can see - it's not an excellent title... At least not for this painting.
Later on, a new title came to my mind: "The Dreamer" and I thought that it is a perfect title for this painting because no description is required.
In the end, or at least - for now, I deduced that I am both a Wanderer and a Dreamer, but this painting is not about me. It is much more... It represents possibilities, options, obstacles, and opportunities. It represents a journey into the unknown, a voyage of belief, a path of faith, and a gateway to destiny.
And now the time has come to jump off that cliff. The time to live fully and be completely satisfied, to believe in yourself and your vision. The time has come for us to believe that it is possible to be happy and to do what we love, to be abundant in all aspects of life.
It is possible and the time is now!
¡Hola, amantes del arte!

Primero vi este cuadro en casa de mi amiga mientras hablaba por teléfono (gracias Petra por tenerlo en tu pared).
Me sorprendió la belleza de la obra. Instantáneamente decidí estudiarlo y tratar de ver qué tiene que decirme ese desconocido al borde de la montaña.
Trabajé en él durante meses y, en comparación con la pintura de Caspar David Friedrich, no solo está sin terminar, sino que es un intento de fotocopiado borroso y perezoso.
Afortunadamente para mí, nunca tuve la idea de fotocopiarlo. Mi deseo era crear una situación y un entorno similares en los que me ubicaría. Por lo tanto, esta pintura es un autorretrato en cierto modo.
Al inicio del proceso de pintura me vino a la mente un título: "El vagabundo" y pensé, ese es un excelente título para el cuadro. Pinté y me pregunté, pinté y me pregunté... Bueno, como pueden ver, no es un título excelente... Al menos no para esta pintura.
Más tarde me vino a la mente un nuevo título: "El Soñador" y pensé que es un título perfecto para esta pintura porque no requiere descripción.
Al final, o al menos por ahora, deduje que soy tanto un Errante como un Soñador, pero esta pintura no se trata de mí. Es mucho más... Representa posibilidades, opciones, obstáculos y oportunidades. Representa un viaje a lo desconocido, un viaje de fe, un camino de fe y una puerta de entrada al destino.
Y ahora ha llegado el momento de saltar de ese acantilado. El tiempo de vivir plenamente y estar completamente satisfecho, de creer en ti mismo y en tu visión. Ha llegado el momento de que creamos que es posible ser felices y hacer lo que amamos, ser abundantes en todos los aspectos de la vida.
¡Es posible y el momento es ahora!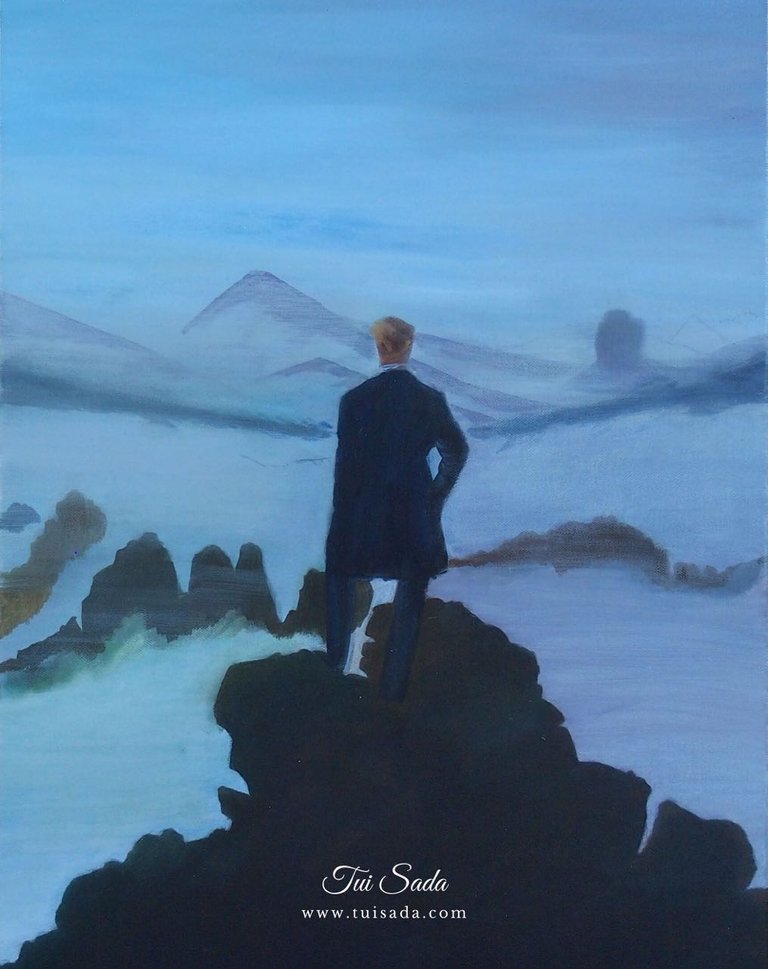 Painting, Oil on Canvas
Size: 50 W x 70 H x 1.5 D cm
This painting was exhibited at:
The Europe House Zagreb, Croatia (Sept-Oct 2016)
The University of Zagreb, Faculty of Humanities and Social Sciences (April - June 2016)
The painting is not for sale, as it is part of a private collection in Croatia.

Pintura, Óleo sobre lienzo
Tamaño: 50 An x 70 Al x 1.5 P cm
Esta pintura fue exhibida en:
La Casa de Europa Zagreb, en Zagreb, Croacia (septiembre-octubre de 2016)
Universidad de Zagreb, Facultad de Humanidades y Ciencias Sociales, Croacia (abril - junio de 2016)
El cuadro no está a la venta, ya que forma parte de una colección privada en Croacia.
---
All the text and images in this post are mine unless otherwise stated!
All rights reserved worldwide!
United Kingdom icon by Icons8
Spain Flag icon by Icons8
---
---