Oil Painting, "African Dream" (ENG/SPA)
Hello, art lovers!

"The Earth's water cycle is a process of constant renewal. Water falls, water vapor, clouds, rain, springs, rivers, seas, oceans, glaziers – the cycle is never broken. There is always the same quantity of water on Earth. All the successive species on Earth have drunk the same water. The astonishing matter - that is water. One of the most unstable of all, it takes a liquid form as running water, gashes as vapor, or solid as ice...
The engine of life is linkage. Everything is linked. Nothing is self-sufficient; water and air are inseparable, united in life and for our life on Earth. Sharing is everything…"
Home (2009), a documentary by Yann Arthus-Bertrand
The documentary inspired this painting, and for that reason, I put the quote from the movie itself. I highly recommend everyone to watch it, you can find it on Youtube, it is one of the best documentaries I have seen in recent years.
¡Hola, amantes del arte!

"El ciclo del agua en la Tierra es un proceso de constante renovación. Agua cae, se vaporiza, nubes, lluvia, manantiales, ríos, mares, océanos, vidrieros: el ciclo nunca se rompe. Siempre hay la misma cantidad de agua en la Tierra. Todas las sucesivas especies de la Tierra han bebido la misma agua. El asunto asombroso - que es el agua. Uno de los más inestables de todos, toma forma líquida como agua corriente, cortada como vapor o sólida como hielo...
El motor de la vida es la vinculación. Todo está vinculado. Nada es autosuficiente; el agua y el aire son inseparables, unidos en la vida y para nuestra vida en la Tierra. Compartir es todo…"
Home (2009), un documental de Yann Arthus-Bertrand
El documental inspiró esta pintura, por eso puse la cita de la propia película. Recomiendo encarecidamente a todos que lo vean, lo pueden encontrar en Youtube, es uno de los mejores documentales que he visto en los últimos años.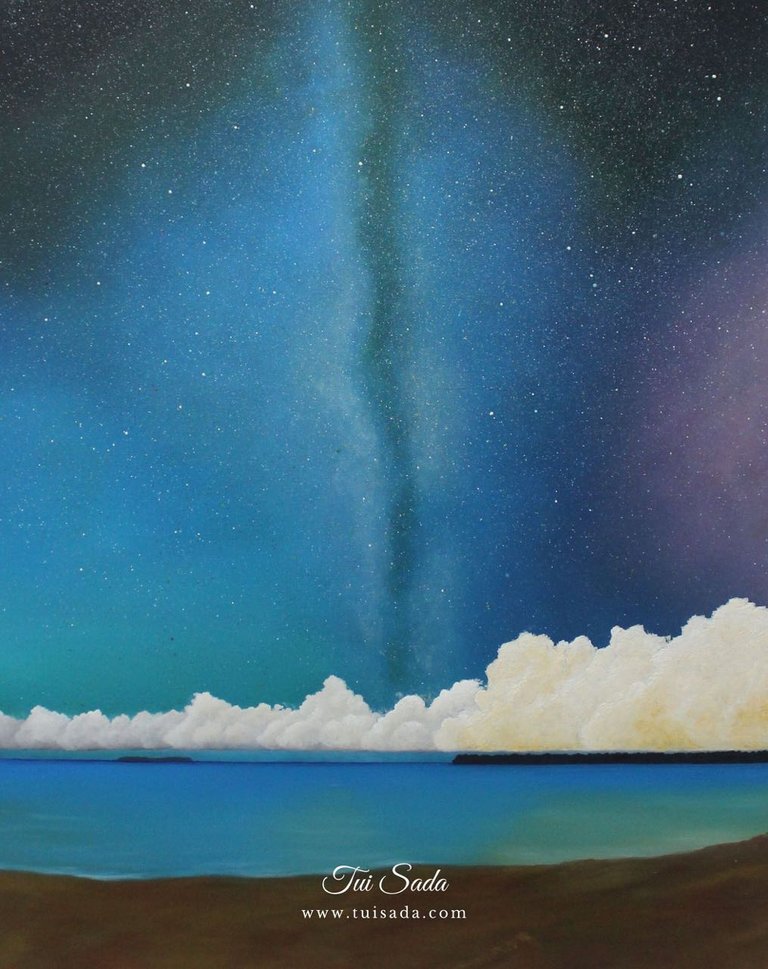 Painting, Oil on Canvas
Size: 50 W x 70 H x 1.5 D cm
This painting was at:
The Brick Lane Gallery in London, UK (October 2016)
Luxury Villa in Costa Brava, Spain (Aug - Sept 2018)
Bar del Convent in Barcelona, Spain (Jan - Feb 2019)
The painting is for sale at the moment of writing this post. To buy it click this link.

Pintura, Óleo sobre lienzo
Tamaño: 50 An x 70 Al x 1.5 P cm
Esta pintura fue expuesta en:
The Brick Lane Gallery en Londres, Reino Unido (octubre de 2016)
Villa de Lujo en Costa Brava, España (Ago - Sept 2018)
Bar del Convent en Barcelona, España (Ene - Feb 2019)
El cuadro está a la venta en el momento de escribir este artículo. Para comprarlo, haz clic en este enlace.
---
All the text and images in this post are mine unless otherwise stated!
All rights reserved worldwide!
¡Todo el texto y las imágenes en esta publicación son míos a menos que se indique lo contrario!
¡Todos los derechos reservados en todo el mundo!
---
---