Oil Painting - "Nirvana" (ENG/SPA)
Hello, art lovers!

"These are traces of our origins. At the beginning our planet was not more than a chaos of fire, a cloud of glutamate dust particles similar to so many similar clusters in the universe yet this is where the miracle of life occurred.
At the right distance from the Sun, not too far, not too near, the Earth's perfect balance enabled it to conserve water in liquid form. The water cut channels; they are like veins of a body, the branches of a tree, the vassals of sap that the water gave to the earth."
Home (2009), a documentary by Yann Arthus-Bertrand
Here or there, rather than everywhere water is the only gold humans need. Pure, clean, natural water is everyone's requirement and this will remain the law until the end of times.
The documentary inspired this painting, and for that reason, I put the quote from the movie itself. I highly recommend everyone to watch it, you can find it on Youtube, it is one of the best documentaries I have seen in recent years.
¡Hola, amantes del arte!

"Estos son rastros de nuestros orígenes. Al principio, nuestro planeta no era más que un caos de fuego, una nube de partículas de polvo de glutamato similar a tantos cúmulos similares en el universo, pero aquí es donde ocurrió el milagro de la vida.
A la distancia correcta del Sol, ni demasiado lejos ni demasiado cerca, el equilibrio perfecto de la Tierra le permitió conservar agua en forma líquida. Los canales de corte de agua; son como las venas de un cuerpo, las ramas de un árbol, los vasallos de savia que el agua dio a la tierra."
Home (2009), un documental de Yann Arthus-Bertrand
Aquí o allá, en lugar de en todas partes, el agua es el único oro que necesitan los humanos. El agua pura, limpia y natural es un requisito de todos y seguirá siendo la ley hasta el final de los tiempos.
El documental inspiró esta pintura, y por eso puse la cita de la propia película. Recomiendo encarecidamente a todos que lo vean, lo pueden encontrar en Youtube, es uno de los mejores documentales que he visto en los últimos años.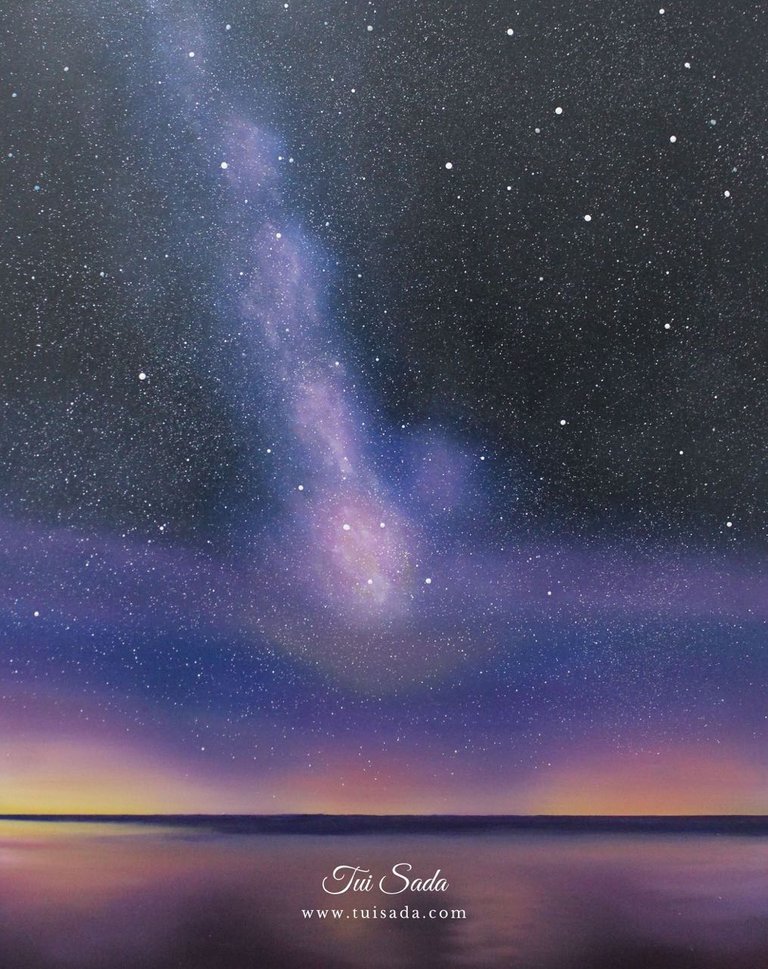 Painting, Oil on Canvas
Size: 50 W x 70 H x 1.5 D cm
This painting was exhibited at:
The Brick Lane Gallery in London, UK (October 2016)
Favela Cafe, Vilassar de Mar, Spain (May - Aug 2018)
Bar del Convent in Barcelona, Spain (Jan - Feb 2019)
The painting is for sale at the moment of writing this post. To buy it click this link.

Pintura, Óleo sobre lienzo
Tamaño: 50 An x 70 Al x 1.5 P cm
Esta pintura fue exhibida en:
The Brick Lane Gallery en Londres, Reino Unido (octubre de 2016)
Favela Café, Vilassar de Mar, España (mayo - agosto 2018)
Bar del Convent en Barcelona, España (Ene - Feb 2019)
El cuadro está a la venta en el momento de escribir este artículo. Para comprarlo, haz clic en este enlace.
---
All the text and images in this post are mine unless otherwise stated!
All rights reserved worldwide!
¡Todo el texto y las imágenes en esta publicación son míos a menos que se indique lo contrario!
¡Todos los derechos reservados en todo el mundo!
---
---