Oil Painting, "Praskozorje" - "The Dawn" (ENG/SPA)
Hello, art lovers!

Once upon a time, there were two people randomly chatting on the Internet, not knowing what the future will bring. They talked and laughed, sent messages and smiley faces, just enjoying their time.
Time passed, they had fun over the screen and decided to meet in person - on a date. It was interesting, as any first date, it was also a bit awkward but mostly enjoyable. They thought, well - let's do this again, and they did.
Time passed and they enjoyed each other's company, they laughed and smiled, they fought and cried but they endured all the hardships of the relationship.
More time passed and they got engaged, in a year they got married and they had many children together. They loved each other more than Romeo & Juliet in any version of their famous story. As any marriage carries difficulty, so did theirs but they were determined to carry on, to fight the good battle, and to win, they persevered. And in hard times they were reminded of the day when they said "Yes" to one another despite all hardship and difficulties.
It was a gift for the married couple, a painting of a calm sea, reminding them that no matter how rough and tough the journey might be, before the new day starts, everything will be peaceful and calm like it was on the day they started this journey. For the new day brings new possibilities and new adventures, it is a day when everything is possible.
The night landscape is often beautiful if you give it a chance to prove it to you. Try to enjoy the morning by being present at the moment. The dawn over the horizon represents a new beginning, a new era. One crucial moment can define the rest of our lifetime. Choose carefully what you want your life to be like.
With that decision, have a peaceful mind, a safe journey, and a steady sea.
¡Hola, amantes del arte!

Érase una vez, había dos personas chateando al azar en Internet, sin saber lo que traerá el futuro. Hablaron y se rieron, enviaron mensajes y caritas sonrientes, simplemente disfrutando de su tiempo.
Pasó el tiempo, se divirtieron frente a la pantalla y decidieron encontrarse en persona, en una cita. Fue interesante, como cualquier primera cita, también fue un poco incómodo pero sobre todo agradable. Pensaron, bueno, hagámoslo de nuevo, y lo hicieron.
Pasó el tiempo y disfrutaron de la compañía del otro, reían y sonreían, peleaban y lloraban pero soportaron todas las penurias de la relación.
Pasó más tiempo y se comprometieron, en un año se casaron y tuvieron muchos hijos juntos. Se amaban más que Romeo y Julieta en cualquier versión de su famosa historia. Como todo matrimonio conlleva dificultades, el de ellos también, pero estaban decididos a continuar, a pelear la buena batalla y, para ganar, perseveraron. Y en tiempos difíciles, recordaron el día en que se dijeron "Sí" el uno al otro a pesar de todas las penalidades y dificultades.
Fue un regalo para los novios, una pintura de un mar en calma, recordándoles que no importa cuán áspero y duro sea el viaje, antes de que comience el nuevo día, todo estará en paz y en calma como el día que comenzaron. Este viaje. Porque el nuevo día trae nuevas posibilidades y nuevas aventuras, es un día en el que todo es posible.
El paisaje nocturno suele ser hermoso si le das la oportunidad de demostrártelo. Trate de disfrutar la mañana estando presente en el momento. El amanecer sobre el horizonte representa un nuevo comienzo, una nueva era. Un momento crucial puede definir el resto de nuestra vida. Elige con cuidado cómo quieres que sea tu vida.
Con esa decisión, tenga una mente en paz, un viaje seguro y un mar tranquilo.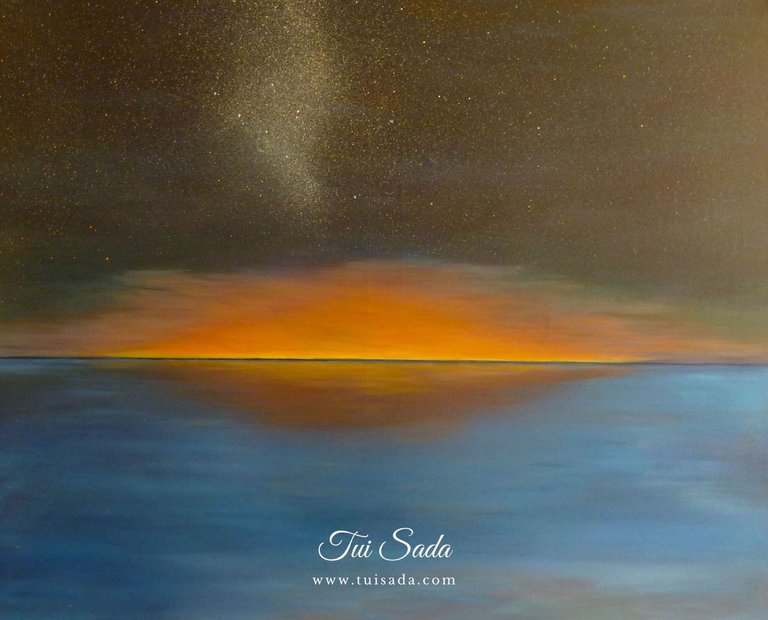 Painting, Oil on Canvas
Size: 100 W x 80 H x 4 D cm
This painting was exhibited at: The Europe House Zagreb, Croatia (Sept-Oct 2016)
The painting is not for sale, as it is part of a private collection in Croatia.

Pintura, Óleo sobre lienzo
Tamaño: 100 An x 80 Al x 4 P cm
Este cuadro fue exhibido en: La Casa de Europa - Zagreb, Croacia (septiembre-octubre de 2016)
El cuadro no está a la venta, ya que forma parte de una colección privada en Croacia.
---
All the text and images in this post are mine unless otherwise stated!
All rights reserved worldwide!
¡Todo el texto y las imágenes en esta publicación son míos a menos que se indique lo contrario!
¡Todos los derechos reservados en todo el mundo!
---
---