The Island of Stars (ENG/SPA)
Hello, art lovers!

"The Island of Stars" is a mystical place where stars live, it is a place isolated from the world and yet an essential part of it.
Milky Way points out where is the meeting place of the Stars and the Sunset, giving it lifelike essence and a colorful dimension.
In that mystical place, people are crazy! They are practicing random kindness and senseless acts of beauty. They are helping each other in any way they can and they are very selfish! They are only concerned about their own well-being because they know that the community is prosperous only if each and every individual prospers.
And there you will probably find a person like Timothy Leary screaming out of his lungs: "In order to use your head, you got to go out of your mind!"
Stars are gathering. Sun is getting lower and lower. The time is coming and everyone is bringing their own piece of the puzzle. It is all a coincidence and nobody knows where they are going, but they trust their instincts and they are doing the unexpected...
¡Hola, amantes del arte!

"La Isla de las Estrellas" es un lugar místico donde habitan las estrellas, es un lugar aislado del mundo y sin embargo parte esencial de él.
Milky Way señala dónde es el lugar de encuentro de las estrellas y la puesta del sol, dándole una esencia real y una dimensión colorida.
¡En ese lugar místico, la gente está loca! Están practicando bondad al azar y actos de belleza sin sentido. ¡Se ayudan mutuamente en todo lo que pueden y son muy egoístas! Solo les preocupa su propio bienestar porque saben que la comunidad es próspera solo si todos y cada uno de los individuos prosperan.
Y allí probablemente encontrarás a una persona como Timothy Leary gritando a todo pulmón: "¡Para usar tu cabeza, tienes que volverte loco!"
Las estrellas se están reuniendo. El sol está cada vez más bajo. Se acerca el momento y cada uno trae su propia pieza del rompecabezas. Todo es una coincidencia y nadie sabe adónde van, pero confían en su instinto y están haciendo lo inesperado...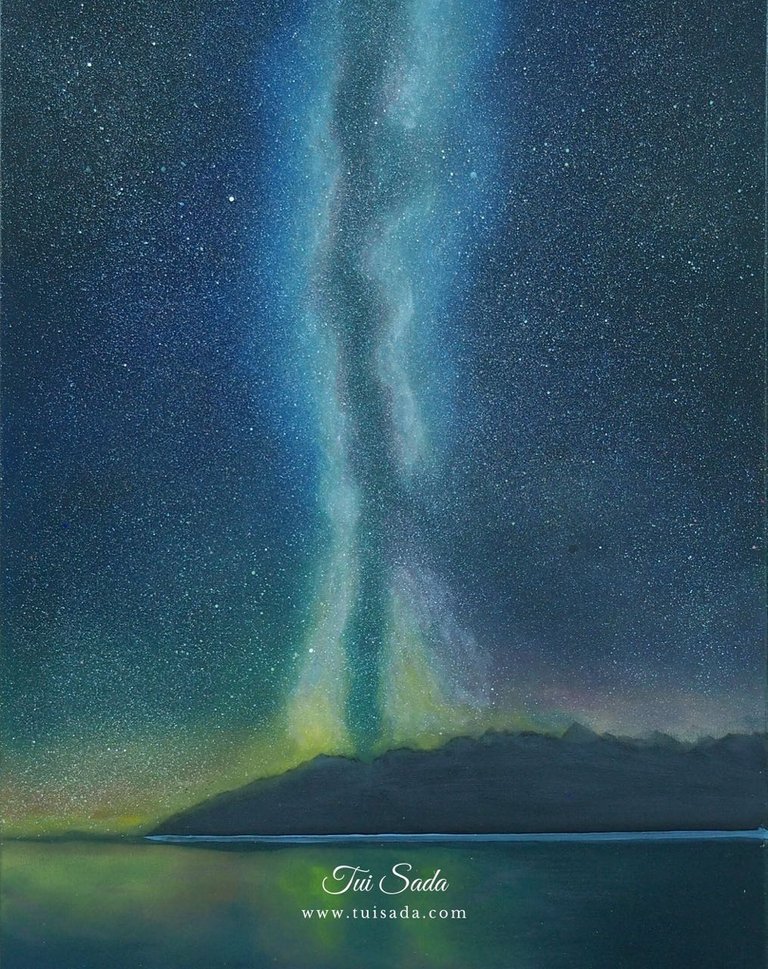 Painting, Oil on Canvas
Size: 50 W x 70 H x 1.5 D cm
This painting was exhibited at:
The Brick Lane Gallery in London, UK (October 2016)
The Europe House Zagreb, in Zagreb, Croatia (Sept-Oct 2016)
The Pikto Gallery in Zagreb, Croatia (September 2016)
Bar del Convent in Barcelona, Spain (Jan - Feb 2019)
The painting is for sale at the moment of writing this post. To buy it click this link.

Pintura, Óleo sobre lienzo
Tamaño: 50 An x 70 Al x 1.5 P cm
Esta pintura fue exhibida en:
The Brick Lane Gallery en Londres, Reino Unido (octubre de 2016)
La Casa de Europa Zagreb, en Zagreb, Croacia (septiembre-octubre de 2016)
The Pikto Gallery en Zagreb, Croacia (septiembre de 2016)
Bar del Convent en Barcelona, España (Ene - Feb 2019)
El cuadro está a la venta en el momento de escribir este artículo. Para comprarlo, haz clic en este enlace.
---
All the text and images in this post are mine unless otherwise stated!
All rights reserved worldwide!
United Kingdom icon by Icons8
Spain Flag icon by Icons8
---
---