The Life of Tree, Oil Painting (ENG/SPA)
Hello, art lovers!

"Today, life, our life is just a link in a chain of innumerable living beings that have succeeded one another on Earth over nearly 4 billion years. Our Earth relies on a balance in which every being has a role to play and it exists only through the existence of another being; a subtle, fragile harmony that is easily shattered.
What do we know about life on Earth? How many species are we aware of? A tenth of them? A hundredth of them? What do we know about the bonds that link them?
Earth is a miracle. Life remains a mystery. In the great adventure of life on Earth, every species has a role to play, every species has its place. None is futile or harmful. They all balance out. That is where you, homo sapiens, wise human, enter the story. You benefit from a fabulous 4-billion-year-old legacy bequeathed by the Earth."
Home (2009), a documentary by Yann Arthus-Bertrand
What will you do with it?
Will you crush it into the burning flames of your insatiable desire to control it or will you protect it, nurture it and help it grow?
You are the responsible one. The decision is yours to make.
The documentary (Home) inspired this painting, and for that reason, I put the quote from the movie itself. I highly recommend everyone to watch it, you can find it on Youtube, it is one of the best documentaries I have seen in recent years.
¡Hola, amantes del arte!

"Hoy, la vida, nuestra vida es sólo un eslabón en una cadena de innumerables seres vivos que se han sucedido en la Tierra durante casi 4 mil millones de años. Nuestra Tierra se basa en un equilibrio en el que cada ser tiene un papel que desempeñar y existe sólo a través de la existencia de otro ser; una armonía sutil y frágil que se rompe fácilmente.
¿Qué sabemos sobre la vida en la Tierra? ¿De cuántas especies somos conscientes? ¿Una décima parte de ellos? ¿Una centésima parte de ellos? ¿Qué sabemos de los lazos que los unen?
La tierra es un milagro. La vida sigue siendo un misterio. En la gran aventura de la vida en la Tierra, cada especie tiene un papel que desempeñar, cada especie tiene su lugar. Ninguno es inútil o dañino. Todos se equilibran. Ahí es donde tú, homo sapiens, humano sabio, entras en la historia. Te beneficias de un fabuloso legado de 4 mil millones de años legado por la Tierra."
Home (2009), un documental de Yann Arthus-Bertrand
Que harás con eso?
¿Lo aplastarás en las llamas ardientes de tu insaciable deseo de controlarlo o lo protegerás, lo nutrirás y lo ayudarás a crecer?
Tú eres el responsable. La decisión es tuya.
El documental (Home) inspiró esta pintura, y por eso puse la cita de la propia película. Recomiendo encarecidamente a todos que lo vean, lo pueden encontrar en Youtube, es uno de los mejores documentales que he visto en los últimos años.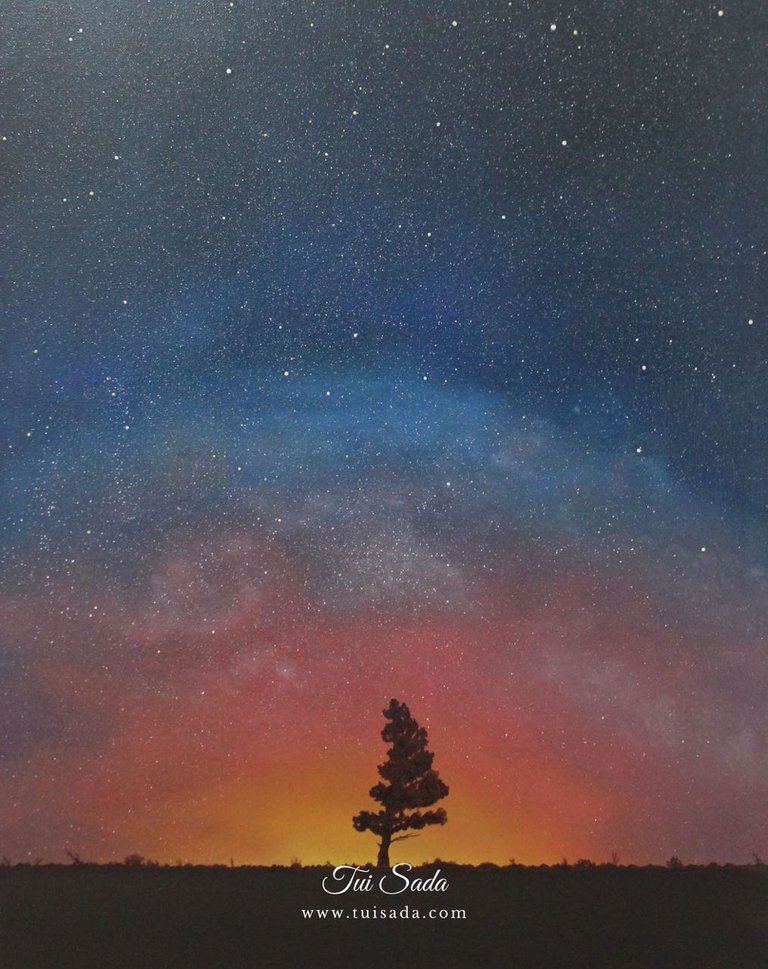 Painting, Oil on Canvas
Size: 50 W x 70 H x 1.5 D cm
This painting was exhibited at:
The Brick Lane Gallery in London, UK (October 2016)
Favela Cafe, Vilassar de Mar, Spain (May - Aug 2018)
Bar del Convent in Barcelona, Spain (Jan - Feb 2019)
The painting is for sale at the moment of writing this post. To buy it click this link.

Pintura, Óleo sobre lienzo
Tamaño: 50 An x 70 Al x 1.5 P cm
Esta pintura fue exhibida en:
The Brick Lane Gallery en Londres, Reino Unido (octubre de 2016)
Favela Café, Vilassar de Mar, España (mayo - agosto 2018)
Bar del Convent en Barcelona, España (Ene - Feb 2019)
El cuadro está a la venta en el momento de escribir este artículo. Para comprarlo, haz clic en este enlace.
---
All the text and images in this post are mine unless otherwise stated!
All rights reserved worldwide!
¡Todo el texto y las imágenes en esta publicación son míos a menos que se indique lo contrario!
¡Todos los derechos reservados en todo el mundo!
---
---