My First Hive Power Up Month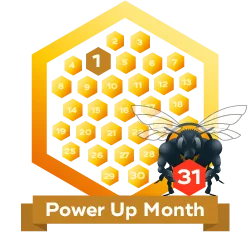 Image Source
Warm greetings all! 🙏 💚
With this post I'd like to publicly commit to successfully completing my first Hive Power Up Month.
From @hivebuzz:
This new PUM challenge will start on the first day of the month and will last all month. Here are the rules:
For each day of the month, you will have 2 options:
Option 1:
1.) Publish a post and set the payout mode to 100% Hive Power.
2.) Your post must generate a payout to be eligible (i.e. get a few upvotes)
3.) You cannot upvote yourself
Using this option is also a good way to get the Monthly Author badge as well. ;)
Option 2:
1.) Power up at least 1 HIVE.
2.) You cannot start a powerdown during the month.
This option is useful if have no idea what to write about someday or just aren't a blogger at all.
You can use either option, or both, and can switch from one to the other as the days go by.
I've been pretty consistent about posting every day as of late, so I believe that I will be able to keep up with the posting cadence. This just gives me more motivation, which is pretty high already. The only actual change would be changing my 50/50 split of Hive Power and HBD to 100% Hive Power.
I feel excited by this challenge and goal this month. Since this is my first one, I do feel a little daunted and nervous, especially given all the other things going on in my life presently, however, I'm determined to complete it in full this month, for my own benefit and the benefit of Hive as a whole.
I'm very grateful for opportunities like this, which seen quite abundant here on Hive. I like the multiple possible challenges and rewards. It adds a great deal to the entire Hive ecosystem. Thank you Hive! 🙏💚
Posted using LeoFinance Mobile
---
---