A Somewhat Plant-Focused #WednesdayWalk through Two Lovely Nearby Neighborhood Parks - Seaview, Lower Puna, Far East Big Island, Hawai'i - June 29, 2022

Warm greetings all! 🙏 💚
Today for my #WednesdayWalk I decided to go visit two of the three community parks here in Seaview. Yes, Seaview has three parks - the two I share here, and The Lawn, which is the largest, and right in front of Seaview, by the ocean - I've shared about that one in multiple previous posts. The two parks that I'm showing you all today are actually right across the street from each other, and about a 10-minute walk from where I live at The Sanctuary of The Blue Dragon. The first one I share, is an open expanse of low grass, that is ideal for various iterations of ball games. People in the neighborhood come here regularly to play things like soccer and frisbee.
The other park across the street is far more multi-use, with areas for children to play, lots of diverse fruit trees everywhere, a covered seating area, and even a building where people can bring useful items that they no longer need.
Since I'm a plant freak, I put a good bit of focus on notable and interesting species. The second park is a veritable food forest, with all manner of edibles. There are mangoes, avocados, Suriname cherry, acerola cherry, breadfruit, Malabar chestnut, bananas, coconut palms, macadamia nut trees, rollinia, diverse citrus, jackfruit, among others. Pretty freaking cool for a local neighborhood community park I'd say!
The front of both parks can be seen here. I went to visit the one on the left first, the open grassy one where there is a lot of regular frisbee and soccer fun going on.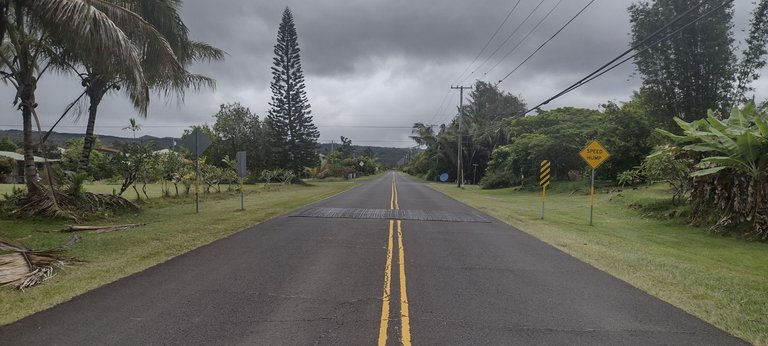 I walked along the edge of this park, as that's where all the interesting plants were!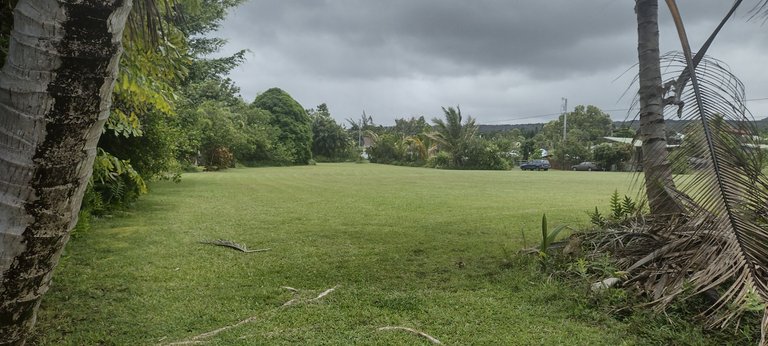 Looking back toward the street. The second park can be seen on the other side.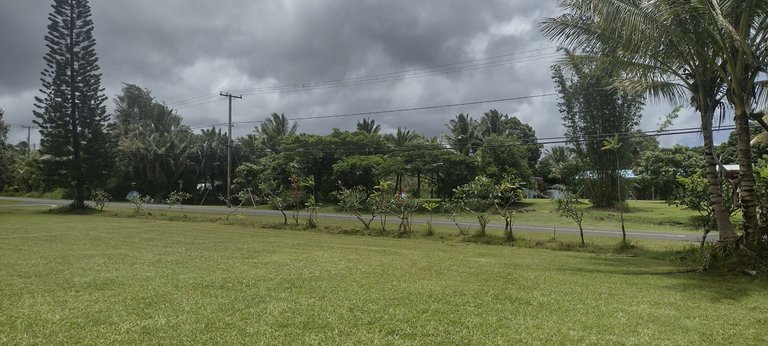 There is a lemon tree on the edge of the park, and I found two perfect lemons! Woot!

This is a beautidul mango tree, also on the edge of the park.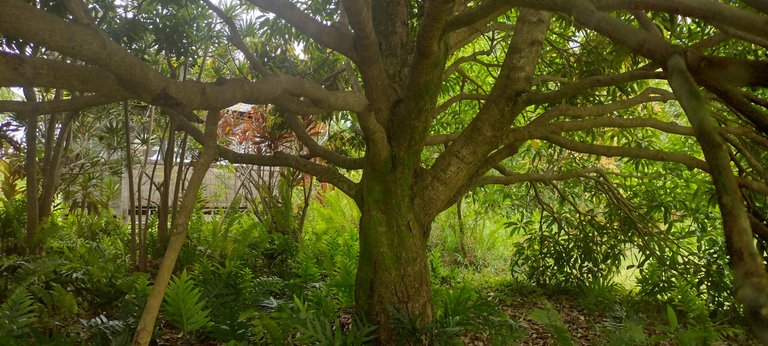 Looking back toward the street, and the other park, from the back of the first.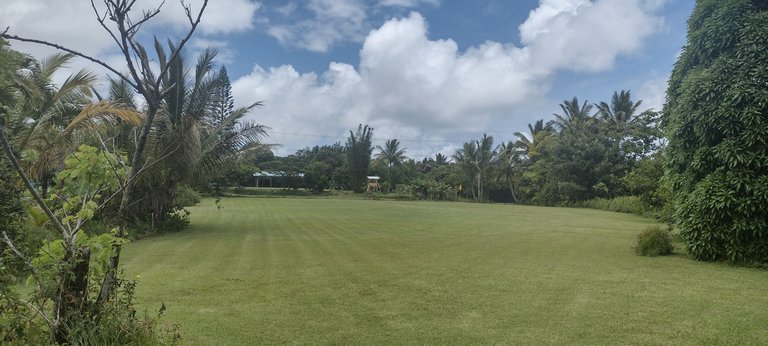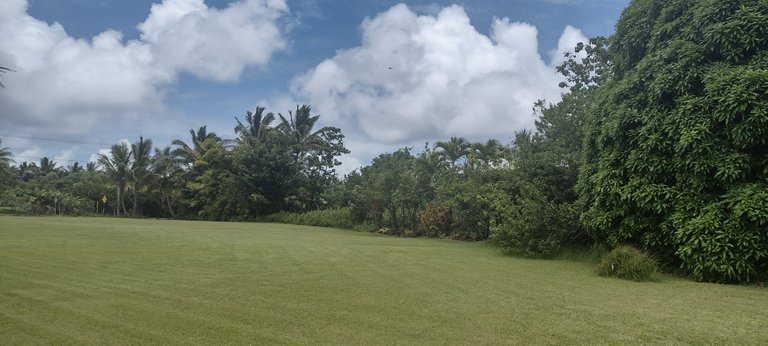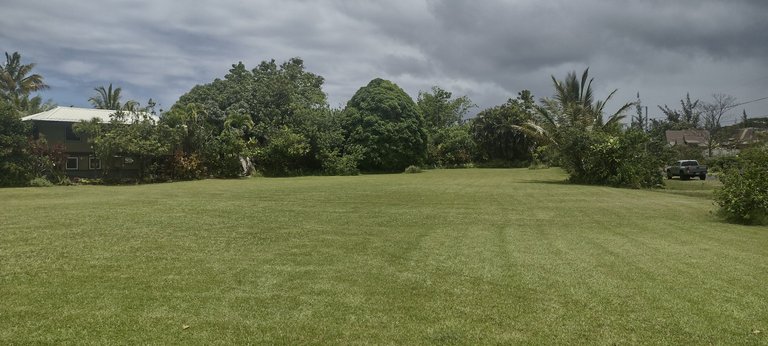 Here's the front of the second park. There are lots more trees (most of which are fruit trees), also several species of tropical clumping bamboos, bananas, and several ornamental species. This park also has multiple buildings, a rain catchment tank for water in the bathrooms, and a children's playground.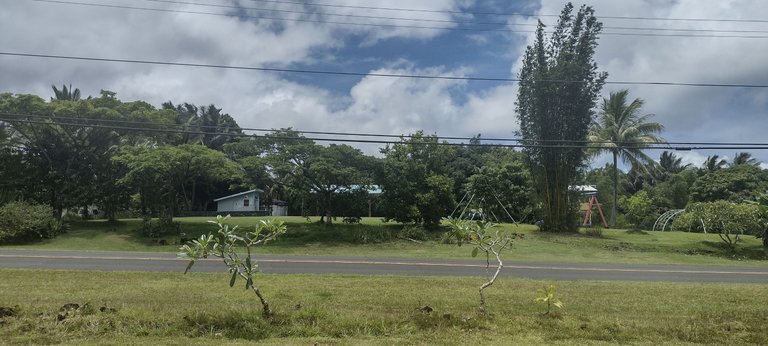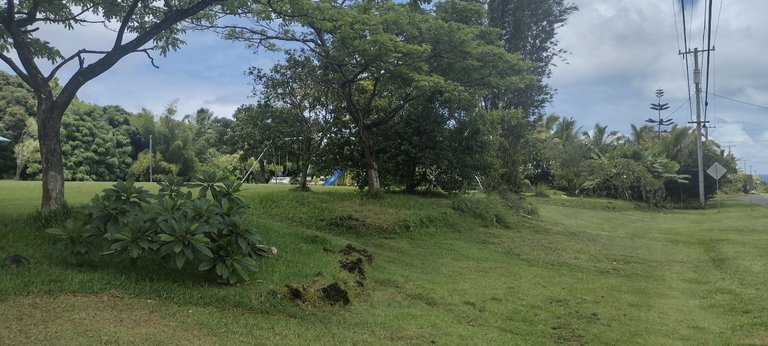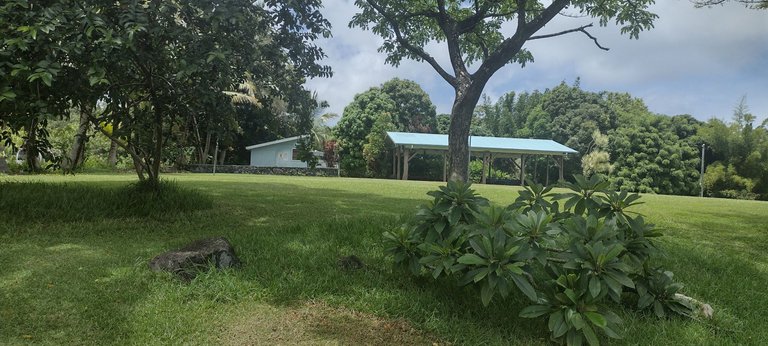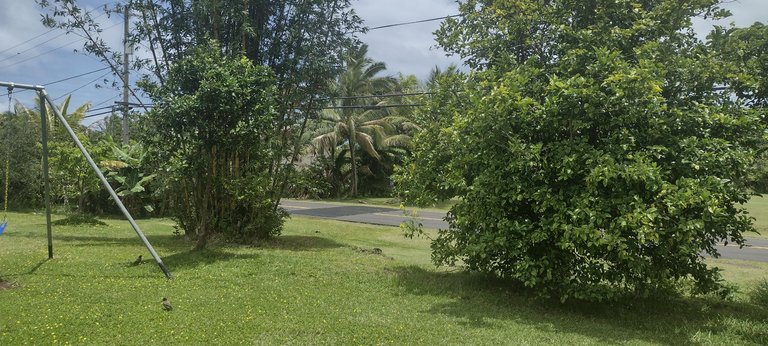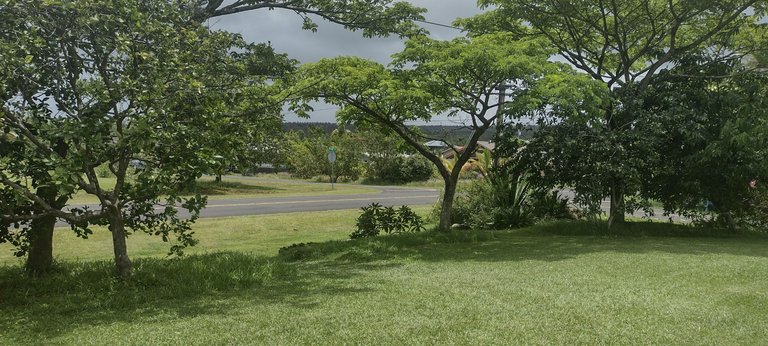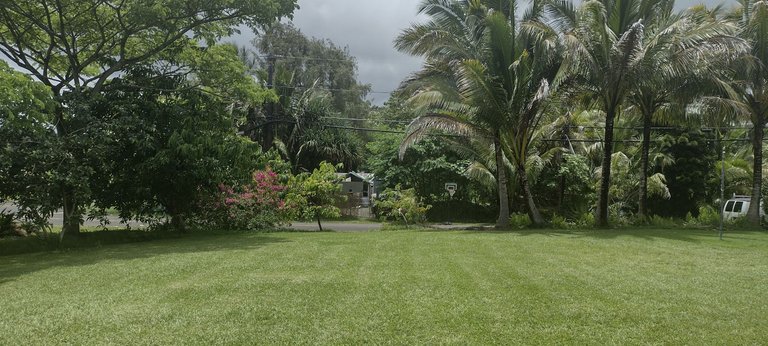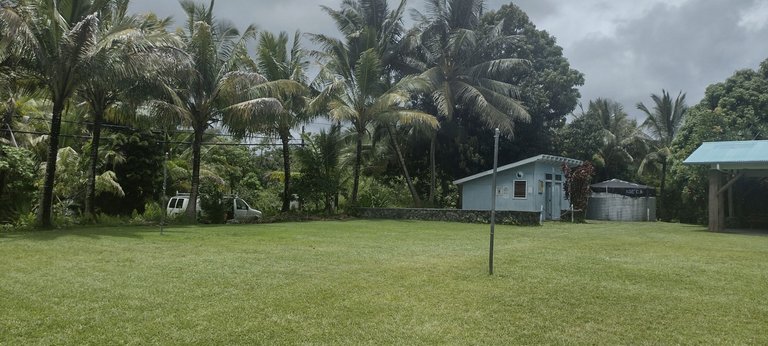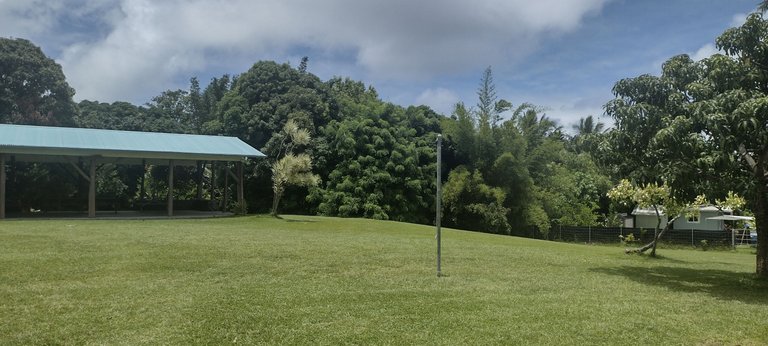 Here's the playground for the keiki!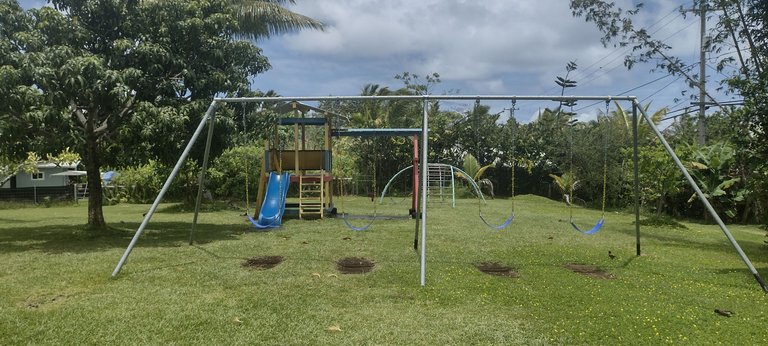 The large shrub/small multi-trunk tree in the middle of this photo may not look that special, however, this is an acerola cherry, Malpighia emarginata, which is one of the highest sources of vitamin C (50-100 more than oranges). Although it is known for its very high Vitamin C content, its fruit is exceptionally nutrient-dense, and is a actually a superfoods. I was really excited to find this tree. Sadly, it doesn't have any fruit at the moment. I'll keep checking, as I want fruit both to eat and seeds to grow!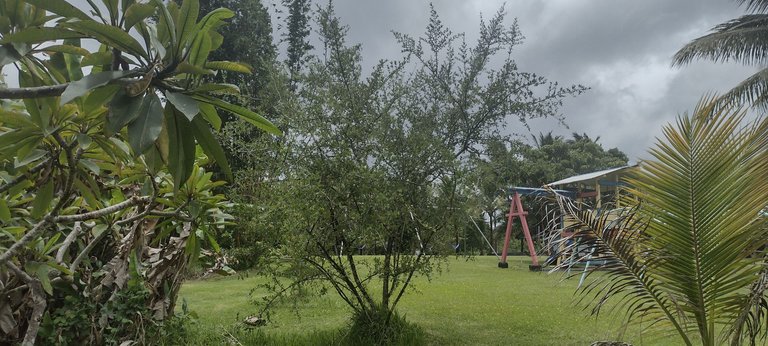 The acerola cherry's habit is very open, with small leaves, and doesn't cast much shade.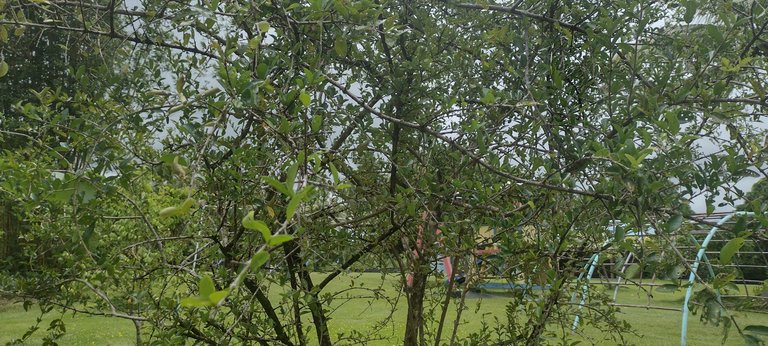 That's a Malabar chestnut, Pachira glabra, off to the right.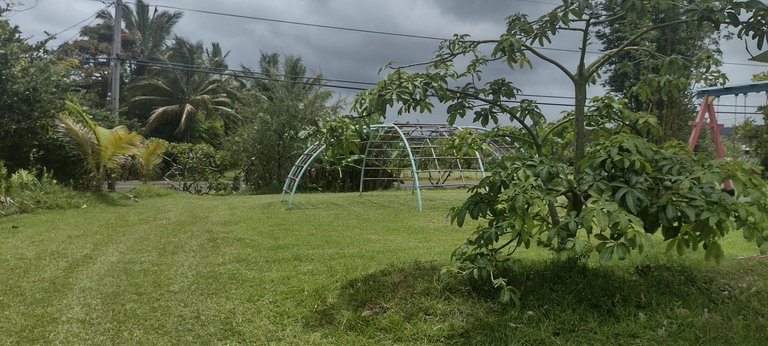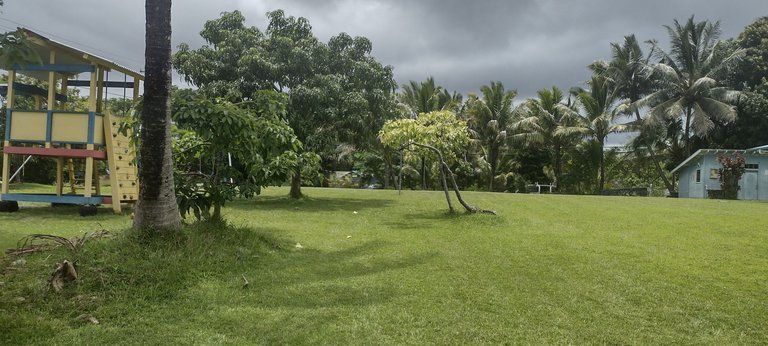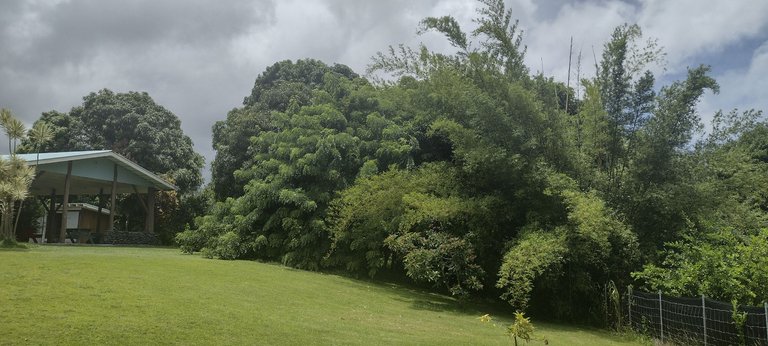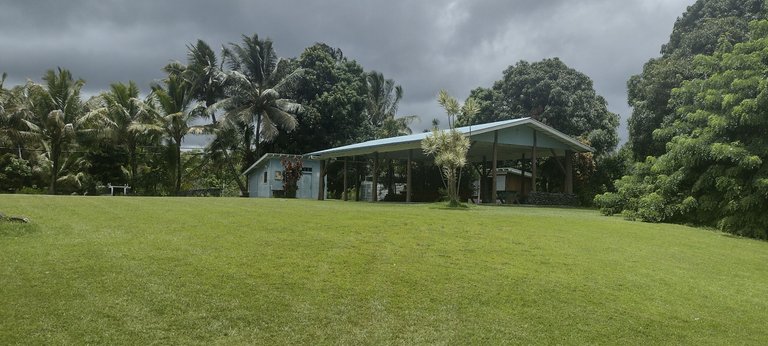 In the shade of a Glircidia, Gliricidia sepium,
and a breadfruit tree, Artocarpus altilis.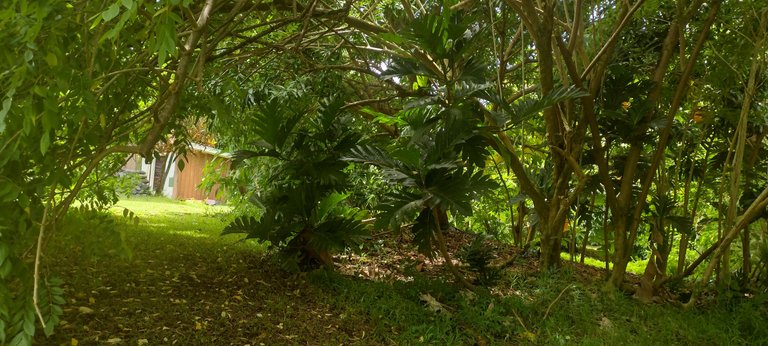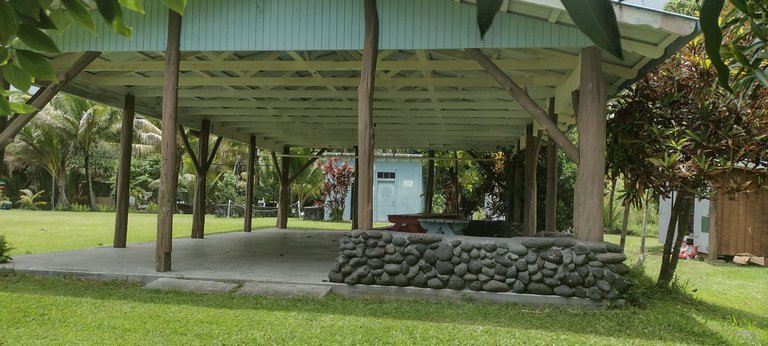 Yes, there are even neighborhood chickens in this park! Here's a mama with several chicks! Cute little buggers! The rain catchment tank can be seen in the background. Also, the building where people drop off no-longer-needed useful stuff can be seen on the right, with the boxes and children's toys out front.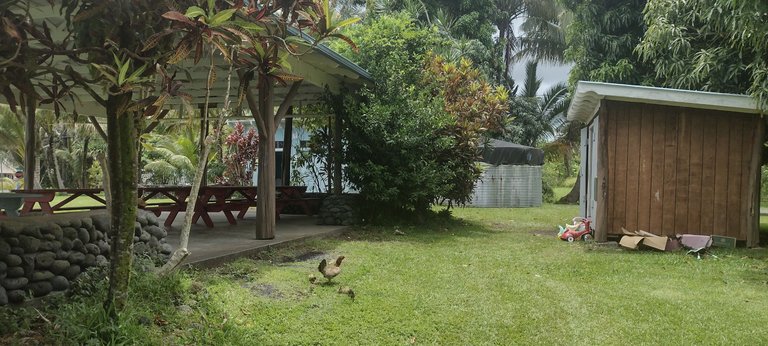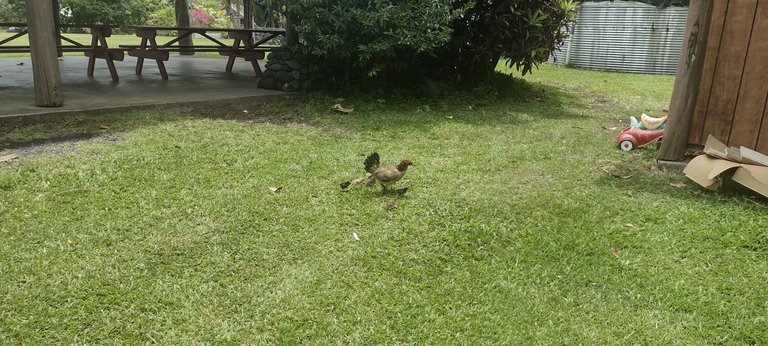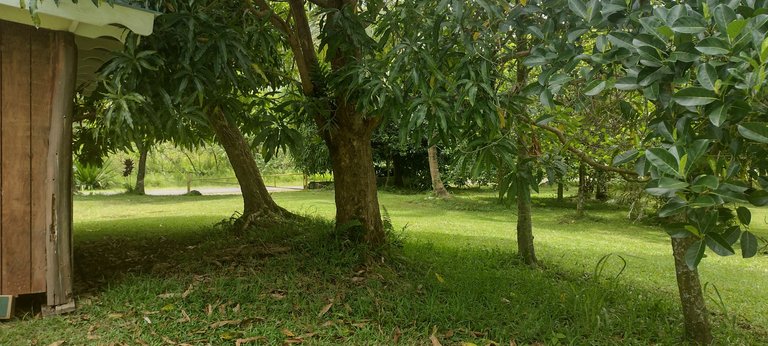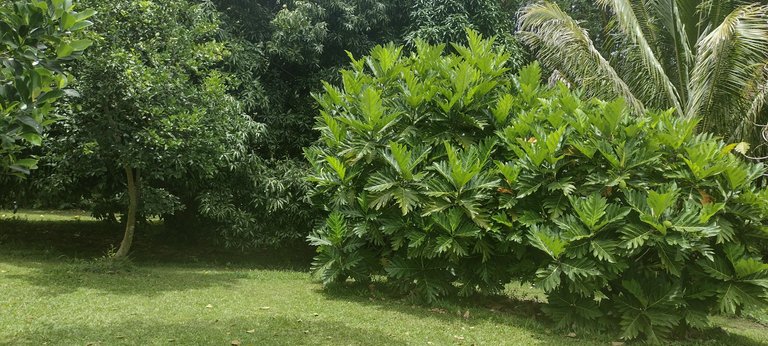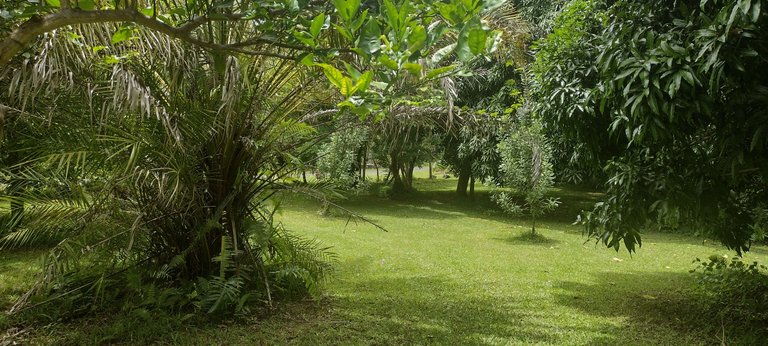 The shade of another big mango tree.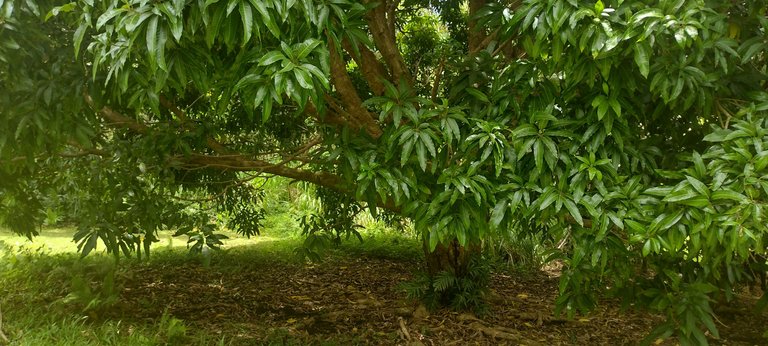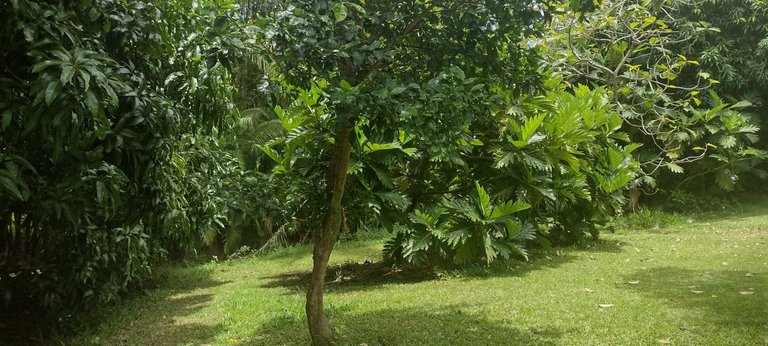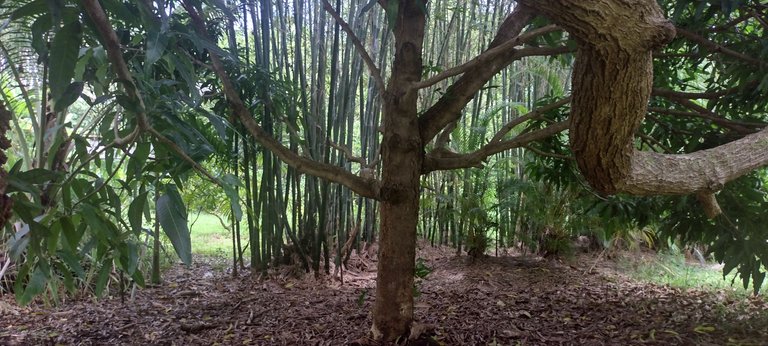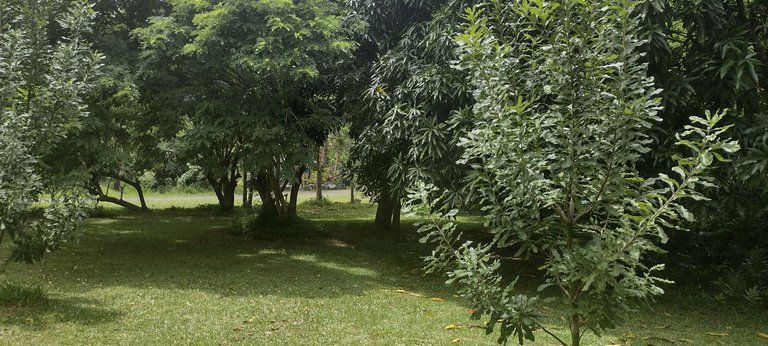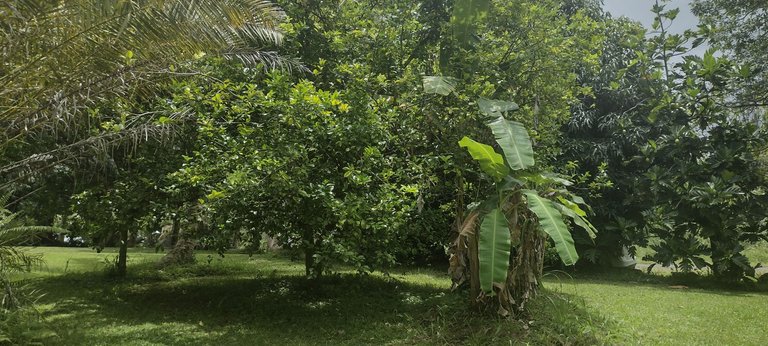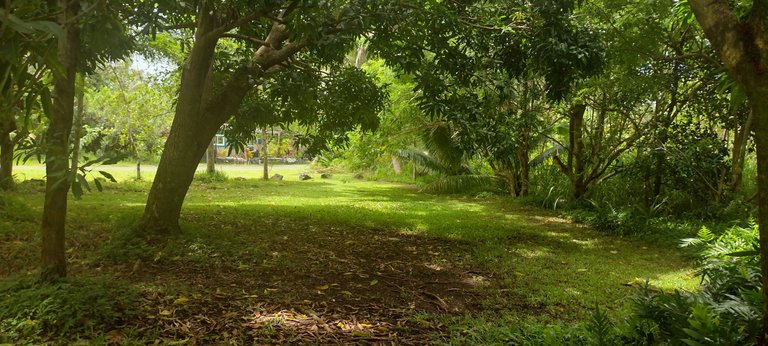 I've been to this park many times, but never noticed this palm before. Much to my intense surprise, this is a date palm, Phoenix dactylifera. In my more than four years here in East Hawai'i, I've never seen a date palm, due to the fact that they are adapted to arid climates, and don't usually do well here. Date palms were everywhere when I lived in Arizona. WHile this tree is not thriving, it's doing OK, and that is very interesting to me. If it can grow here, I'm sure regionally adapted forms could be selected over time.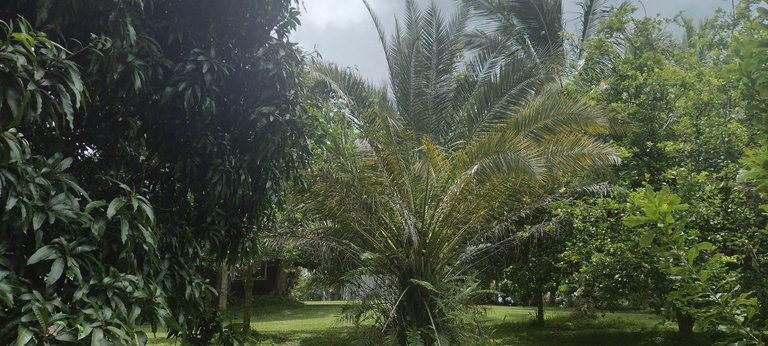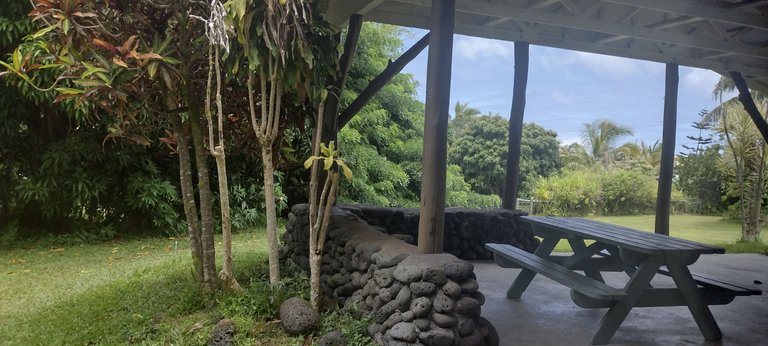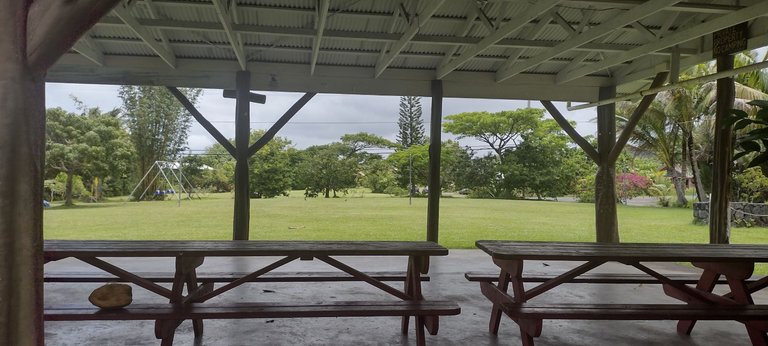 A stand of spiral ginger, Cheilocostus speciosus, peeking out from under a tree.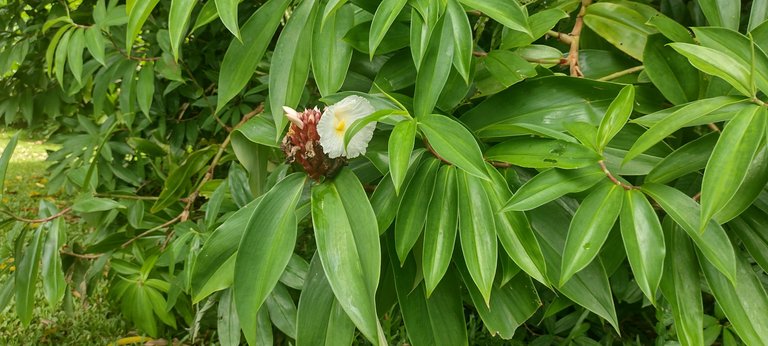 This is a Suriname cherry, Eugenia uniflora, that I visit often to dine its beautiful (they have the shape of a pumpkin!) delicious and nutritious fruit. Sadly no fruit at the moment.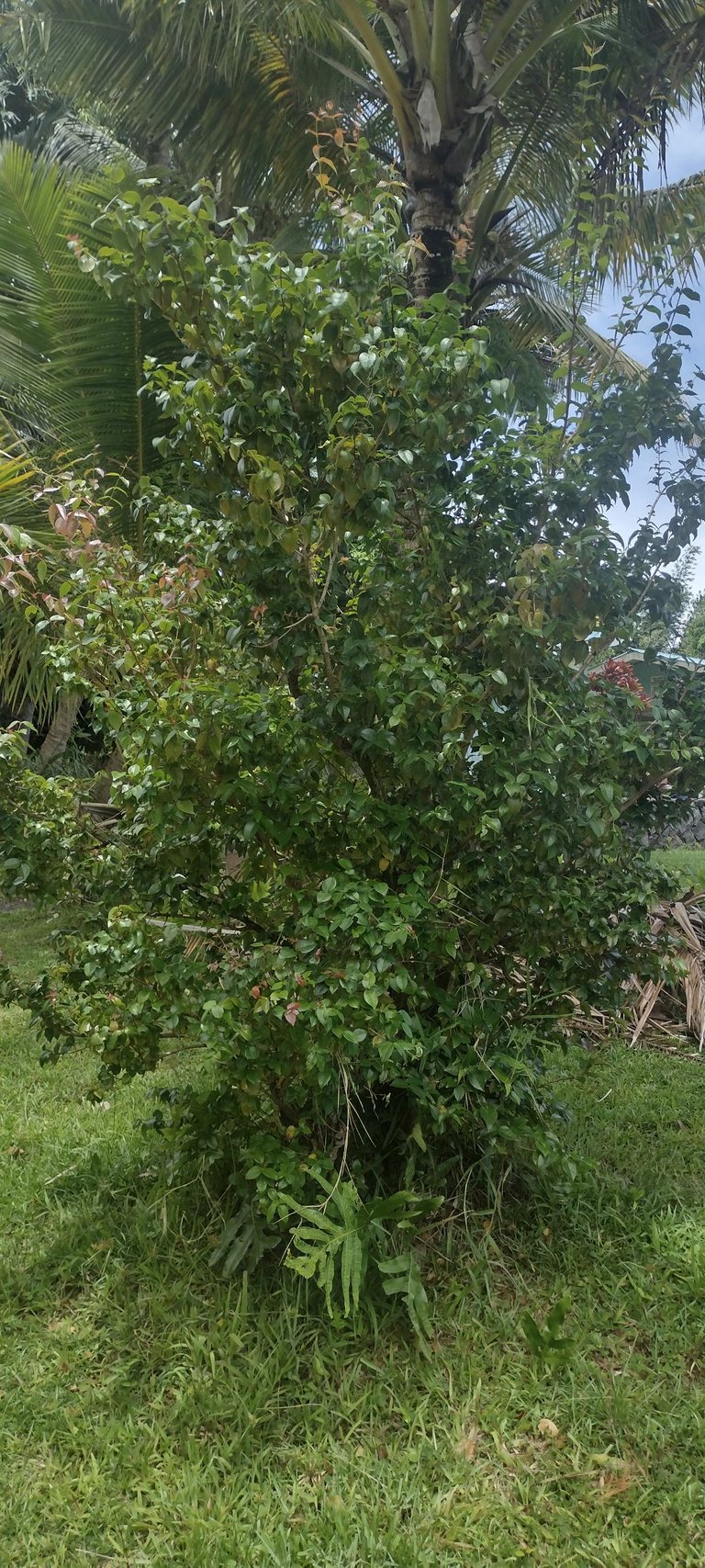 This street is Nahakulele Street, which borders the park on one side, and connects with Mapuana Avenue straight ahead.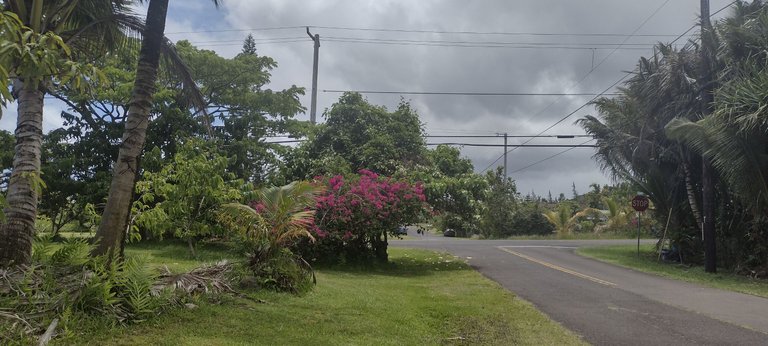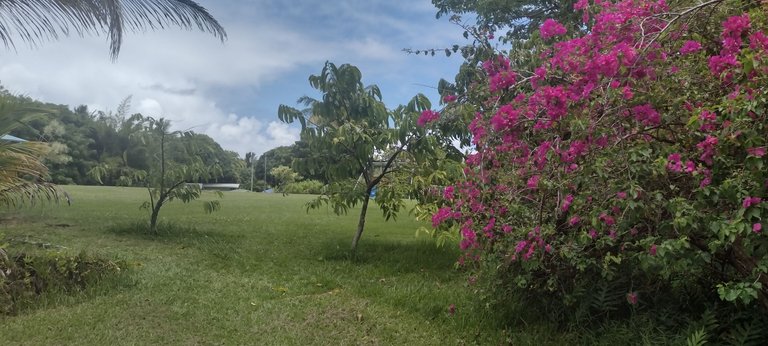 Looking down Mapuana Avenue, with the first park visible across the street.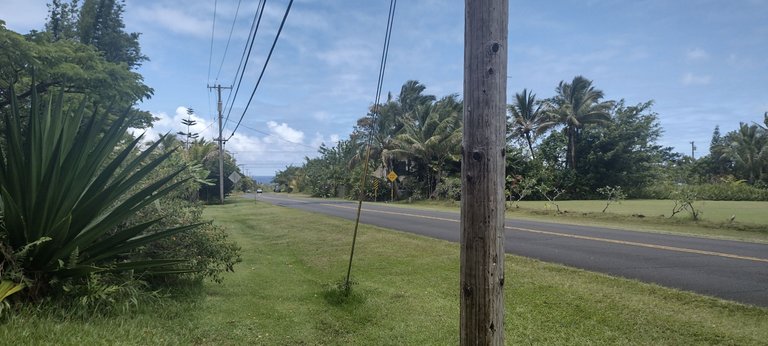 The corner of Mapuana Avenue and Nahakulele Street, with some Seaview artistry.

That's all for this #WednesdayWalk my friends! I hope y'all found it beautiful and interesting. I love sharing the beauty that surrounds me everywhere here.
Thank you all so much for allowing me to share more of the beauty and magic from my life and my world with you, and for your continuous appreciation and support! I am deeply grateful! 🙏 💚


Image created by @doze.
---
---